As you already know, no company is just bad or just good. Even the best ones have flaws, right?
In some cases, you can choose to overlook those flaws and continue to use the services without a second thought. Mind you, this is not a good way of thinking.
If I take AppSally as an example today, I can say that, at first glance, this company seems superb. The question is, will it manage to live up to my expectations?
In order to find out the answer to this, and many other questions, I advise you to stay until the end of this AppSally review and pay close attention to what I have to say.
The thing about companies is that you never know until you try. Therefore, I recommend a tested example. Take a minute and try Upleap. This Instagram-growth service is bound to boost your social media engagement! For more deets, check out my review here. 
If you've got some spare time, use it to look at some other examples as well.
AppSally: Things You Should Know
Reviews can be cluttered with information, especially if someone has a lot to say. The key terms should not go unnoticed, and that's why I decided to single out the most important things that characterize AppSally.
| PROS | CONS |
| --- | --- |
| A neat look of the site | Premium pricing |
| | Services not being delivered |
| | Potentially fake onsite reviews |
| | Customer support is unresponsive |
There is not just one, but several things you definitely need to know about, and now is the right time to keep scrolling.
AppSally: A Review Of The Site
I have to hand it to whoever designed this site. He did a great job fitting the colors and making the site look neat and easy to handle.
Here's just a fraction of what offers on AppSally are all about.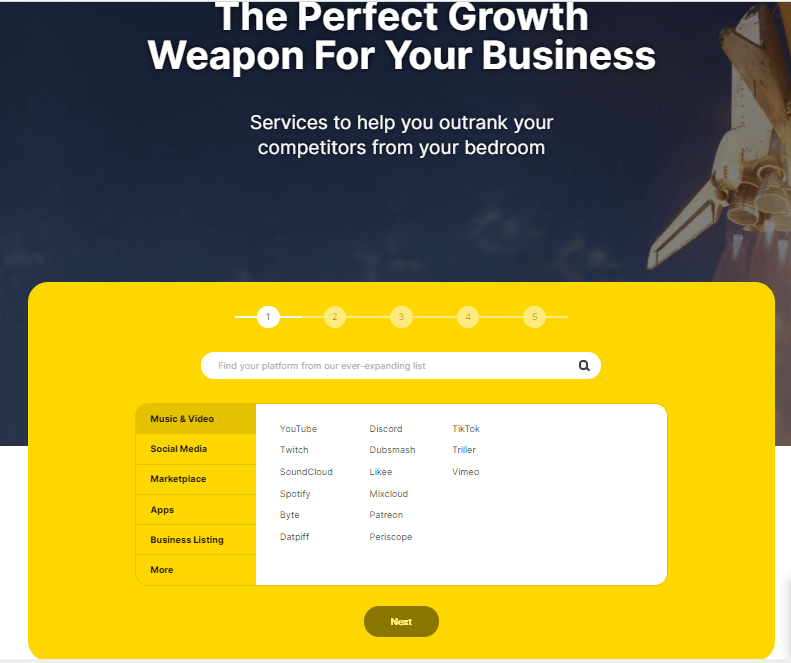 What is AppSally?
From what you can see, AppSally is a multi-purpose company. Instagram is just one of many services this company offers.
You can choose between:
Music & Video
Social Media
Marketplace
Business Listing
If you are someone who makes a living by being on social media, or a company that needs fresh new connections, or even a new brand, this might seem like a place that can solve all your problems.
What you need to remember is that looks do not make a site or a company valid. Unfortunately, that's what a majority of potential customers fall for.
In addition to looks, AppSally has some strong claims that it lives by. For example, it claims that its marketers are hand-vetted.
Also, it supposedly offers an unlimited free replacement if your order drops within 15 days. What interests me, then, is why they claim that they have zero bots?
These are all inconsistencies.
This is something that can be noticed only if you take a good look at what the company is promoting. That's why I will take the facts I mentioned above, and analyze them one by one.
Highly Priced Services
Firstly, I would like to comment on the price range on AppSally. Buying Instagram-related services through this company is a bit more complex.
Obviously, there are a couple of stages you have to go through. What I would single out as essential and unusual is choosing your marketing goals. Yes, I'm referring to this.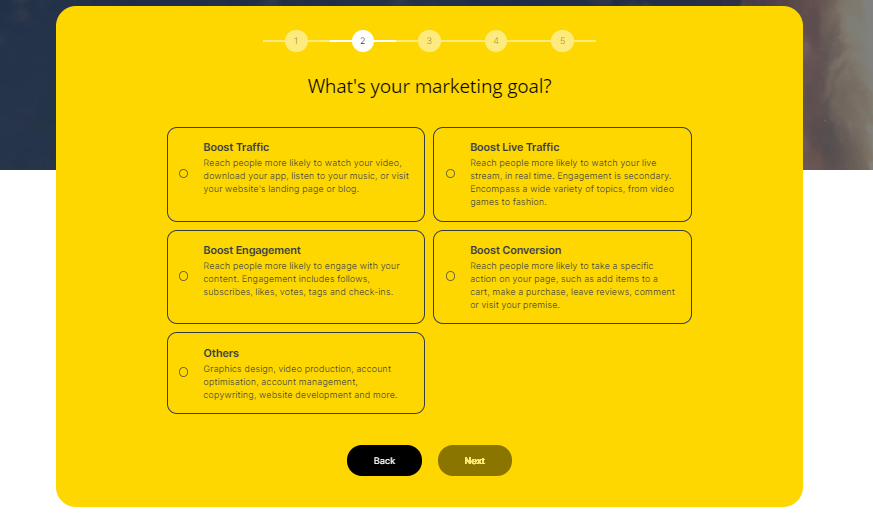 I will go with something that I think is the most common option, and that is to boost my engagement.
Once I have chosen the desired goal and target audience, I finally get to see the prices. However, this is not your regular Insta pricing list. Let's start with the lowest offer.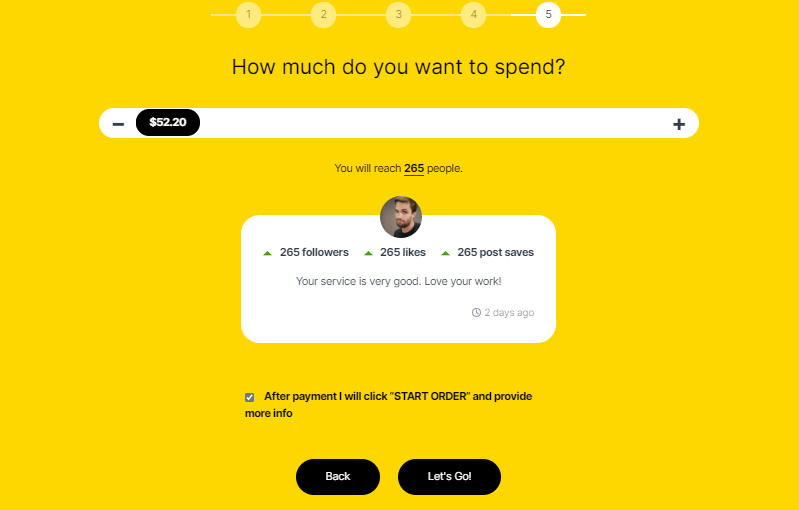 I find this too expensive for only 265 "people." Note that some companies sell up to 1000 Followers or Likes for this amount of money.
My first thought is that this is definitely some premium pricing.
If this is the lowest offer, let's see the highest and compare it.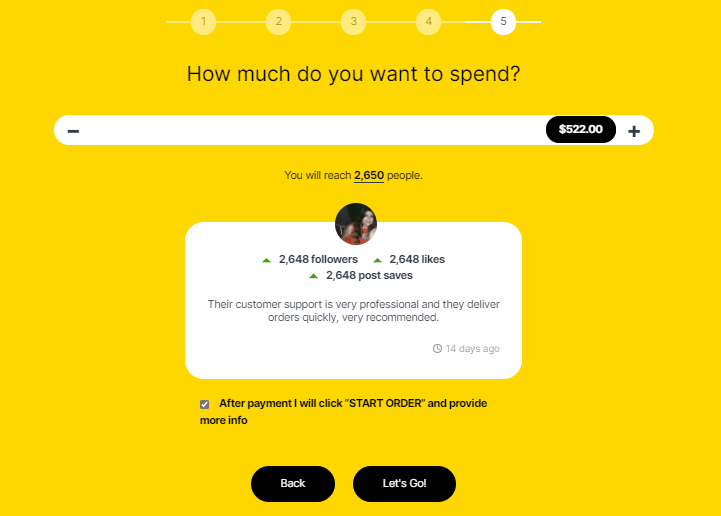 Half a thousand dollars, and just over 2,000 "people." I mean, this just doesn't seem right to me.
The number of "people" did not jump drastically, but the price sure did.
All I have to say about this pricing is that it is certainly not flexible, and will not suit most customers and their budgets. Moreover, at the "checkout," they ask you to enter all kinds of information such as your town, postal code, and address. What do you need that for?
As icing on the cake, with this already insane price, a Network Fee of $11.16 is included.
AppSally: Failed Delivery
According to these prices, you must be thinking that the services are high-quality, safe, fast and reliable. Well, you may be disappointed to learn that it is not the case.
Trustpilot banned this company from its website, so it is clear to you that it is not all rainbows and sunshine. However, that didn't stop me from reaching out to past customers who still had something to say about AppSally.
Is AppSally Legit? Doesn't seem so.
But don't take my word for it, take theirs. Here is one example that contradicts everything AppSally stands for.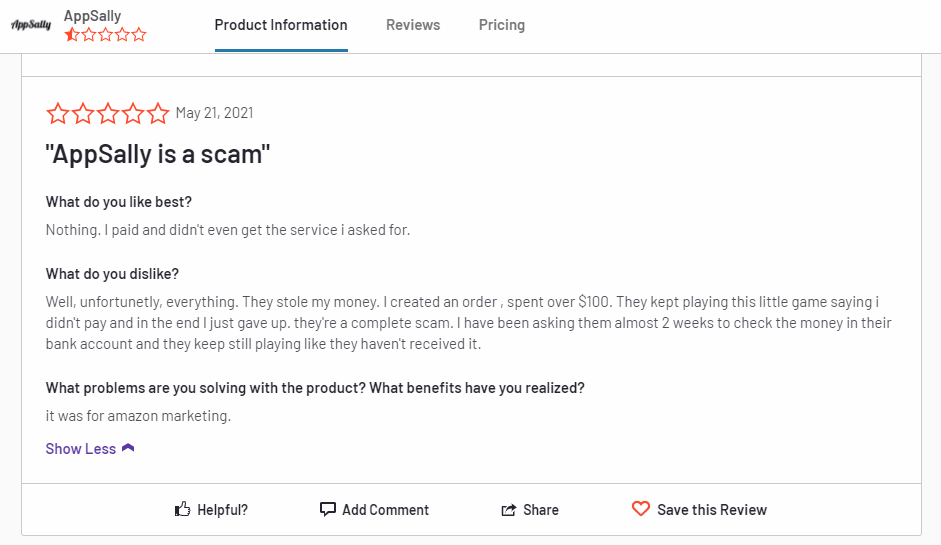 If you are going to pay huge amounts of money for services that don't even arrive in the end, and quality is not guaranteed, then you are in big trouble. Seems like premium prices do not imply premium quality.
The worst thing that can happen to you is that your account gets shut down permanently, and I don't believe that this is on anyone's wish list.
Besides the quality, you have to worry about the speed at which these numbers arrive on your profile. Even if you decide to buy those 265 Followers, the profiles can be so poor in quality that Instagram immediately recognizes them as bought.
Unresponsive Customer Support
Proper customer support should, according to some general rules, be available 24/7. Let's not forget the fact that the topic is social media, and sometimes problems need an instant solution.
What AppSally offers is far from that. Their customer support looks like this. All in all, just a couple of links.

There isn't even a regular email where you can note down your problem/concern/inquiry. This is one huge minus if you ask me.
Being unavailable in this business is unacceptable.
AppSally Onsite Reviews: Make-Believe
Everything about this company is more or less make-believe. Onsite reviews are no exception, and AppSally decided to post positive reviews from past customers when there's hardly anything positive in reality.
Does this seem believable to you?

AppSally: I Made My Decision
When I consider everything I've listed in this review, the moral of the story is pretty clear.
AppSally may be neat-looking at first glance, but what is underneath?
Expensive prices, services that do not arrive, questionable quality, and almost no customer support.
Now, to me, this looks like a shortlist of red flags that a potential buyer should by no means ignore.
My honest advice would be to take this as a warning, and keep searching!