These days you can never know who to trust on the Internet. In the sea of Instagram growth services that are available to the average consumer, it's difficult to choose one that won't trick you or harm your account.
Well, I've got good news for you!
You don't have to do it by yourself. I'm here to help you on this journey by writing up these candid and super thorough reviews.
Today's topic is one rather intriguing Instagram growth service called Digi SMM. 
What is it all about? Can you trust it or not? Will it skyrocket your Insta account? These are all important questions you should ask before using a particular service. I will expose the answers to them (and more) today.
So, grab a cup of joe, sit back and relax as we get into this Digi SMM review. 
Hey, there! This will only take a sec.
Let me tell you about an Instagram growth service that passed all my tests with flying colors. It's called Upleap. You can read all about how this service can help you in this Upleap review.
Besides this one, there are a few more great options you can try out. Check out the table below for more info.
Digi SMM Review – Key Takeaways
Let's take a quick look at the basic info about Digi SMM. Then, if you have time, I suggest you read my full review so you can make an informed decision about this growth service.
| PROS | CONS |
| --- | --- |
| HTTPS website | Mixed followers, most are fake |
| Verified payment gateways | Sometimes they don't deliver the followers |
| | Instagram removes bought followers |
| | Not affordable |
| | Rude and unresponsive customer support |
| | Not safe for your IG account |
| | Too many negative comments |
What Is Digi SMM?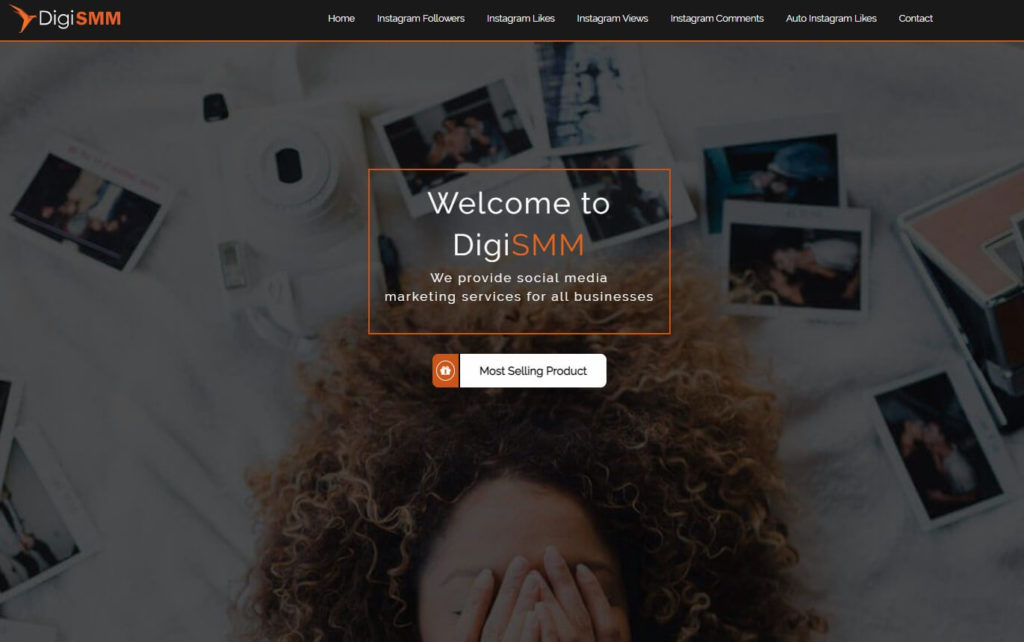 Right off the bat, I can tell you one thing I didn't like about Digi SMM – the website.
You know when you visit a site, and you're not sure what you're looking at and can't find what you need? Well, this site perfectly fits this description as it seems to be all over the place.
For instance, if you go to the Instagram followers page, you'll see there's a lot of scrolling required, especially if you're going to read everything they wrote there (which is a lot). The same goes for every page on their site.
To tell you the truth, it left me feeling overwhelmed, which is not how you want a growth service to make you feel.
Not only is it packed with a bunch of useless information, but it also doesn't make sense half of the time.
For example, one section says, and I quote, "We don't impart you with fake or bot Fans that are of no use to your IG profile."
Scroll down a bit, and you'll see this: "The Users Might Be Inactive Or No Real Humans."
Honestly, the whole thing just gave me a headache.
But, back to the question at hand: What is Digi SMM?
Digi SMM is an Instagram growth service that deals in IG followers, likes, views, comments, and auto likes.
By the look of it, the features appear pretty standard for this type of service. If we break them down one by one, this is what it looks like:
IG followers
I have to hand it to them – Digi SMM offers various tariff plans to choose from. You're not limited to one or two packages, unlike with many similar companies. These plans range from 50 followers to 10 thousand followers.
The problem is the following: customers often don't get what they ordered from Digi SMM. That's right – this Instagram followers provider doesn't always provide what it promised.
Plenty of online Digi SMM reviews mention that this happens more than often, and even if you're lucky enough to receive bought followers, they end up being fake or bots.
What happens then is that those followers get removed from your profile by Instagram, and there's a good chance your profile pays the price in the form of a ban or block.
IG likes
You can get between 100 likes and 200 thousand likes from Digi SMM.
The surprising thing about these likes is that I couldn't find a single customer review that mentions them, so I can't really tell you about their quality.
IG views
And the award for the most useless feature goes to…
Jokes aside, IG video views are not going to help you very much. Who even posts regular videos anymore? I'd understand if these were views for reels or stories, but this just doesn't pay off.
IG comments
Similar to likes, zero reviews talk about comments. Generally speaking, this is rarely a great feature 'cause most of these companies employ bots to write the comments, so you get generic and obviously fake comments under your posts. Who needs that?
IG auto likes
The difference between these and the other likes is that these arrive automatically in each new photo you post. Digi SMM doesn't say for how many future posts these likes are valid.
Customer Reviews Don't Lie…
The two places I always check for honest client reviews are Trustpilot and Scamadviser. Digi SMM's page on Trustpilot has either great or terrible reviews, no in-between.
Firstly, I was torn on which reviews to believe, but after reading them all carefully, I have to admit that the positive ones sound kind of fake. The 5-star reviews are vague, while the negative reviews talk about the specific parts that don't work.
To show you what I mean: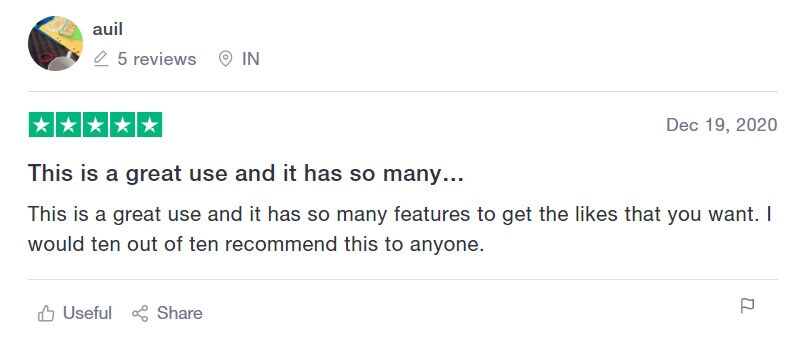 See how it doesn't really say a lot? Now, let's compare it to this 1-star review that mentions specific issues they encountered: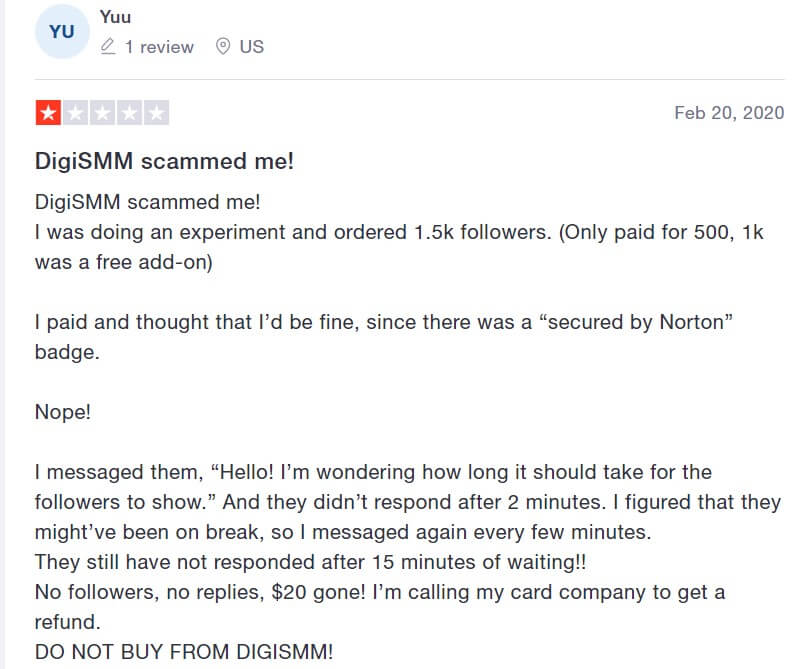 The problem seems to be that Digi SMM did not deliver the followers. As a cherry on top, they also ignored the customer.
Another common complaint is that the number of followers, even when you receive them, starts to drop after a while.
There is only one reason for the sudden drop in followers – they are fake, and Instagram is removing them.
If you go on Digi SMM's page on Scamadviser, you'll see this company has a Trustscore of only 23%, which means the risk is pretty high when using this service.
Here's what Scamadviser lists as the good sides of Digi SMM:
Valid SSL certificate
Valid payment options
And here's what they claim to be the bad sides:
The identity of the owner is hidden on WHOIS
Full links are hidden using link-shortening
Too many negative reviews
They sell fake followers
How Much Does Digi SMM Cost?
One of the main claims of this company is that its goal isn't to make money. Sounds legit, but let me ask a question. If that were true, then why is the service so expensive?
Admittedly, the followers seem to be the cheapest part of their service. You can get 5K followers for $50.
If you move on to likes, you'll see they offer giant packages of up to 200K likes. These go for 1000 bucks.
Honestly, if I had a guarantee all of the likes would arrive and be from real accounts, I'd consider paying this price cause 200K likes is a lot.
However, if they don't deliver the likes like they don't deliver the followers, and they come from bots, it's not worth it.
Sadly, I didn't find reviews that talk about likes, so it'll remain a mystery.
Views and comments are also not cheap, but I won't talk about them further as I sincerely doubt you'll ever buy these from Digi SMM.
If you happen to have any questions or concerns about payment options and you're wondering how to contact Digi SMM, I have to disappoint you. There is no live chat option. The only way to get in touch is to fill out a form on their website and wait.
Free stuff
At first, I was pleasantly surprised that Digi SMM offers a free trial. Imagine my disappointment when I discovered it's a ruse.
Namely, they say you can try the service for free, but right under the signup sheet for the trial, you'll see the following:
"The free service is under maintenance. Check back later. "
Apparently, it's been like this for a while now. So, to conclude – there is no free trial.
Is Digi SMM Safe?
We could say that Digi SMM is safe as far as their website and payment options go. It's already been established their site is HTTPS secure and payment gateways are verified.
But, I'm afraid that's as far as it goes.
When it comes to the safety of your Instagram account, I can't say Digi SMM is safe for use. Considering you get fake followers and Instagram deletes them, you're at risk of getting banned or blocked.
Is Digi SMM Legit?
Sorry to burst your bubble, but this Instagram growth service can't be 100% legit.
Although some parts of it are legitimate, like the website and payment options, the followers they sell pose a threat to your Instagram account.
Perhaps someone would overlook this and still claim Digi SMM is legit, but I just can't do it. In my opinion, if a growth service is not entirely safe to use, it doesn't deserve to be called legit.
Not to mention the terribleness of this company's customer service. Any so-called legitimate business would never treat its customers in such a disrespectful manner.
When I see that a company (any company) doesn't appreciate and respect its clients, I consider it to be unprofessional and a huge red flag, so I try to stay away from it.
Let's Sum Up
If you're still uncertain (although I doubt it) about Digi SMM, here's one final table with all the ups and downs of this Instagram growth service. Hopefully, it'll help you make up your mind once and for all!
| PROS | CONS |
| --- | --- |
| Secure website | Sells fake followers |
| | Mistreats its clients |
| | Too expensive |
| | Fake free trial |
| | Not safe to use |
| | An abundance of negative reviews |
Final Word
Whether you decide to try Digi SMM or not, I have only one piece of advice for you – make safety your number one priority!
If, in the end, Digi SMM doesn't seem to be the right fit, you can always check out the services I mentioned in the beginning. I promise you won't regret it!