Looking for a Stim Social review that leaves no questions unanswered? Hop on in!
I'll present my findings to you, with the hope that they will help you determine whether you need this tool or not.
Does it bring the desired user engagement and stand out in the sea of Instagram growth tools that promise a lot, but fail to deliver? Keep scrolling!
In case you prefer to keep things short, check out the summary below.
Stim Social Review Summary:
Stim Social completely stops working at times
It can be harmful to your account
Their website is vague and the company may be a scam
To avoid these problems, you should try tools that won't put your account at risk. My research has shown that Nitreo, Upleap, and Kenji are safe.
The promo code GROW20 takes 20% off the cost of the tariff plans for an unlimited time.
Most Popular Instagram Growth Tools Rated
What Is Stim Social?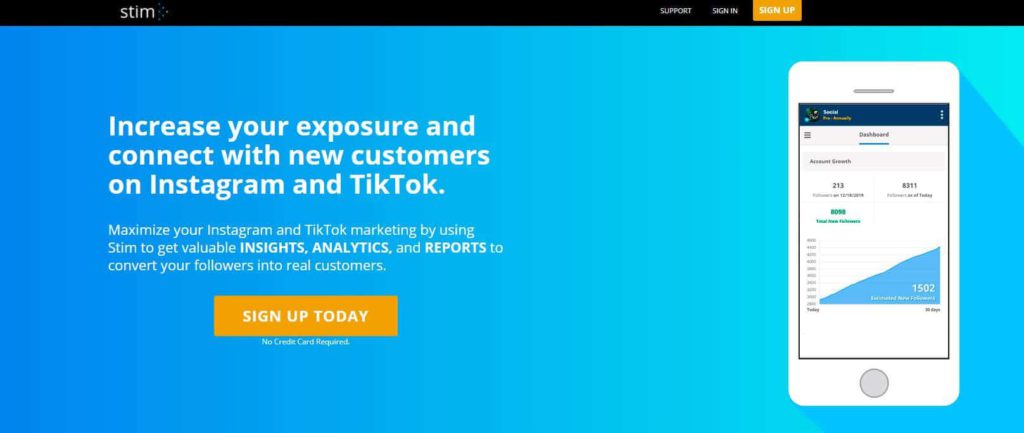 Stim Social is an Instagram and TikTok bot. It controls people's Instagram (or TikTok) account by performing different actions, from automating posts to sending direct messages.
You may also know this tool as "Stimsocial" (one word) or "Stim Instagram," as it used to be really popular for Instagram.
Is it a software to maximize engagement levels and catch the attention of people? Not really.
The reason for this is it gets lost in Instagram's algorithm and completely stops working at times.
Also, their official website won't give you much info. They don't specify that Stim Social is a bot, probably because it's not a useful one. But concealing their services (along with the pricing plans) didn't stop me in my quest.
It prompted me to investigate what's behind this tool. In my research, I learned that a significant number of accounts that Stim Social interacts with are not genuine.
How Stim Social Works?
If you've visited their official website and are still completely puzzled about how Stimsocial works, it's no wonder.
They don't provide any valuable info whatsoever. The only thing they tell you is that "thousands of new people will be following you and interacting with your profile," promise you'll magically "land sponsorships and increase product sales."
But how? What does Stim Social do to found those statements?
After I've tried it, I can tell you how it works: just like any other bot. Or better yet, just like any unreliable Instagram bot.
Namely, its principle is to automate your Instagram tasks (e.g., follow, like, view, etc.) to create curiosity in people from your niche who will check your account and follow you back.
However, its actions are flawed, and it easily triggers Instagram's warning for the violation of their Terms and Conditions. The result? Your IG account shadowbanned or temporarily disabled, and your actions blocked.
Stim Social Features
Clueless about features of Stim Social even after you've visited their website? I had no idea, either.
That's why I've tested them all (at least those of Stim Instagram). Here goes:
Target Audience
When you're setting up your Stim Social account, they will ask you to enter quite a few parameters so that the tool can target your audience.
For example, they ask you to choose at least five users from your niche, as well as some filters – location, gender, keywords, etc.
But do they implement all of these? I'm afraid not.
I haven't noticed much engagement with users within my niche, and much of it was completely random.
Automated Instagram Tasks
Stim Social Instagram bot offers to perform the following tasks instead of you:
Auto like
Auto follow
View story
I've seen Instagram bots that offer three times as many features (and perform better).
Auto likes and auto follows are faulty for a couple of reasons. First and foremost, as I've mentioned – they are randomized, which renders them useless.
And next, I've noticed that Stim Social keeps interacting with fake accounts. That's also not a shortcut to success – more like a dead-end.
Story views were OK, and also the safest, for Instagram is not as sensitive to story viewing activity as it is for likes and following. Does that mean that the latter two could ban your account? Yes, that's right. Especially following.
But I've also noticed some bugs for story viewing. At times, I didn't notice any activity, particularly while I was using their cheapest pricing plan (more on it in a second).
Clean Feed
Judging solely by the name of this feature, you'd probably think that Social Stim blocks or bans certain keywords from your feed, which would be a nice one.
But no – "clean feed" actually stands for muting all the newly acquired followers. They claim that this is done so that your feed stays clean.
I beg to differ, though.
It's obvious that they use this strategy to conceal that most of the accounts that will follow you after using Stim Social are fake. You wouldn't see any activity on their end, even if Stim Social didn't keep your feed "clean."
Pricing of Stim Social
If this is the section you've been primarily targeting, it's expected. Stim Social doesn't provide any info about their tariff plans on the website.
At first, I thought that it's because the tool is free, but no. You can sign up for a five-day trial, and then you need to purchase one of the subscriptions to continue using the tools.
And guess what? It may not suspend your IG account during the trial period, but as soon as you start using its purchased plans, it probably will.
Anyways, here's the (classified) info about Stim Social pricing:

You can get five Stim Social licenses:
Fast
Turbo
Extreme
Pro
Managed
And what are they all about? There's no info on the official website, either.
No worries; I've got you covered.
So, let's first dissect the cheapest plan – Fast. It costs $9.95 a month, and it performs up to 350 Instagram tasks a day. The next one, Turbo, does up to 700 actions daily for $19.95 monthly, while Extreme is $29.95, but they wouldn't specify how many tasks it would perform.
Shady, don't you think?
Extreme and Turbo are sure to get your account banned, and with Fast, you'll sometimes notice zero activity. Oh, and only the former two will keep your feed "clean."
Lastly, there are the "Pro" and "Managed" plans that offer automated DMs and special kind of customer support. They are just too expensive, and I was already disappointed with Stim Social, so I didn't try them out. I'm pretty sure they are a scam, too.
Is Stim Social Legit?
As much as I wanted it to be, I think that Stim Social isn't legit.
Firstly, their website is a scam – there is no information about their services or pricing plans. They don't even tell you that it's a bot.
And then there's the fact that the bot can't bypass Instagram's Terms and Conditions.
If they don't change something, I think that this service will be disabled soon precisely because it isn't legit.
Is Stim Social Safe?
Stim Social is safe as it has a secure website and payment gateway. I haven't noticed any data breach or something like that. That said, I didn't like the fact that Stim Social asked for my phone number during the signing up process – I don't see how that's relevant and why they need it.
And there's the fact that it will jeopardize your account. So, it's safe in some ways, but definitely not completely.
Top Stim Social Alternatives
If you're disappointed with what you've just learned about Stim Social, it's good to know that there are some excellent Stim Social alternatives you can use.
Stim Social Advantages and Disadvantages
When you weigh out the pros and cons, it looks like this:
| PROS | CONS |
| --- | --- |
| Easy to use | You won't get a refund |
| | Vague website |
| | The services worked just during the trial |
| | Interacts with fake accounts |
| | Doesn't allow you to use your IG while the bot is on |
| | Asks for your phone number |
| | Poses a threat to your IG account |
Stim Social Review: Final Verdict
Tired of manually managing your Instagram?
I feel you, and it's natural to seek the tools that can grow your account on autopilot.
But for now, Stim Social is not the solution. The actions of this bot are easily detectable by Instagram's algorithm, and they are of very low quality.
Organic growth, with real followers, is still unprecedented. That's how long-term growth is done right. I've selected a couple of tools that can achieve the organic strategy and have an admirable amount of features.