Looking for the truth – the real truth – about Everliker?
You came to the right place!
I've put this Chrome plugin to the test. In this in-depth Everliker review, I plan on answering all your questions, including:
What is the Everliker Instagram growth tool?
How does the Everliker Chrome extension work?
Will it harm your IG account?
Are there better alternatives?
Stay tuned!
Everliker Review Summary:
Everliker only likes other user's posts on your behalf.
It's struggling to keep up with Instagram's algorithm.
There's a possibility of getting shadowbanned.
The GROW20 discount code can get you 20% off for life.
Most Popular Instagram Growth Tools Rated
What Is Everliker?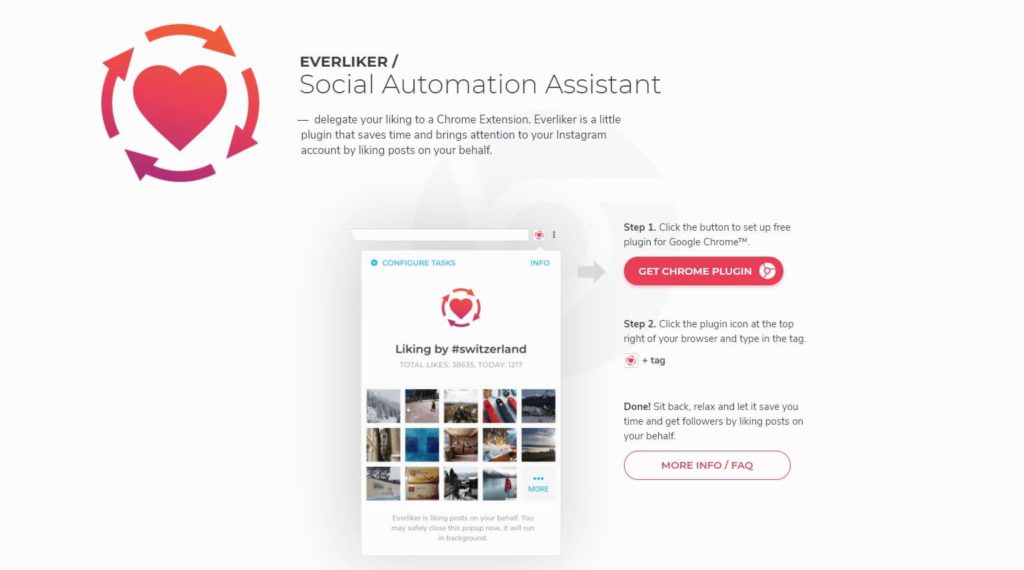 Everliker Chrome extension is an automation tool that draws attention to your Instagram account by liking other users' posts. Depending on the version you're using – free or PRO – you can even set it to filter posts based on different parameters.
That doesn't sound too bad, huh?
Wait until you hear the whole story:
Instagram's been going after bot accounts and automation tools ever since late 2018, and no one's immune. Everliker already went down once due to the algorithm changes.
Still, the Everliker Chrome plugin claims to have the answer to successful Instagram growth – but does it?
How Does Everliker Work?
It relies on engagement to grow your online presence and, in turn, your Instagram account.
Everliker likes posts for you, which should – in theory – encourage other users to check you out. Some may even follow you back; that's the plan, anyway.
But there are two not-so-stellar things you should know about Everliker:
One, the automation part only applies to likes. It's an auto-liker tool, as the name implies, and doesn't do auto-follow or auto-comment.
And two, the Everliker Instagram tool only works with the computer on and the Chrome browser open.
I'll take a wild guess and assume you've installed a Chrome extension before. Hit the "Get Free Plugin" button; you know the drill.
You can get started with Everliker's free plan by creating your first task and auto-like posts based on preferred hashtags. By upgrading to Everliker's PRO plan, you can target accounts based on other factors, too.
Plus, it won't ask for your Instagram username or password, which is good news for third-party services in general.
There might've been a time when Everliker Instagram growth tool worked like a charm, but I'm afraid that's no longer the case. Ever since 2019, when Instagram introduced spam filters, it's been hanging by a thread.
Everliker Features
Everliker sounds like a pretty basic auto-liker tool. The PRO version does offer a fair amount of Instagram-oriented features, though.
Automatic Likes Feature
There are no auto-follow or auto-comment options; the only thing it can do is like other users' posts on your behalf.
That's it – no more and no less.
The Automatic Likes feature is pretty much the backbone of Everliker's service.
Not having to scroll for hours is good news for anyone looking to boost engagement this way. But again, Instagram isn't too fond of such practices.
Liking by Tag
You can set your target hashtags and choose the daily likes speed. When Everliker "wakes up," it will pick a hashtag at random, scan recent posts under it, and like them for you.
You don't even have to upgrade to the PRO version to use this feature.
The not-so-good news is that it's not incredibly efficient in particular niches. Plus, you'll have to set up individual tasks to make sure hashtags receive a set number of likes.
Liking My Home Feed
This feature likes posts by people you're already following found on your home feed.
But again, Everliker doesn't have an auto-follow option. You'll have to follow specific accounts before setting up the Liking My Home Feed task.
Daily Target Likes Setting
Everliker's free version caps out at 350 likes a day; you should fly under Instagram's AI-driven spam detection radar.
You could technically set it to 1400 daily likes with the PRO subscription. But even Everliker realizes this is a bad idea and recommends sticking to 400 to 500 likes per day to avoid getting shadowbanned.
I can't help but wonder if it even makes sense to upgrade to the PRO version, then?
Post Filtering Options
Everliker's built-in analysis engine detects and filters out most spam posts and ads – the keyword being "most."
This feature isn't known for its 100% success rate.
It allows you to set the different parameters manually, though. You can exclude posts containing specific words, older posts, avoid liking users more than a set number of times, and more.
Liking by Location
Targeting specific geo-locations should yield higher conversion rates – at least in theory, anyway.
As useful as it might be for narrowing down your target audience based on the user's location, this feature is only available with the PRO version. You'll also have to copy-paste the Location ID URLs off of Instagram's website manually for this one.
Liking User's Followers
You hand-pick Instagram accounts you wish to target. Then, Everliker scans their new followers and likes one or more of their recent posts.
It's likely the most effective targeting feature offered by Everliker.
But, like other advanced targeting options, it only comes with the PRO version. It's also the slowest one, unable to reach private accounts, and, at times, likes as little as 30% of scanned users.
Pricing of Everliker
Everliker says it's a free Chrome plugin, but that's not entirely true. Yes, it does have a free version – a low-quality, limited one, might I add – but offers in-app purchases that upgrade you to the PRO version.
How much is that going to cost you?
Not as much as you'd expect, that's for sure. The PRO version sets you back a measly $4.99 a month, which is beyond affordable. No, scratch that; it's flat-out cheap.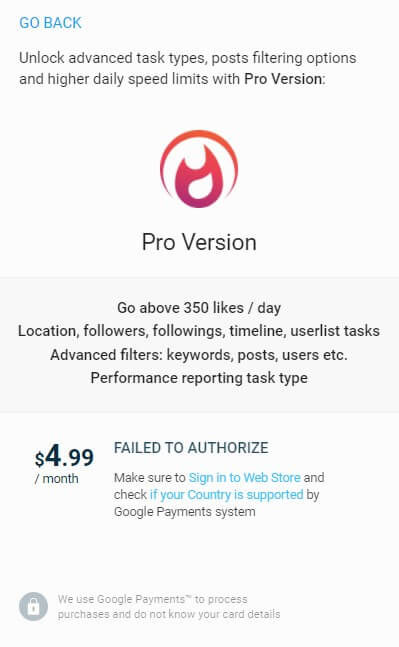 The PRO subscription unlocks extra features. That includes auto-liking up to 1400 posts a day, an upgrade from the free trial's 350 likes per day limit. You also get to like by location and followers, run performance reports, and filter posts using advanced criteria.
But – there's always a "but" – I wouldn't count on getting your money back.
Everliker's website explicitly states that they do not offer refunds to those who upgrade to the PRO license. That includes scenarios where Everliker shuts down due to third-party actions.
Is Everliker Legit?
Based on what I've seen so far, Everliker is a legitimate tool. There's no mention of fraud or scamming – as far as I can tell, anyway – so, there's no real reason to think otherwise.
I'm not particularly fond of the fact that you can't get a refund when you upgrade to the PRO version, though. The quality of the service – or lack of it thereof – is debatable, making Everliker seem sketchier than it is.
Is Everliker Safe?
Everliker keeps your data local, doesn't ask for your Instagram username and password, and works from your local IP address. If that's what you mean by safe, that is.
But, Instagram is at war with bots, including auto-liker tools.
Like most automation services operating against IG's rules, using Everliker carries inherent risks. There's always a chance of getting hit with a shadowban.
Top Everliker Alternatives
Everliker is no longer working – at least not as well as it used to – so it's time to start thinking about back-up plans. I checked out tons of similar tools and found Everliker alternatives worth recommending.
Everliker Pros and Cons
Okay, let's sum up things I liked about Everliker, as well as those I didn't. If anything, I hope this helps you make up your mind about Everliker.
| PROS | CONS |
| --- | --- |
| Has a free trial | Only works with the Google Chrome browser open |
| Works from your local IP address | Likely to get you shadowbanned |
| | No mobile version available |
| | Doesn't work when your PC is off |
| | Doesn't offer refunds |
| | Need to disable it before using your Instagram account manually |
| | Not designed for marketing goals |
Everliker Review: Final Verdict
So, is Everliker the best way to go about Instagram growth?
I'm afraid not.
It's not flat-out terrible, far from it. You might even get some promising initial results with this tool. Yet, the shortcomings that popped up along the way to make me reconsider recommending it.
Sure, it might've worked well in the past. But Everliker's former glory isn't something to base your Instagram growth on, is it?
Do you know what you can base it on, though?
Reliable Instagram tools, like the ones I outlined below. They will provide the only kind of growth for your IG account that counts – organic growth.