In my FollowLiker review, I've prepared feedback to help you make a fast decision about getting this tool or no.
See what Followliker Instagram is all about without reading those FollowLiker reviews that won't tell you an honest opinion. Here you will find:
All of the advantages & disadvantages of FollowLiker
Learn how it works
See how much it costs to use it
Find out whether there are some better FollowLiker alternatives
For those of you who are in a rush, I've curated a short summary. Then, if you're hungry for more info, you can keep reading the complete FollowLiker review.
FollowLiker Review Summary:
It's a social media management service that automates your tasks
It has to be downloaded in order to work, and it's quite difficult to set up
Instagram automation comes with potential risks for your account
KENJI is a much safer Instagram bot than FollowLiker because it doesn't violate Instagram's Terms of Use
If you want tools that will bring you authentic followers that will come to stay, focus on organic reach.
The exclusive GROW20 discount code will get you 20% off for life when you use it
Most Popular Instagram Growth Tools Rated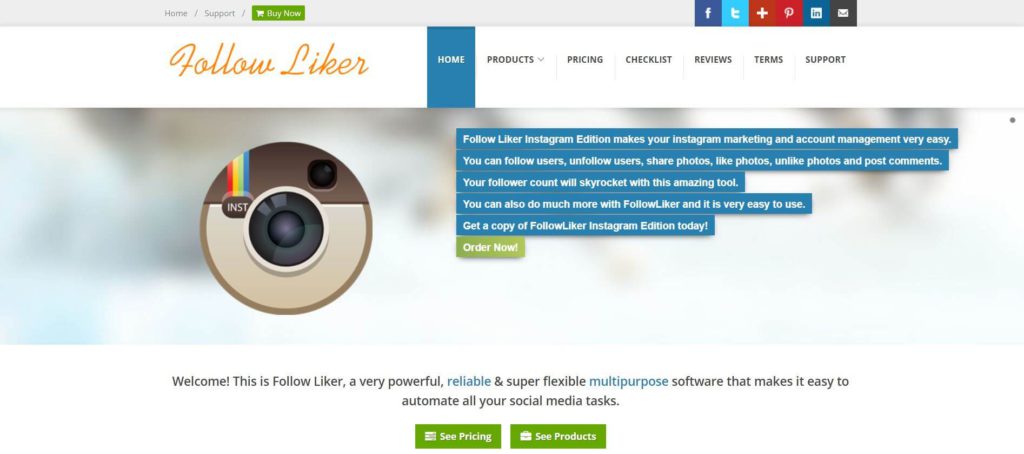 Followliker is a classic software that should automate your actions to bring the desired audience to your account.
It works for Twitter, Pinterest, Tumblr, and Instagram. As always, I'm focused on Instagram growth, so I haven't checked the other functions of FollowLiker.
I'll just mention what are all of your possibilities later on, and I can assume they are of similar quality to FollowLiker Instagram.
On FollowLiker's official website, you'll find that they claim not to use spammy tactics, but – spoiler alert – they do. And that is my main concern about this tool.
It can cause your Instagram to get shadowbanned (meaning other users will not be able to find your account) or your actions blocked, and reverting it back to normal is not easy. Better to be safe than sorry, don't you agree?
How Does FollowLiker Work?
FollowLiker works like any other Instagram bot. It manages your account and carries out tasks such as like, follow, view, etc., without your engagement.
I've personally used Instagram bots for years, and there are some I can swear by. I gave FollowLiker a try, but in all honesty – it just isn't good enough.
Firstly, it is cluttered with too many options, and it's a bit difficult to navigate.
But more importantly, the actual features (at least for Instagram) are not working. You can read more about that in the "FollowLiker features" section.
To use the tool, you have to download it and install it on your computer. It's Windows-based software, which means Mac and Linux users need a VPS to run it.
Of course, they don't mention this on their official website. They just say that it's compatible with all three operating systems.
But the troubles don't end there. The interface is unintuitive, and it requires a lot of tweaking in the settings until you get it to run.
Plus, you're not supposed to even browse your Instagram feed, let alone perform any actions while the program is running, or it activates the Instagram alarm for bot activity.
Consequently, in case anything happens, you won't be able to react promptly.
FollowLiker Features
FollowLiker has heaps of features for social media growth. Let's go over them, and I'll tell you how they worked for me.
Instagram Automation
FollowLiker carries out the following Instagram actions on your behalf:
Auto-follow and unfollow users
Like and unlike photos
Comment on photos
Send DMs
Blacklist and whitelist users
Most of these are not optimized. Follow and likes can get you banned, and they are completely randomized. You have no control over who the bot chooses to interact with.
Some argue that the most proactive use of FollowLiker is its auto-comment feature, but I disagree. Even if you spend a good portion of your time trying to set the comments up as I did, they are still sometimes meaningful.
Direct messages – maybe, if you queue them as Welcome messages to your followers. But it's nothing special.
So, automating your account with FollowLiker is a bad idea. From inappropriate comments (e.g., a string of inappropriate emojis) to interacting with bot accounts, you won't get what you really need.
Audience Targeting
If I had to describe FollowLiker's audience targeting, I'd put it in one word: non-existent.
Sure, they tell you that they will find users based on keywords, aka hashtags, and location, but I haven't noticed that any of the interactions were targeted.
Task & Photo Scheduling
You can postpone the automated tasks that FollowLiker does instead of you, and you can do so in intervals. Also, there's the possibility of setting daily limits.
All of this is with a single purpose – to try and make it look more natural so that you can bypass Instagram's detector. But it's the tool that should be doing this, and not you.
That said, FollowLiker can share your photos and videos directly from your PC, which is handy. But then again, you'd expect every program that's installed on your hard drive to be able to do so, so it's nothing new, really.
Other Social Networks
If you're interested in additional services that FollowLiker offers, here they are:
Twitter features (follow, post tweets, retweet, reply, favorite)
Pinterest features (follow, share pins, like, comment, repin)
Tumblr (follow, post, like, send messages)
Given that Instagram automation is not the best, I don't expect these to be magnificent, either, but I cannot be adamant as I haven't tried them.
Pricing of FollowLiker
The FollowLiker pricing plans are the same for each individual social network: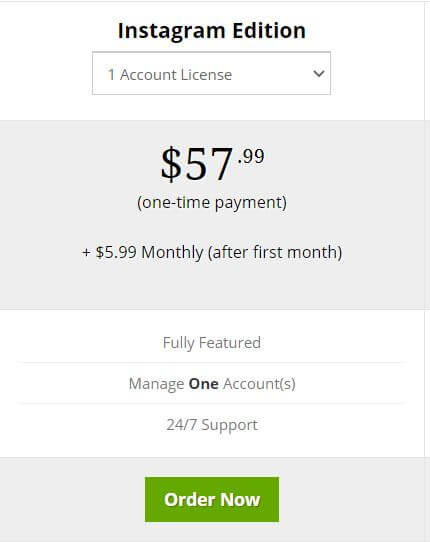 Therefore, you should pay $57.99 to buy the Instagram Edition, and the same goes for Twitter, Pinterest, etc. From there on, you'd have to pay $5.99 monthly to keep using the tool.
All of the above applies to the license for one account.
If you want to connect FollowLiker with multiple IG accounts, you ought to pay more initially ($77.99 for five accounts and $97.99 for an unlimited number), while the monthly subscription remains the same ($5.99).
There are also some combined packages. You can combine two social networks (e.g., Twitter + Instagram), and it will cost you $177.95 (one-time payment), plus $5.99 a month.
Finally, there's the Ultimate Edition that encompasses all three platforms: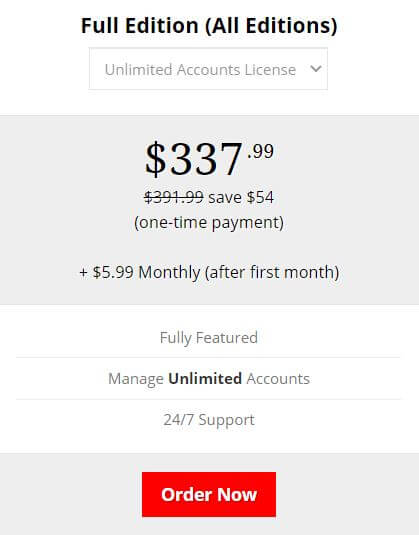 It costs $337.99, and the monthly fee is $5.99. Also, you can manage an unlimited amount of accounts with this one.
Is FollowLiker Legit?
I'm afraid that FollowLiker isn't legit. Many people have had the same experience as me – the automated actions didn't work out for them and had a negative impact on their account.
Their management does not seem to take any action against these issues, so it doesn't seem that FollowLiker will get any better in the near future.
Is FollowLiker Safe?
Yes and no.
The installation file is safe; I've scanned it with my antivirus software, and Windows didn't recognize it as a threat.
Also, their website is https secure, and they won't steal your payment info.
But there's the fact that Instagram has its penalties for FollowLiker Instagram interactions, meaning the tool isn't safe for your account.
Top FollowLiker Alternatives
FollowLiker does not effectively take control of your Instagram interactions, and there are many tools out there that do. So, I advise you to go for those that aren't risky and spammy. You can refer to the most popular growth services mentioned here, and you'll surely find a pick for you.
FollowLiker Pros and Cons
To sum it up, here's everything I've said about FollowLiker so far:
| PROS | CONS |
| --- | --- |
| Features for many social media platforms | Spammy |
| | Expensive |
| | Bad user experience |
| | Puts your account at risk |
| | Doesn't target users |
| | Difficult to set up |
| | Has to be downloaded |
| | Cannot be used on Mac and Linux without a VPS |
FollowLiker Review: Final Verdict
Putting your Instagram account on autopilot with tools like FollowLiker is risky. It triggers warnings for "inauthentic activity," and you'll get banned or blocked.
Plus, setting it up requires much patience. I've used many intimidating tools before, but very quickly, they became intuitive. Not FollowLiker.
It's much better to use tools that bring you real and authentic followers organically without worrying whether you'll get a strike.
For some recommendations, refer to the table below.
May you have a pleasant Instagram growth journey!