There are way too many biased Kicksta reviews out there. None of them paint the complete picture of this service.
So, with that in mind, I set out to answer a simple question:
Is Kicksta worth the money or not?
In today's review, I've dissected this tool down to the smallest bit. I talk about the good, the bad, and everything in between based on my experience.
Read to find out if Kicksta is worth your money or if it'd be better to invest it elsewhere.
Kicksta Reviews Summary:
Kicksta used to be called Kickstagram.
It promises to grow your profile just by liking other people's posts
It operates on the verge of violating Instagram's Terms and Conditions
If you want a more secure option, try Kenji.
Kicksta may provide organic growth, but it has only one function.
Use the code GROW20 for a 20% discount
Most Popular Instagram Growth Tools Rated
What Is Kicksta?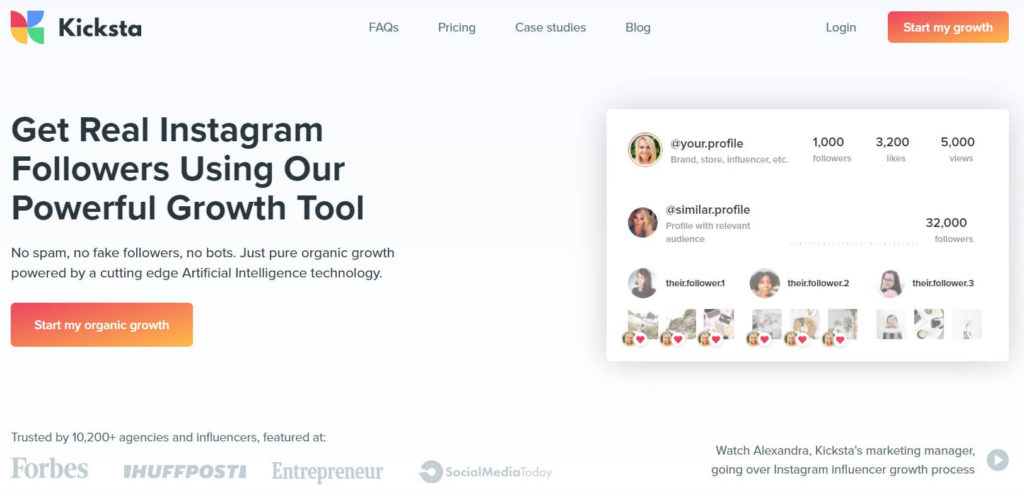 Kicksta is an Instagram growth tool that claims to boost accounts of brands and individuals alike. It (allegedly) does this by liking posts on behalf of its users.
And it sure is popular. Just Google "Instagram growth service," and you'll undoubtedly bump into Kicksta. But, in this fast-changing industry, popularity doesn't guarantee quality.
Before I gave Kicksta a try, I did a bit of research. Trustpilot.com is my go-to website for genuine user reviews, so I checked there first.
What I found out there surprised me.
Kicksta's rating average was only 3.1 stars. Lots of customers complained of various connectivity and operation issues, which I'll talk more about later.
Despite the warnings, I went all the way and tried the service out. There's a 14-day free trial for anyone who's curious. Initially, it all appeared well, but two weeks had passed, and I saw no results. Zero. Since I didn't want to pay, I canceled my subscription.
I'm not sure why it didn't work, but I read about similar experiences from other users. If you want to learn more about Kicksta's mechanisms, read the following section.
How Does Kicksta Work?
Well, it didn't really work in my case, but I can't speak for everyone. That's why I'll try to explain how Kicksta is supposed to work.
The service automatically likes posts from users that you targeted. The idea is that the people behind those accounts will appreciate the like, and engage back. Ideally, these users should visit your IG and follow you or like your stuff.
It's the good old "like for like" tactic that may yield some results.
I said "may" because simply liking posts usually isn't enough to grow a profile. Using other venues of engagement (comments, views, follow/unfollow) is necessary too. I suspect that Kicksta's limited approach is the culprit behind my poor results.
Another issue with this Kicksta's method is that Instagram doesn't approve of it. The platform doesn't like automation. In case it catches you using it, it may action block or ban your profile.
Kicksta Features
Kicksta is a very simple tool with only a few functions. Here's what they are:
Audience Targeting
The tool enables you to find the audience that you want it to interact with. You can do this by entering the desired Instagram usernames, hashtags, and locations. If you know what you're doing, these options should narrow down your audience nicely.
On top of that, Kicksta offers smart filters that are supposed to block fake and inappropriate accounts. Perhaps, block isn't the right word here. These filters should prevent Kicksta from liking those accounts' posts. That's better.
If that's not enough to keep the "bad man" away, you can blacklist usernames and hashtags.
This is quite a toolset for targeting, isn't it?
Too bad that it doesn't work.
Despite all these options, Kicksta still manages to engage with undesirable profiles. And, there's nothing you can do about it but blacklist each username individually. Doing this by hand could take a lot of time, which is kind of ironic since you're paying for an automated tool.
Automatic Liking
Once you've got your audience dialed in, Kicksta will start liking. Because it's operating in Instagram's grey zone, the service will work carefully. In other words, it won't exceed daily engagement limits so that it doesn't get you in trouble.

There are two problems with this:
I've seen reports from people whose accounts were blocked due to Kicksta. This means that it either exceeded the limits or Instagram caught it in some other way.
Instagram's daily engagement limits are too low. The tool won't be able to like enough posts to grow your account.
Activity Overview
Kicksta's dashboard lets you track your progress. It displays stats on how many people followed you back. This can be a useful tool indeed, but it's missing one key component – you can't see the usernames of your new followers.
Pricing of Kicksta
Kicksta's pricing is straightforward. There are only two monthly subscription packages, and they look like this: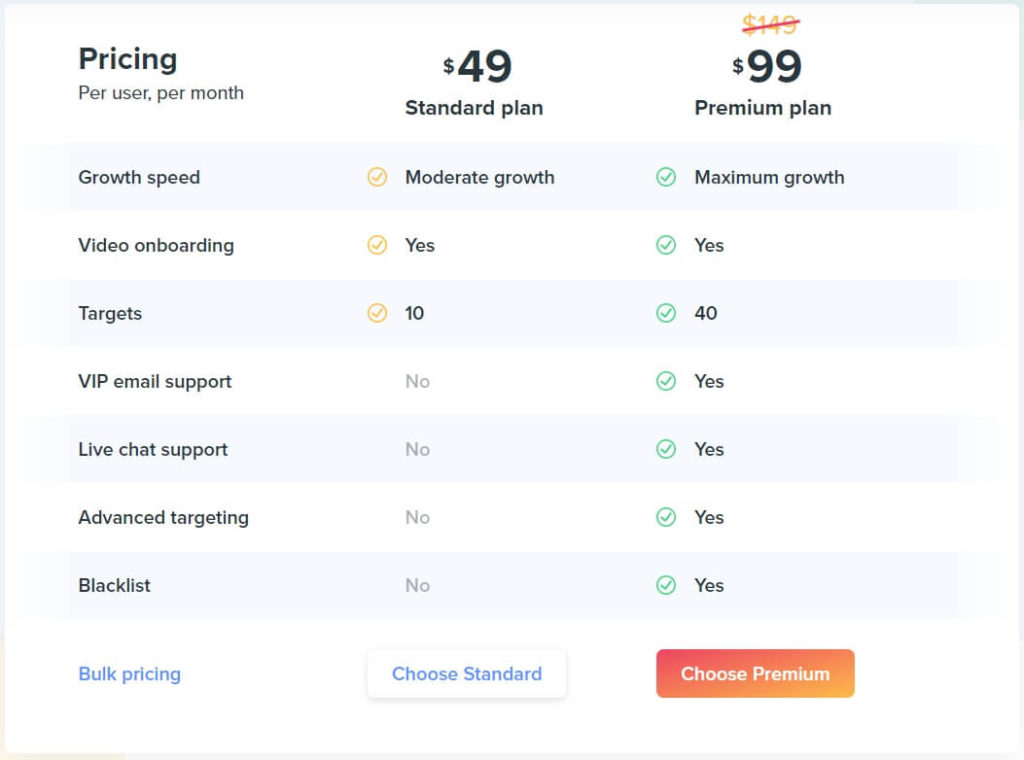 As you can see, the Standard plan contains significantly fewer options than the Premium. It allows you to only target ten usernames and like their followers' posts. This kind of targeting may earn you "moderate growth," as they say.
However, I believe that this will happen only if you're very lucky. For most people, the growth will be minuscule.
The Premium plan is a different beast. It quadruples your targeting options and introduces several other features. I'm not sure what "Advanced Targeting" means, but I assume it allows you to aim at bigger accounts.
This all sounds nice, but what about the cost?
In my opinion, $49 or $99 is too much money. You probably won't see a return on your investment, not from a tool that exclusively likes posts.
The good thing is that you've got the free trial at your disposal. But, you'll have to enter your credit card info to get it. If you're not happy after 14 days of use, don't forget to unsubscribe!
Is Kicksta Legit?
The answer to this question is a bit more complicated than I'd like it to be.
Kicksta doesn't seem like a total fraud, but I wouldn't call them legit either. It seems that their service used to be better because that's the only way I can explain their popularity.
Lately, it appears like things are going down the drain. The support is hard to reach, or sometimes impossible to get to. Their automation works for some users while others report only stagnation.
Also, more and more customers are having troubles connecting Kicksta to their Instagram accounts. They often have to go through painstaking communication with the mediocre support team to do it.
Is Kicksta Safe?
Kicksta is safe in the sense that it won't steal your password or data. However, I've read some rather disturbing reports from customers who lost quite a bit of money.
These people were unhappy with the service and wanted to cancel their subscriptions. They tried to do it but they couldn't; the website didn't allow them to submit the request. As a result, these individuals kept getting charged by Kicksta until they cancelled their credit cards.
Besides this, it's not impossible that you receive a block from Instagram for using Kicksta.
Top Kicksta Alternatives
Since Kicksta seems to be becoming shadier than ever, it's best to check out some alternatives. These are tried and tested growth services that won't give you headaches.
Kicksta Pros and Cons
Finally, I've summed up the favorable and unfavorable things about Kicksta:
| PROS | CONS |
| --- | --- |
| Includes a free trial | It can only like posts |
| | Expensive for such a limited service |
| | May get you blocked |
| | Customer support isn't always responsive |
| | People were unable to cancel their subscription |
| | Some customers kept getting charged after unsubscribing |
| | Ineffective |
Kicksta Reviews: Final Verdict
Even though it still ranks (relatively) high on the list of growth services, Kicksta's performance is beyond disappointing. The tool simply cannot deliver what it promises, leaving hundreds frustrated.
The worst part is that so many people paid for nothing, without any prospects of getting their money back.
So, to answer the question from the beginning of this article – Kicksta is not worth it.
Luckily, there are other companies to go to, and my advice is that you do just that.