Not sure whether to try Combin or not?
Read my Combin review to help you make up your mind!
Here, you'll find it all – from what the service is exactly and how to use it, to whether you should trust it to grow your account.
I tested it myself, so I can tell you what happens when you use it.
Hopefully, after reading my thorough Combin review, you'll be able to decide if it's worth a shot, so let's dig in!
Combin Review Summary
Combin has a few features that don't work anymore
It continues to charge for them
Only one tool is alright – the Scheduler tool
It's always a better idea to choose organic growth over a classic bot tool
Nitreo is a service that will boost your IG account organically
Another good one is KENJI, a bot that utilizes advanced AI tech to perform like a real human
Don't miss out on the discount code GROW20 to gain 20% off for life!
Most Popular Instagram Growth Tools Rated
What Is Combin?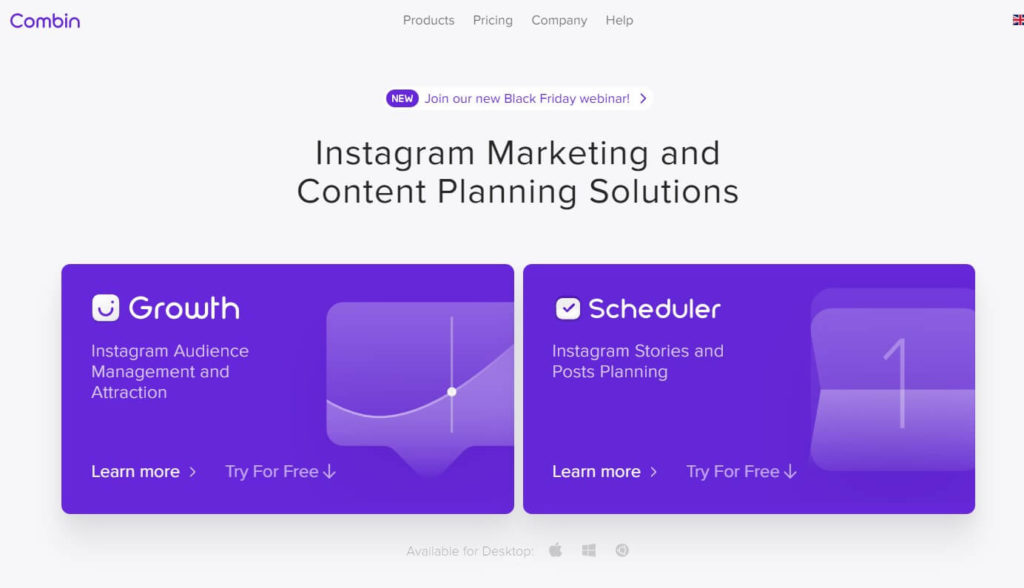 Combin is, as they put it, a company for Instagram marketing and content planning.
The idea behind Combin is that it consists of two tools: a Growth and a Scheduler tool.
The Growth tool is supposed to help you with Instagram audience management and attraction, while the Scheduler is in charge of Instagram stories and posts planning.
The two tools combined make a good strategy that could work well if they performed at a certain level. Unfortunately, they don't. The bad news is that Combin doesn't seem to work anymore. At least, some parts don't.
However, nowhere on their website does it say that. On the contrary, the site is full of promises and positive reviews, but the truth turns out to be a bit different.
How Does Combin Work?
Combin was made to work like any other bot. Its main focus is to drive attention to your profile by performing basic tasks, such as automated liking, following, etc.
However, the bot, or the Growth tool, doesn't really work anymore, so even if you wanted to try it, well, you can't.
The Scheduler, on the other hand, is still in business.
How To Use Combin?
Combin is different from many similar tools in the sense that you have to download software in order to use it.
Now, there's also a free trial which gives you the option to try the tool online, but once you subscribe, your only option is to download it.
The company made sure to be inclusive, so the tool is compatible with Mac, Windows, and Linux operating systems.
The software is simple to use. Once you download it, you'll have access to an interactive dashboard where you can track your account's progress and choose an audience based on a few targeting filters.
Combin Features
Let's check out the Combin Instagram features so you can understand the service better and see for yourself if it's worth it or not.
The one thing I appreciated is that Combin isn't vague about its features, and you can find them clearly listed on their website.
The Growth tool is listed first, so let's see what it has to offer.
Combin Growth Tool
The Growth tool is (or rather was) a tool with features for audience targeting, analysis, management, and engagement.
It included some okay features like targeting by gender, language, and audience size. You could also keep track of your daily, weekly, and monthly progress and activities.
The tool helped you eliminate pointless engagement by identifying low-quality accounts and removing them from your list of followers. It would also automatically unfollow anyone who unfollows you first.
You'll agree that these features sound compelling and probably too good to be true. And they were.
Like I said, this tool doesn't work anymore, and based on Combin reviews I found on Trustpilot and similar sites, it never did those things at all. At least not to the level you'd expect.
Indeed, there are too many reviews with a negative sentiment regarding the Growth tool, so I'm not really surprised it stopped working.
What bugs me is that Combin continues to advertise it as a fully functioning tool.
Combin Scheduler Tool
Scheduler is a tool for people who need something to help them with the Instagram content planning.
This tool includes a few convenient features:
Scheduling ahead and instant posting – you can either upload images and videos immediately or you can select a time and have the tool post them for you.
Image size editing – although a bit odd feature for this kind of service, it can be helpful since it allows you to crop and zoom pictures to fit your Insta feed.
Bulk stories uploading – you can also use this tool to schedule a time for posting IG stories, and you can schedule a bunch of them to be posted at once
Since this is the only one that works, it's the one I tried. From my experience, the Scheduler is alright. Is it convenient? Yes. Does it do something spectacular? Not really.
Pricing Of Combin
The pricing plans are a particularly confusing part of Combin.
First of all, they still show the prices for the Growth tool, which just tells me they're trying to take money from clients for a service that no longer works.
Kind of shady, don't you think?
Second of all, there's only one option for the working tool and it says the tool's free to use.
Yes, there is a free trial, but it doesn't say how much you have to pay for the full version.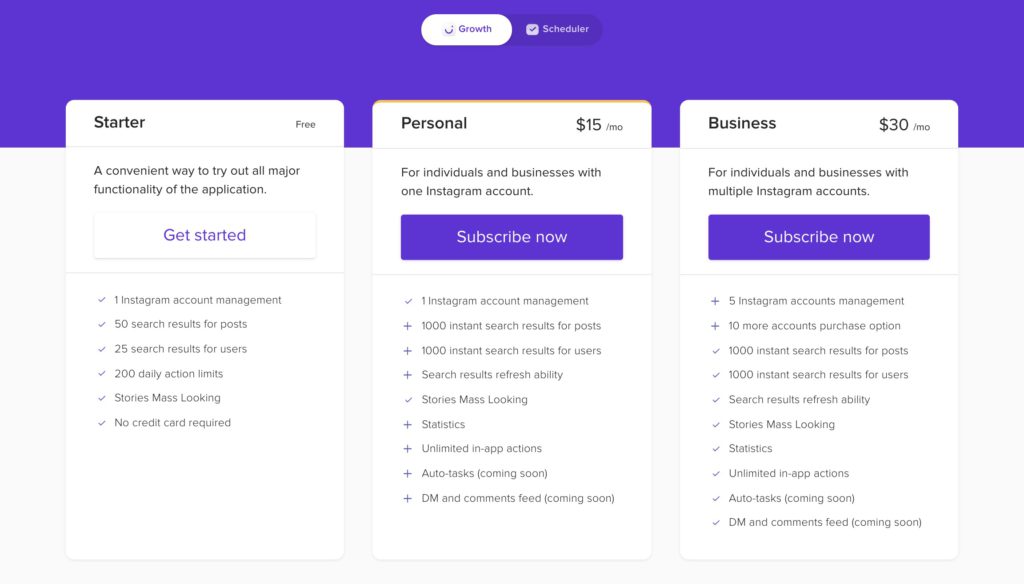 These are the packages for the Growth tool, and both the free version and the other two (Personal and Business) are shown.
Oh, and do you notice that some features are labeled as coming soon? That's been up there for quite a while now, and I don't think anything is coming any time soon, since the tool obviously doesn't work.
Now let's see what happens when you click on the Scheduler pricing.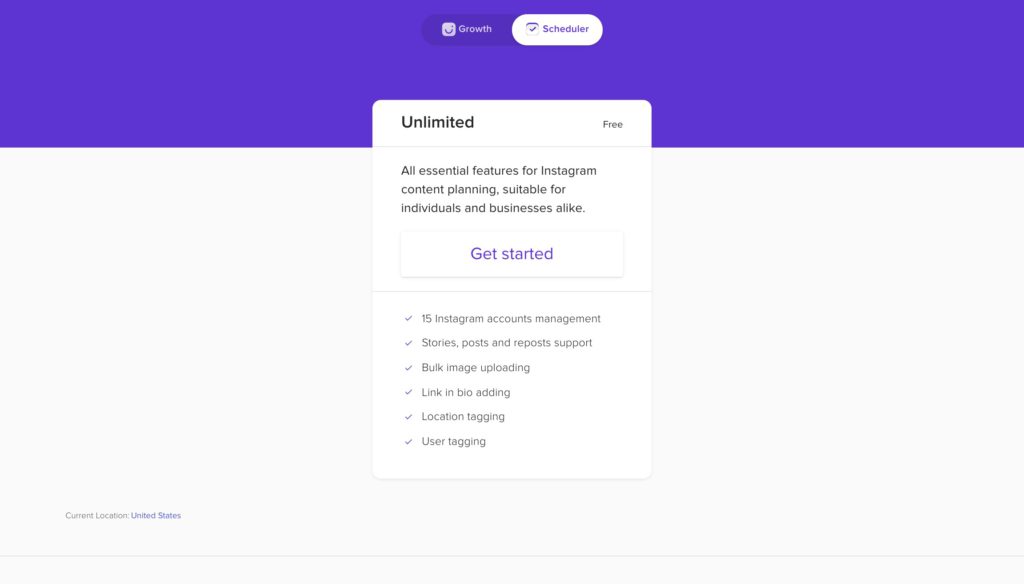 You see what I mean?
The Scheduler tool is the only working feature and they don't show its prices – it just doesn't make sense.
Is Combin Legit?
To be perfectly candid, I don't believe Combin is a 100% legitimate company.
First of all, I don't appreciate that I had to download it to my computer. Although it turned out to be safe, I still don't like having to download possibly harmful software.
Secondly, there's no customer support of any kind. There's an agent that supposed to be at your service, but he/she/it (it's likely a bot) is constantly away.
And finally, the complete lack of positive reviews is kind of shocking.
And I'm not talking about the reviews on their website – I'm referring to reviews on trustworthy sites like Sitejabber and Trustpilot.
So, no, I don't think Combin is a legit service.
Is Combin Safe?
This one's a bit complicated.
The Growth tool was the biggest issue safety-wise while it worked. It wasn't entirely safe to use, but all that's a moot point now.
Combin's website and the payment options are secure, but they still continue to charge people for a shutdown service.
That's a huge red flag, so the reasons to question the safety and legitimacy of Combin are completely justified.
Top Combin Alternatives
Since it's clear as day that this service isn't a good choice, why don't you take a look at some of the best services currently on the market?
They're all worth a shot and you're guaranteed to get safe and organic growth.
Combin Pros And Cons
Let's quickly sum up all the things I mentioned above to get a clear picture of Combin:
| PROS | CONS |
| --- | --- |
| Scheduler tool works fine | Growth tool doesn't work anymore |
| | They continue to charge for shutdown services |
| | No info available on all the prices and packages |
| | No customer support whatsoever |
| | Lack of positive reviews |
Combin Review: Final Verdict
Did you expect this is how my review would end?
Probably not.
That's because Combin is a popular tool and they put a lot of effort into maintaining a certain image. And that's the thing about these services – you have to know who to trust.
And you definitely can't trust them all, so it's a good thing you're doing research. Kudos to you!
Keep looking and researching until you find the one that's not only safe and reliable but also grows your account organically and helps you become Insta famous. Good luck!