Since you're here reading this, I take it you've already heard that Social Package has gone to the wall. And if you think that it might be temporary – you're wrong.
I hate to burst your bubble, but Social Package is indeed closed down for good.
But what exactly happened to it? Was it a classic money-grabbing scam?
You're about to find out every little detail about this service in my all-inclusive Social Package review.
I'll also cover the following:
What was Social Package?
Was the service effective?
Was the service affordable or not?
If you have no time to read the entire thing, you can cut corners with the short version below.
All that is left is to make yourself comfy and continue reading!
If you're sick and tired of false advertisements and companies that disappoint their customers (like I certainly am) just go and order from Upleap. This company is the only one that brings constant quality without issues, has dedicated support, and cares about its customers. My Upleap review tells all about it – check it out and see for yourself.
Back to today's task…
Social Package: Brief Overview
Social Package was a social media growth tool that sold fake engagement;
Social Package shut down a while ago;
The service was quite expensive for a poor-quality delivery.
An organic growth tool is your partner in crime when it comes to growing your IG the right way;
Most Popular Instagram Growth Tools Rated
What Was Social Package?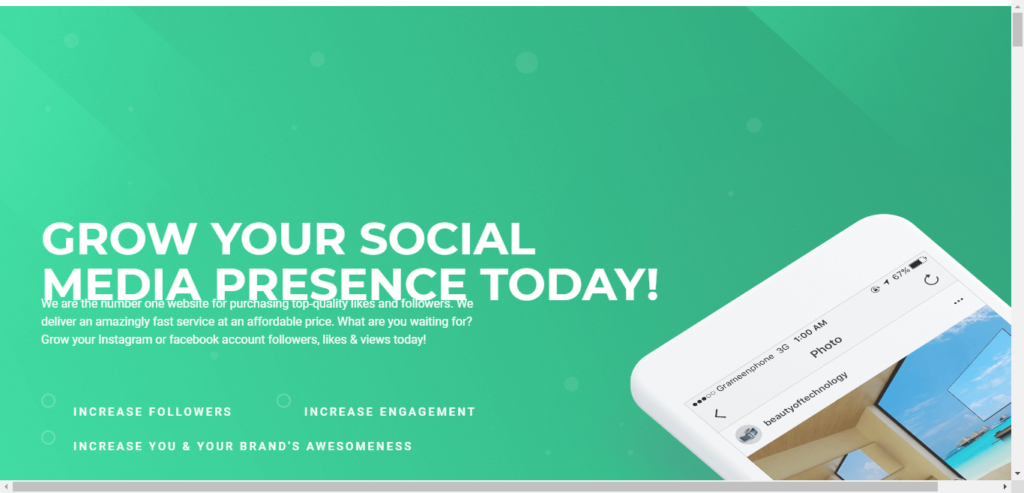 Yup, it's true – Social Package shut down for good. In fact, if you try to go to their website socialpackage.com, you'll be automatically redirected to xplodemarketing.com.
In spite of some people saying that the company rebranded to 'Xplode Marketing,' I honestly doubt it.
You see, Social Package was a social media growth tool, and the company that pops up when you search for their website is a full-blown marketing agency. So I figured they'd sold their domain once they were closed for good.
Nevertheless, what did the late Social Package provide back in the day?
Social Package proudly claimed how they were 'the number one growth agency,' but they were no more than a classic bot-based service. They sold followers, likes, and views for various social media.
Okay, so what went wrong? Why did they close their doors?
As I dug deeper, I found out the unpleasant truth. It turns out that the company sold fake engagement, which I think led straight to their demise.
But they're not the first case to go down like that.
Let me explain this:
Instagram is a platform that encourages its users to interact with each other and organically grow their accounts (go figure!).
When it detects bot activity, such as unnatural robot-like behavior or too much interaction, it immediately reacts. That means you'll either get action-blocked, suspended, or banned.
And the worst-case scenario?
It'll delete the followers and views you gained through such a service, which is exactly what happened to so many Social Package users.
How Did Social Package Work?
As I've already mentioned, Social Package covered several different social media platforms, and these were – Facebook, Instagram, YouTube, and SoundCloud.
Honestly, there's not much information left about them. It seems they offered one-time packages and multiple monthly subscriptions.
They sold engagement and followers and claimed how all of the accounts they provided were real people. However, I've found many testimonials on Trustpilot that claim the opposite.
Truth to tell, from what I've read so far, it seems that Social Package was a black hat service.
Many unsatisfied users kicked up a fuss about losing followers and views in bulk. In addition, when they tried to reach customer support, they were met with radio silence and never got their refunds.
Features of Social Package
Social Package offered a few basic features, but I'll only cover the ones for Instagram:
Instagram Engagement
Social Package sold likes, views, and automatic likes for Instagram.
Likes and views were one-time purchases and provided a certain number of each in the amount you paid for. Also, they were delivered at once.
On the other hand, auto-likes were a monthly subscription and provided you with likes each time you uploaded a new post.
The major problem with these features is that they're often too aggressive and deliver too much at once, which is a lousy growth strategy. They could easily get caught by Instagram's algorithm and get you into trouble.
Instagram Followers
This feature was the main culprit of Social Package's failure. The service offered various packages of followers with a one-time fee, which were delivered to your profile instantly.
But here's the catch – buying Instagram followers could get you suspended.
Pricing Of Social Package
Unfortunately, I couldn't find Social Package's pricing plans anywhere online.
However, I discovered something interesting.
When Social Package closed down, they rebranded to a temporary social media growth service called Media Whale. And despite the name change, the services remained identical.
Although both services are down, I managed to find Media Whale's prices, and here goes:
500 likes package: $5 per month
10k likes package: $75,99 per month
Auto-likes: $29,99 – $180 per month
TBH, it's not affordable at all for low-quality service.
Is Social Package Legit?
Alas, I don't believe Social Package was a legit service.
I mean, every service that audaciously violates Instagram's terms of use right from the start can't be 100% legit.
Social Package scam goes a long way – they deceived people, took their money, and just disappeared from the radar. So, I guess it's a good thing this company no longer exists.
Is Social Package Safe?
I think it's clear by now that Social Package was utterly unsafe. Many people got into trouble because of them, and some were even banned permanently.
Not to mention how, towards the end of Social package's career, many people literally got robbed. The company charged for the services they never delivered, and I think nothing can justify such conduct.
Top Social Package Alternatives
I've said this many times, and I'll repeat it – the only way to truly grow your Instagram is to find a reliable organic growth tool. I've listed some of my favorites below to give you a head start.
Social Package Pros And Cons
It's time to single out all of the positive and negative aspects of Social Package:
| PROS | CONS |
| --- | --- |
| It provided prompt engagement | The service provided fake engagement |
| | Many people got banned |
| | Almost no one got what they paid for |
| | No refunds |
| | Unresponsive CS |
Social Package: Last Thoughts
In the end, was Social Package worth a try?
If the service were still around, I'd probably advise you to avoid it altogether. They brought nothing but trouble, and the results they provided did not stand the test of time.
Remember that growing your account the right way, with the help of an organic tool, won't happen overnight. But don't be afraid to set foot on that journey, as the final results will be there to stay.