You've read a pile of Social Buddy reviews and still don't understand how this service works? Don't beat yourself up; it's not your fault. Most of the articles out there are either biased or incomplete.
I was as frustrated about this as you are, so I took the matter into my own hands. Below, you'll find my very own Social Buddy review where I deal with things like:
Can Social Buddy do what it claims it can?
Is it a fraud?
Should you give it a chance?
For all you busy bees who are short on time, I've put together a summary. If you've got a few minutes to spare, I suggest you read the whole article!
Social Buddy Key Points
Social Buddy is an automated engagement tool
It is not an organic service
Their monthly subscription is expensive
It's not very effective
Your best bet would be to go organic
Do you like discounts? If yes, then use code GROW20 and get 20% off
Most Popular Instagram Growth Tools Rated
What Is Social Buddy?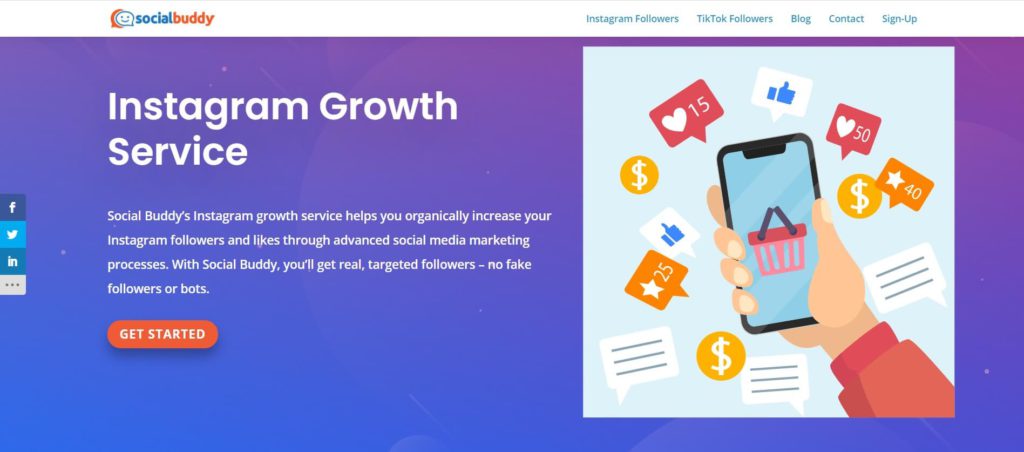 Social Buddy is a social media growth tool, most famous for its Instagram services. Aside from that, it also offers help in growing one's TikTok account. I'll be dealing with Social Buddy's IG aspect since that's what I assume you're here for.
Upon visiting their website, my first impression was mixed. The company came off as intentionally vague about the specifics of their service.
In other words, they don't tell you exactly what they do to increase your Instagram following. Instead, they beat around the bush with phrases like "advanced targeting" and "organic growth."
It smelled like a bunch of empty promises to me.
I decided to snoop around a bit and see what the customers have to say about Social Buddy. Trustpilot.com is where I get most of the info on this.
Users' experiences vary; some praise the service, and some bash it. I couldn't help but notice that many – not all – of the positive reviews, seemed fake. All the negative comments looked pretty genuine, though.
After a bit of in-depth research, I figured out how Social Buddy really works. Stick around if you want to learn more about this.
How Social Buddy Works?
The Social Buddy Instagram growth tool is simpler than the company would have you think. It performs classic automated engagement with the audience you targeted. I'm talking about actions such as liking, following, unfollowing – the usual.
If you compare its price to that of its peers, you'll see that Social Buddy is expensive. So, why pay more for such a basic service? It's organic. At least that's what the company claims.
However, the reality is that Social Buddy's operations look awfully similar to those of a plain Instagram bot. Which is what this tool essentially is.
The service is slow to start, but when it does, you can expect it to gain you a few followers a day. The growth will most likely be humble, and you'll be sitting on the edge of your seat, waiting for it to skyrocket. But it won't. Ever.
In case you decide to complain, you'll probably receive a response in the vein of: "We're taking it slow and steady." And slow and steady it'll be, but not without risk. I'll talk about the latter in the upcoming section.
Features of Social Buddy
Once you put two and two together, you'll realize that Social Buddy has only, well, two features. Let me explain what they are and how they work.
Automated Engagement
As I mentioned earlier, auto-engagement is Social Buddy's mainstay. The tool can perform three actions – like, follow, and unfollow.
Now, the issue here is that Instagram doesn't like automation and can easily detect it. Despite Social Buddy "taking it slow," it cannot avoid getting caught. When it does, you'll get action-blocked and won't be able to do any Instagram activity for some time.
Another issue is that, even if you don't get into trouble, you probably won't experience significant growth.
Advanced Targeting
Upon signing up, Social Buddy will ask you about your target audience. You'll tell them about your niche, goals, list a few competitors, and relevant hashtags. Then, the service promises to do the rest.
How "advanced" is this targeting method?
Judging by some user reviews, it isn't advanced at all.
Pricing of Social Buddy
At least when it comes to pricing, Social Buddy is as clear as day. They offer a single monthly subscription with no gimmicks. Here, take a look at it: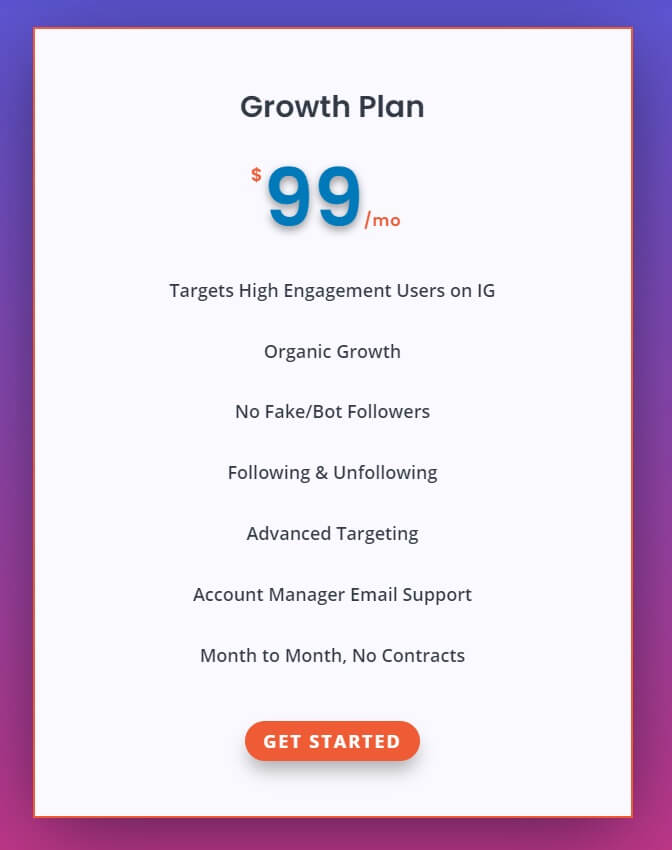 If you remember, I mentioned earlier how I think the service is expensive compared to its competitors. As you can see, Social Buddy costs $99 per month, whereas some credible organic growth tools go for two times less.
Is Social Buddy Legit?
I have to admit that I cannot answer this one with certainty.
The service appears to be legit. It (usually) delivers the goods, although they're not exactly as they promote them to be.
I can also see that they respond to almost all the negative comments on Trustpilot. This means they care for their reputation. However, their replies often come off as rude, and the company's never willing to take the blame for a user's poor experience.
I think that they have to step up and own their shortcomings, which are plentiful.
Is Social Buddy Safe?
Social Buddy seems to be a bit safer than some other bots on the market. It's not very aggressive, so Instagram doesn't detect it as easily. Unfortunately, this service did get a number of people in trouble. So, at the end of the day, it isn't entirely safe.
Top Social Buddy Alternatives
If this review deterred you from trying Social Buddy, worry not. I can assure you that there are superior growth services out there, such as those shown in the following table.
Social Buddy Advantages and Disadvantages
Let's break Social Buddy down to the most relevant points:
| PROS | CONS |
| --- | --- |
| Easy to use | It cannot boost an account much |
| | Pricey |
| | Targeting isn't very precise |
| | Fake 5-star reviews |
| | Many dissatisfied users |
| | It may get you action-blocked |
| | Getting a refund may be a challenge |
Social Buddy: The Final Verdict
Social Buddy isn't the worst growth tool out there, that's for sure. The company is a tad dishonest which creates a misleading image about its abilities.
Again, it'll probably earn you some followers, but not a lot, and not necessarily from your niche. Aside from that, there are decent chances that it'll get you blocked, and it's quite expensive.
All in all, I'd advise you to take your money elsewhere.
If you'd like to check out some genuinely organic services, you can find them below.