Almost all of the available RiseSocial reviews claim that this service is a complete scam.
Going through them got me thinking – Is it possible it's really a shameless fraud?
Being the eager beaver that I am, I decided to tackle the issue and discover the truth. I spent countless hours reading every single RiseSocial review I came upon, and I poured all my findings here.
So, if you're curious to know the truth about RiseSocial, keep on reading!
Not interested in reading the whole thing? Check out the cliff notes below.
If you're tired of looking at reviews of scammer companies and disappointments, please have a look at Upleap. Their performance, quality of service, and support are unparalleled. My detailed Upleap review tells all about it – check it out!
Back to today's article…
RiseSocial – Reviews Summary
RiseSocial was likely a part of a large scam scheme.
It regularly got people banned on Instagram.
To avoid putting your safety at risk, I suggest you turn to organic growth.
Most Popular Instagram Growth Tools Rated
What Is RiseSocial?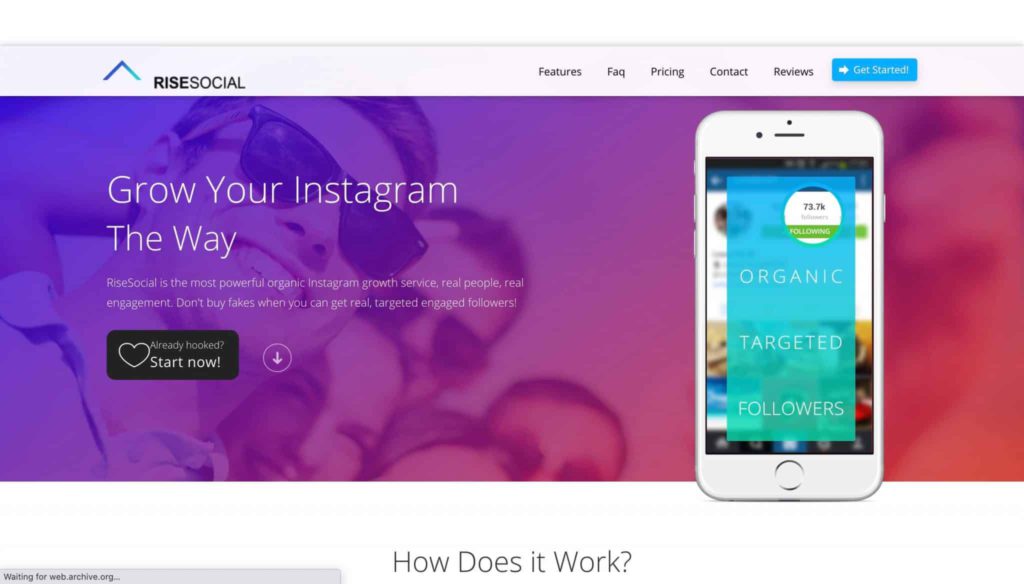 RiseSocial was a growth tool that officially closed in 2019. If you try to visit their website, risesocial.co, you'll see that the domain is for sale.
While it existed, the company put a lot of effort into advertising. Had they put a fraction of it into the actual service, it might have been something real.
Alas, that wasn't the case.
RiseSocial's site was indeed full of promises that turned out to be empty. For instance, they claimed their strategy was purely organic, but that was far from the actual truth.
What was it really?
A classic Instagram automation bot.
Every time I'm researching a service, I rely upon Trustpilot reviews to tell me what's really going on behind the scenes.
Most of their ex-users say that, after falling for the RiseSocial scam, they believe the company is actually a part of a much larger scam.
How Did RiseSocial Work?
RiseSocial performed a series of automated tasks. It followed, unfollowed, and liked stuff on Instagram. When it comes to IG bots, this is as basic as it gets.
To use their service, you had to register on their official site.
They, for some reason, needed to know your IG username and your password. Now some might say it's a pretty standard procedure, right? Wrong.
The truth is, Instagram growth services have no business asking for your passwords or any other private info; for that matter.
I mean, think about it – for what could they possibly need your Instagram password?
Anytime a service like this one wants to know your password, it's safe to assume they're up to no good.
Since there wasn't a free trial (BTW, a major red flag), you had to choose a package and pay upfront.
Why do I say the lack of a free trial is a sign of warning?
Well, why wouldn't any legit company offer a taste of their service? A free trial is a chance to gain your clients' trust, and it basically says – hey, we've got nothing to hide, come and try our tool for free before you spend your hard-earned money!
You see what I mean?
The fact that RiseSocial didn't offer a free trial makes me think they only cared about taking your money (which turned out to be true).
RiseSocial Features
Let's see how the bot performed the tasks I mentioned before.
Targeting Options
Once you purchased a package, you had to adjust the settings for narrowing down your audience.
The filters included hashtags, age, demographics, and region. I must admit, it's not the set of options I see in many bots.
And were they up to par?
Well, yes.
The tool really did stick to your settings, most of the time.
The issue was more in the frequency at which it followed and liked. Namely, it seemed that the bot was unhinged at times, and it followed and liked ceaselessly.
This only meant one thing – you had to face the repercussions of such an aggressive approach.
Most testimonies from RiseSocial's ex-clients say that their account eventually got blocked, or worse – banned for good.
What's more, they also complain that the company couldn't care less – if you tried to contact the CS after your account got banned, they'd go radio silent and completely ignore your cries for help.
Automated Actions
RiseSocial performed only three tasks – follow, unfollow, and like.
Follows and likes were particularly troublesome.
The follow feature would attract fake followers in bulk, and likes would block your actions before you could say knife.
RiseSocial Pricing
Sadly, there isn't much info on RiseSocial pricing. Since their website is down, I couldn't find anything there. As for Trustpilot reviews, a few of them mention prices, but there's no much talk of precise amounts.
The only mentioned amount is $33, and that was (allegedly) a weekly price.
If that's true, I have to say that RiseSocial was not budget-friendly at all.
As a frame of reference, you can find a safe organic service that costs as much on a monthly basis.
Speaking of pricing, I can't fail to mention a couple of reviews that claim it was impossible to unsubscribe from RiseSocial. They'd keep charging your credit card, and the only way to stop them was to go straight to the bank and cancel your card.
Is RiseSocial Legit?
It's indubitable – RiseSocial was most certainly not legit.
After thorough research, I can confidently say that RiseSocial was a blatant scam.
Is RiseSocial Safe?
RiseSocial wasn't safe in any aspect, except maybe for their secure website.
They often got people banned or suspended from Instagram, they charged clients against their will (and a pretty steep price at that), and the CS was as good as dead.
I reckon that's enough to deem them unsafe.
Top RiseSocial Alternatives
Don't let the cruel reality about RiseSocial bring your spirits down. There are still plenty of reliable, organic growth tools; it's just a matter of finding them. I suggest you start with these I listed below.
RiseSocial Pros And Cons
Here are all the ups and downs of RiseSocial in one place:
| PROS | CONS |
| --- | --- |
| Targeting abilities were OK | RiseSocial shut down in 2019 |
| | They scammed a lot of people |
| | Unsubscribing was out of the question |
| | Charged clients against their will |
| | Regularly got users blocked or banned |
| | Virtually no customer support |
RiseSocial – Final Verdict
The shocking truth is that RiseSocial was indeed an outrageous scam, so I guess it's a good thing Instagram managed to shut them down for good.
Once again, we see that using a bot is never a good idea – they always hurt us in one way or another.
This entire situation begs the question – "Do Instagram growth services work?"
Well, yes.
I can attest that one thing that's never failed me is organic growth. I genuinely recommend you to browse the organic services I listed below and witness the greatness yourself.