Here's the only MySocialFollowing review you'll need before you decide whether you want to buy Instagram followers, likes, or views from it.
In case you were wondering what this review is based on, let's just say that I first went through all the existing MySocialFollowing reviews I could find before actually getting their services for Instagram.
Thus, I learned all there is to know about MySocialFollowing's prices, features, and performance.

I know that some of you just want to see the gist, so I've created a summary of the main points you can check out forthwith.
I've been reviewing IG Follower services for quite some time now, and can say with confidence that Upleap is the one to go with if you want results and reliability. I've explained all in detail in my Upleap review, which I recommend you to check.
Back to today's topic…
MySocialFollowing Key Takeaways:
You can buy Instagram followers, likes, views, and comments in heaps from MySocialFollowing
It also has packages for four other social media platforms
A portion of them will disappear after some time
Most Popular Instagram Growth Tools Rated
What is MySocialFollowing?
MySocialFollowing has been around since 2007, which puts it in the category of veteran IG growth services.
It is primarily a marketplace where you can buy features that help you with your social media presence.
They claim to have worked with over 300,000 clients who were satisfied with their service. Considering how long they have been in the game, it wouldn't be that impossible.
There are multiple 5-star reviews on MySocialFollowing's website, but they arguably look fake. I mean, there are no profiles or referral links to follow, and I've seen this tactic so many times before.
Plus, when you take the onsite reviews of their –supposedly – ex-customers, and compare them to Trustpilot reviews from real users, it becomes clear that it's not all rainbows and unicorns as they claim it to be.
MySocialFollowing will sell you the exact amount of what you buy, but the quality is just mediocre.
In addition to Instagram packages, MySocialFollowing sells Facebook, TikTok, Twitter, and YouTube services. I haven't tested them out because Instagram is always my main focus, but they probably work the same.
Also, there are "site traffic" services that should help you increase your website statistics.
How MySocialFollowing Works?
MySocialFollowing is straightforward and easy to use:
Just like you would do when you're online shopping, browse their store, and find the package that you like.
Enter your IG username (BTW, your account has to be set to "public"), and continue to checkout.
You can pay via your credit card or PayPal.
That's it! Features that you buy should usually arrive in the next 24 hours, albeit this period is sometimes longer.
MySocialFollowing Features
Here is what you can get from MySocialFollowing.
Instagram
You can buy the following Instagram features:
Followers
Likes
Auto-likes
Views
Comments
Let's dissect them, one by one.
I guess that most people are interested in followers. I can confirm that MySocialFollowing will deliver the exact amount of followers that you ordered, but the thing is that everyone will know that they are purchased.
By "everyone," I mean, other people (who might be put off by this), and Instagram's fake engagement detection. Instagram will then start deleting them, and your following count will again drop.
The same goes for likes. As they don't come from real people's accounts, they will be deemed fake.
Views and comments are less useful but also cheaper, so if that's something that interests you, give them a try.
Other Platforms
MySocialFollowing also offers:
Facebook features (auto-likes, followers, page, photo, and video likes)
TikTok features (auto-views, likes, views, comments, shares)
Twitter features (followers, favorites, retweets)
YouTube features (views, auto-views, likes, dislikes, comments, subscribers, watch hours)
Traffic Boost
I mentioned that MySocialFollowing can also boost your website traffic. It does so by delivering from 2,500 to as many as 50,000 visitors.
Pricing of MySocialFollowing
Now, take a look at MySocialFollowing's pricing plans for Instagram: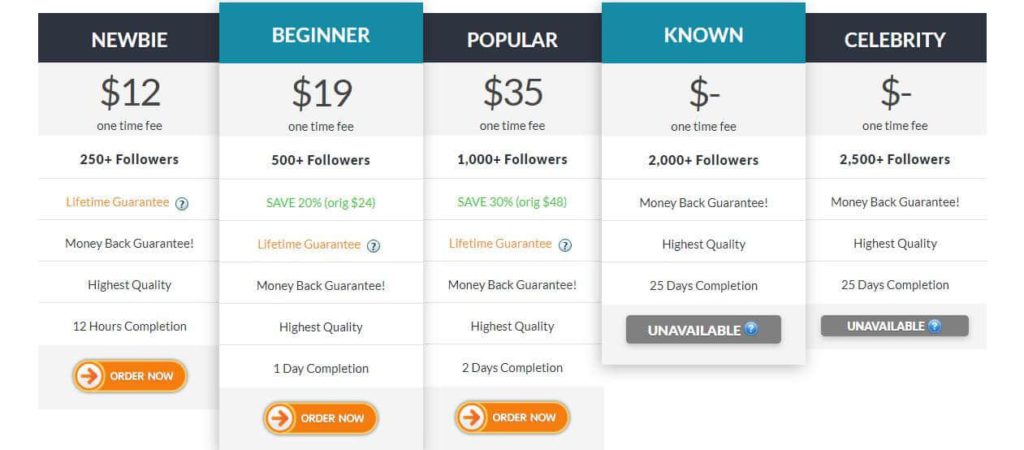 The cheapest one, "Newbie," sold for a one-time fee of $12, will bring you 250 followers in the next 12 hours, whereas the most substantial one, "Popular," costs $35 and accounts for 1,000 new followers.
They also had "Known" and "Celebrity" packages that entailed 2,000 and 2,500 followers, respectively, but they are no longer available. The reason is that Instagram immediately notices this amount of purchased followers.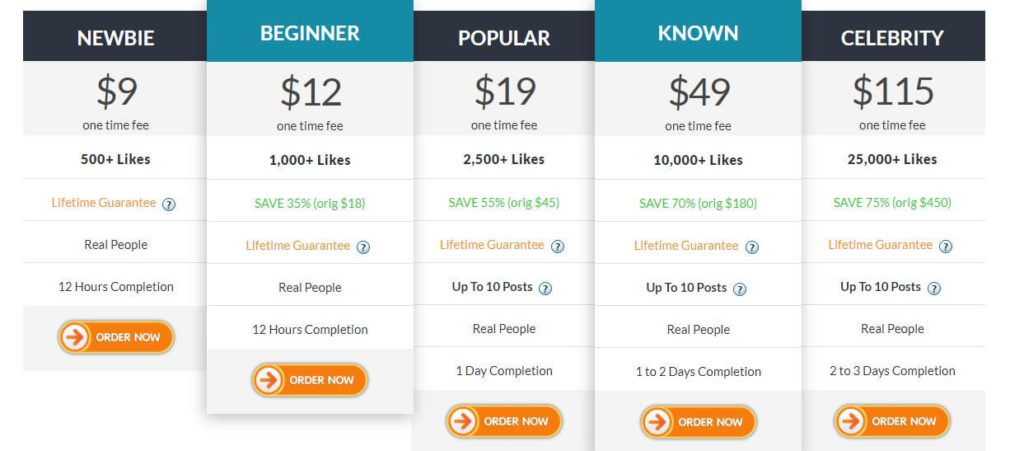 When it comes to likes, there are also multiple pricing packages:
500 likes for $9;
1,000 likes billed at $12;
2,500 likes cost $19;
10,000 likes are $49;
25,000 likes for $115.
Finally, you can combine MySocialFollowing features and create a package that suits your needs. For instance, if you were to buy 1,000 views, 1,000 likes, and 50 comments, it would cost you $31.
Is MySocialFollowing com Legit?
Is MySocialFollowing fake? No, folks, it isn't.
I can attest that this is a real company that will deliver what you buy from them (at least as far as Instagram is concerned). The quality of their services and the fact that followers will disappear over time are another side of the story that cannot be separated from Instagram's strict policy.
Is MySocialFollowing Safe?
MySocialFollowing is safe to use.
It provides three certificates of security – Norton, McAfee, and TRUSTe, which means that both its payment gateway and website are safe for your data. They also don't require your Insta password.
Best MySocialFollowing Alternatives
Have you realized that buying things like IG followers won't get you far? Then you may want to check out the most recommended MySocialFollowing alternatives.
MySocialFollowing Pros and Cons
When we put the advantages and disadvantages of MySocialFollowing side by side, it looks somewhat like this:
| PROS | CONS |
| --- | --- |
| Legit | The quality of their services is not the best |
| Secure website | Followers and likes will gradually disappear |
| | Views and comments are not really useful |
| | Instagram will detect purchased services |
| | Fake onsite reviews |
| | Connects you with bot accounts |
MySocialFollowing: Final Verdict
What is the final impression, and should you use this marketplace?
MySocialFollowing promised Instagram popularity in just a few clicks, but the reality is that it's just not good enough.
Don't get me wrong – if you're looking for a service that will bring you a certain amount of followers or likes, it can be OK. But they will all be gone within a month or so.
So why settle for temporary and low-quality growth when there are tools that can bring long-term results?
I've mentioned a couple that will be worthwhile below.