Struggling to find comprehensive Instamber reviews? I feel you. It's ironic how there are so many of them, but none tell you anything useful about this service. Well, that's about to change.
Luck has brought you to my Instamber review! Today, I'm going bone-deep on this service, and I'll answer the following questions:
Can Instamber be trusted?
How effective is it?
Will it put your IG profile at risk?
In case you don't have a few minutes on you, sift through the key points. They're right here, below. It's always better to read the entire article, though!
Instamber Key Points
Instamber sells social media bots
It automates engagement
Many of its services are malfunctioning
Nearly impossible to get a refund
There are safer bots out there; Kenji is a good example
Use the code GROW20 and get 20% off the initial price for life
Most Popular Instagram Growth Tools Rated
What Is Instamber?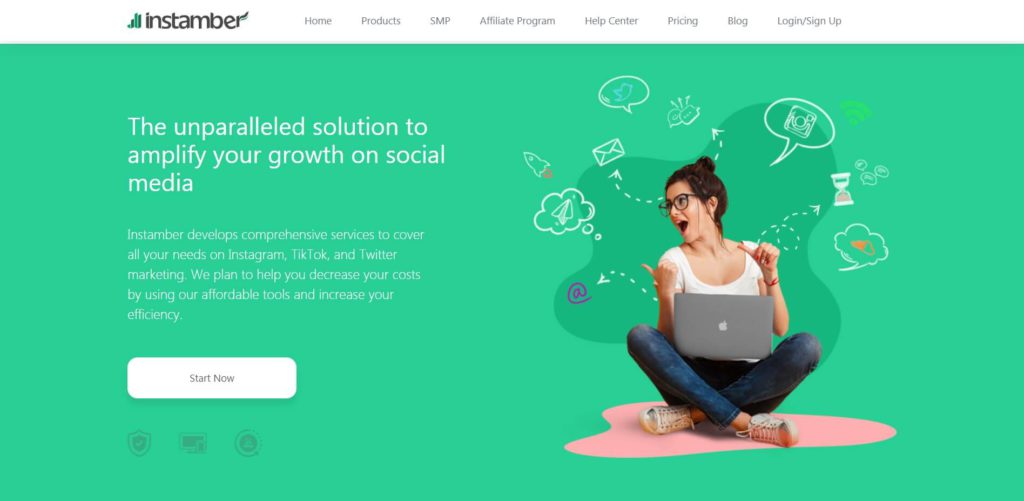 Instamber is a company that offers a plethora of services for social media growth. It's got numerous automation tools for Instagram and a few for TikTok and Twitter. There's also engagement/followers for Spotify, Telegram, and Soundcloud.
That's quite an arsenal, isn't it?
As usual, I will focus solely on Instagram services, so let's dive into it.
Instamber offers a total of six different IG growth tools. They include things like a post manager, auto DMs, and even buying engagement. You can read about all of the features later in the article.
The company's amazingly well-designed website sure leaves a good first impression. However, once you start digging under the surface, things don't look as nice.
The services don't work as promised, and the company doesn't seem to care much. They'll happily take your money, but what happens after that isn't their concern. To learn more details about how it works, proceed to the following section.
How Do You Use Instamber?
You start with Instamber as with any other growth service – by visiting their official website (instamber.com). Once there, register with your email and password, and select one of their products. To remind you, there are six of them, and they're all very different from each other.
Now, there are better and worse Instamber tools. For instance, the Search Tool is benign and potentially useful, while the Auto DM is a disaster.
The key issue with this service is that it doesn't work most of the time. It runs for an hour, or two, or three (if you're lucky), and then it crashes. On top of that, it gets stuck in a loop of engagement with the exact same accounts.
Add to that the needlessly complicated interface, and you've got yourself a perfect recipe for a headache.
Features of Instamber
As I briefly mentioned, Instamber is loaded with all kinds of features. Now, let's take a closer look at them.
Bot
The Instagram Bot feature (that's how Instamber calls it) is basically an auto-follow tool. It also includes elementary targeting options – hashtags and locations.
You cannot put any time constraints on this feature. This means that, in theory, it'll follow new accounts night and day. However, in practice, it doesn't work that way.
Like I said in the previous section, Instamber's automation functions only for a few hours – sometimes minutes – a day.
Buy Instagram Engagement
There's not much to explain here. You specify the number of likes/views/followers you want, pay, and Instamber should send them to you. I said "should" because sometimes it doesn't. I've read complaints from customers who bought this service but didn't receive anything.
Of course, Instamber claims that it all comes from real users. This statement is a classic example of truth-bending.
Automated DMs
Same as the Instagram Bot, the Auto DM feature allows you to target your audience. Then, it'll proceed to send customized DMs to those accounts. I personally dislike this tool because I think it's spammy and ineffective.
Comment Manager
The Comment Manager is a feed of all the comments that people leave on your posts. It allows you to reply to them and even delete them if you like. Honestly, this feature is quite good.
Post Manager
This is essentially a post scheduler, and it's another one of Instamber's "good tools." Instagram won't block you for using it, and the feature can save you a lot of time.
Search Tool
As the name implies, this feature helps you find accounts of interest. I don't know on what principle it works, but it can be beneficial.
Pricing of Instamber
Instamber's service is affordable; I've got to hand it to them. You can get some of their tools for as little as $10 per month. Here's a preview of their pricing plans: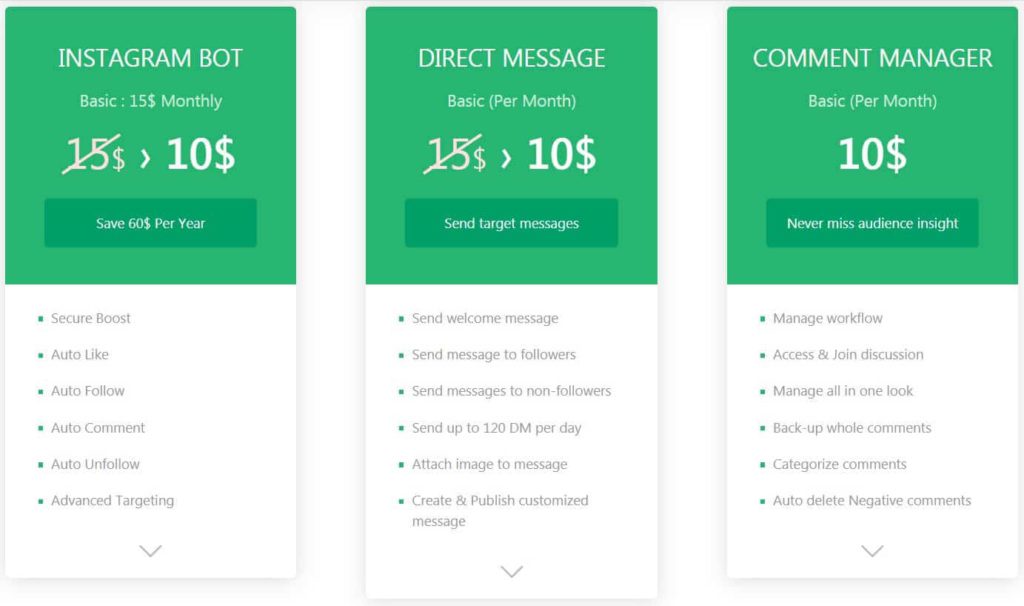 Despite being cheap, Instamber probably won't pay off.
Is Instamber Legit?
I don't know whether Instamber ever worked to its full capacity, but it sure doesn't now. I know I'm repeating myself, but it cannot be overstated – Instamber is a malfunctioning service.
If you go over to Trustpilot.com, you'll see two kinds of comments. The first are 1-star reviews that usually come from genuine users. The other kind are 5-star reviews that are obviously fake. Go ahead, read them, and decide which ones you'd rather trust.
Is Instamber Safe?
Instamber won't compromise your data. It probably won't even get you action-blocked. However, you won't get your money back once you give it to them. And believe me, you'll probably want a refund.
Top Instamber Alternatives
If my review discouraged you from trying Instamber, don't worry, there are plenty more fish in the sea. I'd suggest you take a look at the growth services listed in the following table. They're all organic and are among the leading tools in the field.
Instamber Pros and Cons
Let's do a quick summary of Instamber's strengths and weaknesses:
| PROS | CONS |
| --- | --- |
| It's affordable | The automation doesn't work most of the time |
| Some features are OK | Very complicated interface |
| | Bad customer service |
| | Hard to get a refund |
| | Fake positive reviews |
| | May not deliver what you bought |
Instamber Review: The Bottom Line
Let's face it, folks, Instamber isn't worth the trouble. It's cheap but ineffective. Their website works well, but their services don't.
The most you can expect from it is to function several hours per day and possibly attract a few followers to your account. That's not how a growth campaign should look like.
To boost your Instagram account, you'll need a well-rounded tool that'll help you make a focused effort. Believe it or not, there are still such companies around. I've had the luck of bumping into some of them, and you can check them out below.