In search of useful yet affordable IG growth tools, I've stumbled upon this Growbot tool. In the lack of unbiased reviews for it, I decided to try it out and let you guys know what I think.
So today, in my detailed Growbot for Instagram review, I'm going to talk about what happened when I used it.
You'll also find out:
What are the tool's main features?
Can the tool effectively boost your engagement?
Is it safe to use it?
How cheap is it?
Since there are a lot of you folks who don't have the time to sit through the entire article, I've outlined the key points.
Without any further ado, let's get started!
Growbot: Brief Overview
Growbot is an Instagram bot that functions as a Chrome extension;
There is a high chance this bot can get you banned;
The service is pretty cheap but doesn't bring real engagement.
From my experience, I'd say that the best way to grow your IG is by using organic growth tools;
I know I won't regret a single penny I've spent on these organic growth tools: Kenji, Upleap, and Nitreo;
If you want to try them out and see what I'm talking about, here's a discount code so you can get 20% off on all their tariff plans FOR LIFE: GROW20
Most Popular Instagram Growth Tools Rated
What Is Growbot?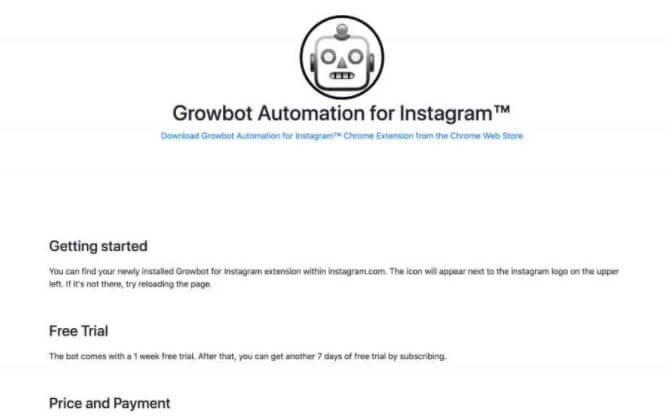 Growbot Automator is essentially an Instagram bot that does IG actions such as liking and following/unfollowing instead of you.
It seems their website domain is for sale, but as I was able to find out, it used to function normally back in the day. However, the bot is still available for installation, and you can purchase it through Chrome's web store.
I have to say – I'm not a big fan of Chrome extensions as they can easily access some of your sensitive info. But even with this in mind, I've installed it for the sake of this review.
To tell you the truth, I thought I'd get banned faster than a speeding bullet using this tool.
Why?
Because Instagram doesn't like its users to employ bot technology and tends to action-block or ban anyone it catches using it. And if it doesn't 'punish' you this way, chances are you'll lose all of the followers you gained through such an app.
Did it get me banned?
Well, no. But I wouldn't be surprised if that were to happen had I continued to use it.
How to use Growbot Automator for Instagram?
You can easily access the bot through your Instagram account. Just go to instagram.com, and you'll see a robot head icon in the top-left corner once the extension is installed.
As for the interface – it's unnecessarily complicated. IMO, they could have organized it in a much simpler way because it takes a few minutes to figure out how it works.
Nevertheless, the tool will follow and unfollow users that you set through the app's targeting options. And then, if you're lucky enough, those people will follow you too.
The app will also like IG posts on your behalf, and it allows you to target your audience using special filters. I'm going to talk about the tool's features further in the next section.
Features of Growbot
Growbot has a few basic features for IG, and I've tried them all. Here goes:
Follow/Unfollow
This feature is the core of Growbot. It will follow the people in an attempt to provide you with more followers. It will also unfollow people who don't follow you to even out your numbers.
The bot offers a few options which you can set according to your liking. For example, you could set the number of accounts you wish the bot to follow per day.
Also, it allows you to set the time in which the bot will do its thing.
However, it won't exactly produce the results you anticipated.
The bot usually brings accounts that are bots or not related to your field of interest. Hence, there's a high chance Instagram will delete those accounts.
Like Feature
The bot will like new uploads on your or other users' feed.
You can also set how many likes you want the bot to perform.
If you set it on low and use it sparingly, you may escape Instagram's algorithm. On the other hand, if you use it like that, the chances are it won't yield any growth.
In the end, it's a two-edged sword.
Targeting and Filter
You can set the tool to follow accounts with a particular number of followers or even someone else's followers.
The tool can also unfollow users who don't return the favor after a while. I mean, there's plenty of options you can set to get better results.
Be that as it may, the tool will still bring fake accounts, and that won't do you any good.
Pricing of Growbot
Growbot is among the cheapest services I've found on the market.
It offers two subscriptions, which you can pay via Google Payments.
These are:
Monthly – $6,99
Yearly – $69,99
The service also offers a free trial. Namely, you can use it for free for the first seven days, and if you want to continue to use it for free for another seven days, you'll have to subscribe.
Is Growbot Legit?
I can't say I know the answer for sure.
There's not a single genuine up-to-date Growbot Automation for Instagram review anywhere online, not even on Trustpilot.
Also, customer support doesn't exist, so if you encounter any problem, you'll have to manage it alone.
Is Growbot Safe?
I would have to say no.
The bot comes within the Chrome extension, which can be dangerous and risky. Also, as a bot-based service, it can get you suspended or banned in a blink of an eye.
Top Growbot Alternatives
Growbot isn't safe and won't get you far. If you want to see long-term results, try using an organic growth tool like the ones I listed below.
Growbot Pros and Cons
To sum up this review, let's see all of the good and the bad stuff about Growbot in one place:
| PROS | CONS |
| --- | --- |
| Free trial | You might get banned because of it |
| Affordable | It's a Chrome extension |
| | Complicated interface |
| | No CS |
| | No genuine reviews |
| | Their website is down |
| | Brings fake engagement |
Growbot: Final Words
I wouldn't advise you to try this service.
I mean, if you want to – go ahead. Just don't expect much, and always bear in mind it can get you banned for good.
Relying on my experience, I'd say organic growth is the best strategy when growing your IG. I took the time and effort to create a list of the best ones I've used so far. You can check them below!