Due to the shortfall of unbiased Getriver reviews, I decided to write one that'll be both super thorough and objective.
Is Getriver safe to use? Can this service harm your IG account?
If you're looking for answers to these questions, you're in the right place.
I sifted through all the existing reviews from the company's ex-customers to hear about their firsthand experience. I also tried it myself, so I'll tell you how it all looked from my perspective.
Let's get straight to it!
Getriver – The Essentials:
Getriver presents itself as an organic service, but in reality, it is a bot.
It's too expensive for a bot.
If you want to see some real growth, try organic services.
With the code GROW20, you can get 20% off their tariff plans forever.
Most Popular Instagram Growth Tools Rated
What Is Getriver Instagram?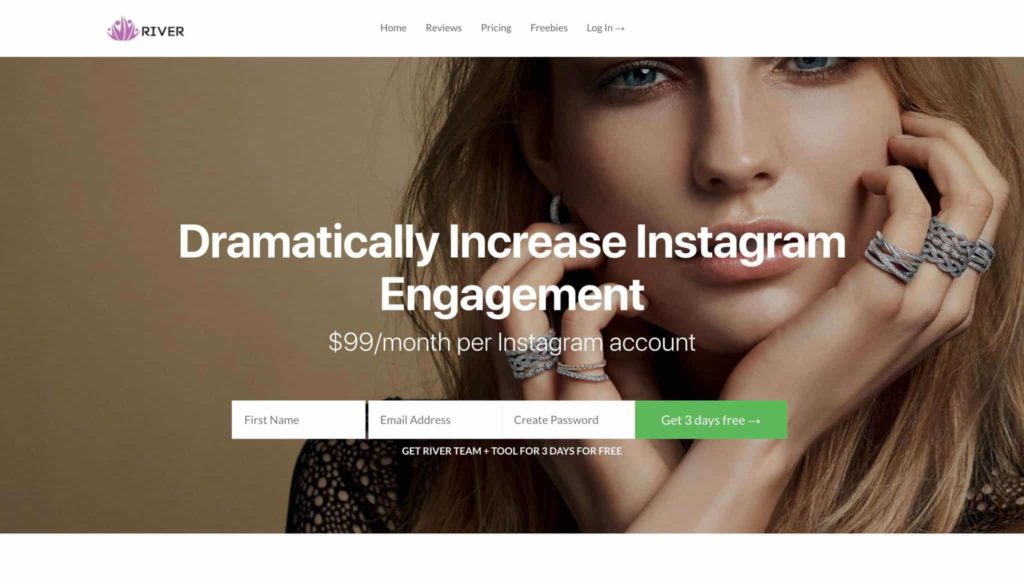 Getriver used to be a service completely focused on automation, but as of recently, they claim to have switched to organic growth.
The company says that they now have a team of social media managers that are real people who handle your account.
I have to say I seriously doubt they are actual human beings, mostly because many Getriver Instagram reviews say they never interacted with any manager, let alone a real person.
What I can tell you from my experience is a tad different. I did talk to a "social media manager," but I never got the sense it was a real person. All the conversations and interactions were way too bot-like, and they just seemed unnatural overall.
I failed to find a single review that states the point-blank they met with a real manager.
As it turns out, all of it is just concealed bot activity.
How To Use Getriver For Instagram?
Getting started with Getriver is fairly simple. You go to their website getriver.com, and from there, you can choose either a free trial or buy one of the packages right away.
If you opt for a free trial (which I think you should), you need to enter your name, email and create a password.
I tested the waters before paying for it, and I can tell you it's alright at best. Three days isn't enough time to see if the service works or not or to figure out what it really is.
Once the free trial is over, the next step is to purchase a plan. The good news is that Getriver supports PayPal, so you don't have to pay via credit card directly. It's all perfectly safe.
When you cough up the 100 bucks (I'll talk more about this later), you'll meet with your dedicated account manager.
When I say meet, I mean you'll have to fill out a couple of forms. You're supposed to provide him/her/it with all the info about your account – What is your area of expertise? With whom do you want to interact?
TBH, this strategy is not half bad, and it could work if the manager were really a human being dedicated to helping you grow organically.
Sadly, that's not the deal here.
I touched upon this earlier – disappointingly enough, the manager you get is nothing more than a bot.
And that's not all. In a moment, you'll see that all of the activities Getriver performs are also done by a bot.
There's no sign of organic growth.
Getriver Features
This won't take much time since Getriver has only a couple of, let's call them, humble features.
Follows/Unfollows
Getriver says all the follows and unfollow from your account are done by your manager. That's not how I experienced it.
Why do I say this?
Well, because I tried these two features, and they were done automatically in a way that's so far from human-like behavior, it's borderline robotic.
It would constantly follow, sometimes in the middle of the night, sometimes for hours at end. What's more, it'd completely disregard the previously set filters for audience targeting.
It's just too conspicuous; there's a bot at hand.
Likes
Likes are also supposedly delivered to other accounts by your manager. They are supposed to like posts based on your preferred hashtags. The hope is to attract the attention of users from your niche and hope they'll want to follow you.
Unfortunately, it was the same with likes as it was with follows.
Due to the aggressive approach, your account can get blocked or banned in a heartbeat.
I had the misfortune to experience this first-hand.
Namely, my IG profile got action blocked for an hour because "I" liked stuff without control.
Instagram Experts Customer Support
Yup, this is really how Getriver calls its customer support. Allegedly, they are a team of experts who are at your disposal 24/7.
I was pleasantly surprised that the CS is indeed available around the clock, and they respond promptly.
Getriver Pricing
For a service with features that are the bare essentials, Getriver sure is pricey. Let's take a look: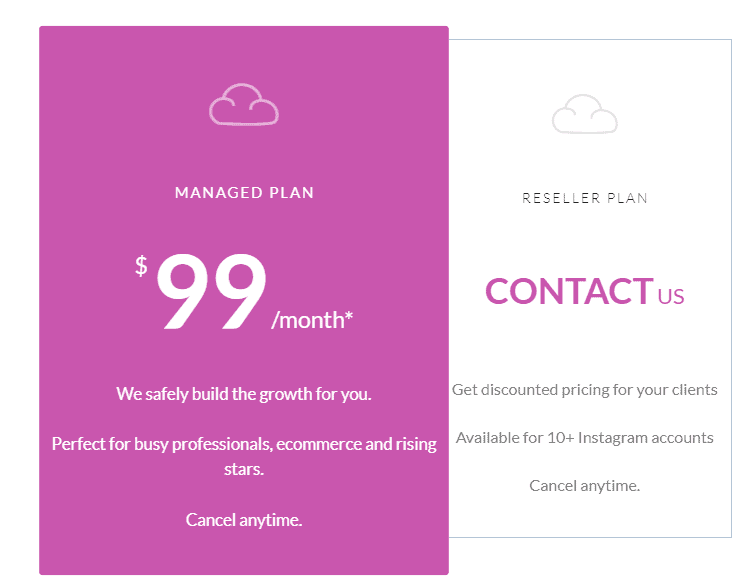 The Managed plan goes for $99 a month, and the Reseller plan doesn't have a price on display. You have to contact them to get it.
One hundred bucks a month for a couple of features that don't even work properly? Come on.
Is Getriver Legit?
I don't have enough evidence to claim Getriver isn't legitimate. However, I can't say it's 100% legit either.
That being said, their MO is shady and deceitful, and I wouldn't trust them with my money, time, or IG account ever again.
Is Getriver Safe?
The only safe thing about Getriver is the payment option. Don't get me wrong; that's utterly important, but it's not enough.
Considering there's too much aggressive and concealed bot activity going on, your account is in constant jeopardy, so I can't say Getriver is safe to use.
Top Getriver Alternatives
From my experience (and believe me, I have it more than enough), I strongly advise you to go with safe and efficient organic growth services. These below are the best ones I have tried so far.
Getriver Pros And Cons
What are the good and the bad sides of Getriver? Check them out.
| PROS | CONS |
| --- | --- |
| Responsive customer service | Too expensive for what it is |
| 3-day free trial | The most basic features |
| | Concealed bot activity |
| | Can get you banned or blocked |
| | False claims and promises |
Getriver – The Bottom Line
So, what's my final verdict on Getriver?
In plain English – I'm not impressed.
Getriver might get you some real followers, but it's not nearly enough. And we can't forget about the ridiculous pricing. Their features are the most basic ones you can find even in the cheapest services out there.

Summa summarum, I don't recommend using Getriver, especially when there are so many excellent, organic services.