In a sea of FollowingLike reviews, it's bafflingly hard to find an honest one. Believe me, I tried.
Annoyed by the lack of unbiased reviews, I wrote this one for anyone who wants to know the real truth about FollowingLike.
Is everything really as it seems to be? What's going on behind the scenes?
Read my full FollowingLike review cause I go deep into the heart of the matter. If you're short on time, though, take a glance at the brief overview below.
Let's get to it!
FollowingLike – Quick Summary
FollowingLike is needlessly complicated to use
Your account can get banned for using it in a blink of an eye.
There's no need to waste time and money on these no-good services.
Many reasonably priced and effective services are waiting for you.
All three have a discount code you can use to get 20% off – just type GROW20
Most Popular Instagram Growth Tools Rated
What Is FollowingLike?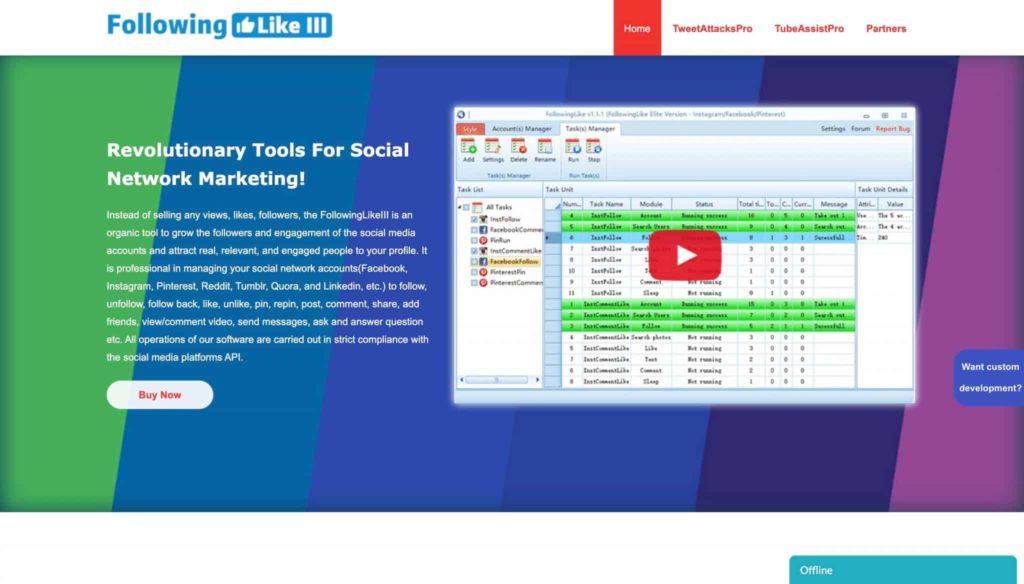 FollowingLike is an app that offers to boost your engagement on several platforms: Instagram, Twitter, Tumblr, Facebook, Reddit, LinkedIn, and Quora.
Given that my primary focus is Instagram, I'll tell you all about the FollowingLike service for Instagram.
In essence, FollowingLike is an automation tool. It performs acts such as like, unlike, follow, unfollow, comment, and automated DMs.
The app gets its mega-innovative name from the combo of its main features – followlike.
It's worth mentioning that FollowingLike is an app that needs to be downloaded. It's compatible with Linux, Windows, and Mac.
To tell you the truth, while researching the service, I encountered so many obstacles that weren't difficult per se, but they sure were a pain in the neck.
Everything regarding FollowingLike is unnecessarily complex. From their website to the setting up and using the service, it all requires a great effort.
To see what I mean, scroll down to the following section of the review.
How To Use FollowingLike?
Right off the bat, I can tell you FollowingLike seems too complicated to use, and this is after taking just one look at their website followinglike.com.
Their homepage is the only page on the website, and everything is jam-packed there. All the features they offer are explained in great detail and filled with grammatical errors (as though someone used Google translate and copy-pasted it all).
To say that the interface isn't user-friendly would be an understatement.
In one word – chaos.
Nevertheless, I was willing to look past the atrocity that the website is and give FollowingLike a chance.
Little did I know that's where the real trouble began.
Namely, the website is not the only perplexing thing about FollowingLike. As it happens, all of it is convoluted.
No wonder so many reviews on Trustpilot pose questions like: "How To Use FollowingLike?" or "How To Setup FollowingLike?"
Well, here's how.
Go to their website and choose a package you wish to try/buy. You'll probably get overwhelmed by the sheer amount of packages they offer – so did I.
Proceed with the payment.
Download the app and install it. A small tip – prepare your nerves for the most annoying installation ever.
Customize the settings.
Once you get to the last step, you'll have to deal with lingo like "modules," which is what they call features, then "input parameters," then you'll have to "import/export" accounts, create task templates, and so forth.
They took a simple automation tool and bumped up the difficulty level to the max. My question is – Why, FollowingLike? What's the point?
FollowingLike Features
Although it may not look like it, FollowingLike features are actually very simple. This is what they offer (for Instagram):
Automated Actions
Similar to most other growth tools, FollowingLike performs a set of actions. They include:
follow/unfollow users
like/unlike posts
comment on posts
send DMs
All of these are done according to keywords and hashtags of your choice.
Comments and DMs are not the FollowingLike's star features. The tool is just not advanced enough to perform them mistake-free.
Likes and follows, on the other hand, are up to par. Nothing spectacular for sure, but FollowingLike seems to stick to the filters, and it indeed targets users from your niche.
Proxy Support
FollowingLike offers different proxy servers for multiple accounts. Again, nothing extraordinary, but it can be useful at times.
Customer Support
And how's the customer support?
Based on Trustpilot reviews, FollowingLike has responsive customer support. However, they're not always of much help.
While the CS replies promptly, most of the time, they completely ignore your inquiries and beat around the bush. This happens, for example, when you try to ask for a refund.
FollowingLike Pricing
I'll try to explain FollowingLike's price points without boring you too much.
They offer the following deals:

As you can see, it's all extremely intricate.
For some reason, none of the deals mention what they entail until you subscribe. You can only see the package's name, the price, and for which platform it is.
Oh, and you can forget about a free trial – there isn't one.
Is FollowingLike Legit?
There's no real reason to question the legitimacy of FollowingLike.
The company is not trying to scam you, and they're pretty open about their strategies (too open, perhaps).
So no, I don't doubt it's legit, but I do question how safe it is, though.
Is FollowingLike Safe?
Here we go – the million-dollar question.
Truth be told, I don't think FollowingLike is safe.
Although no one's complained about it, I can't say for sure that the software won't harm your PC.
Plus, the bot activity they exude is way too aggressive to go unnoticed by Instagram. In a nutshell, there's always the chance you get banned or blocked for using FollowingLike.
Top FollowingLike Alternatives
Don't give it another thought – organic growth is the way to go. Take a look at organic services that I thoroughly enjoyed using.
FollowingLike – Ups And Downs
The time has come to weigh out all the pros and cons of FollowingLike.
| PROS | CONS |
| --- | --- |
| Has features for many platforms | Kind of expensive |
| | Too complicated to set up and use |
| | Pretty basic features |
| | Can get your account banned or blocked |
| | CS often ignores your concerns |
| | Hard to get a refund |
FollowingLike – Final Verdict
Does FollowingLike deserve a chance?
That's a no from me.
FollowingLike's overly complicated, it doesn't provide any significant growth, it's pricey, and it threatens your account. I could go on, but this should be enough to persuade you into not using a bot such as this one.
When it comes to growing on Insta, there's no room for bots like FollowingLike. All your focus should be turned to organic growth. I had the pleasure to try some of the best, and I listed them below for you.