In the myriad of Instagram growth tools, it is hard to determine which ones are worth your money and time, which is probably why you are looking for an honest Ektor Review.
Look no further!
And if you are just researching your options, and have not heard of this particular tool, just google ektor.io or Ektor Instagram Bot, and it will take you to the official website.
If you were to search for just Ektor, you would have to put in some effort in order to find the official website.
In my Ektor review, I will walk you through everything that I encountered while using the service.
People who are looking for the too-long-didn't-read section of my review, here is the summary for your convenience:
Ektor Review: Key Takeaways
Ektor is an AI software that is supposed to mimic a real person doing the work to minimize the risk of getting banned
Ektor offers a one-time payment, but no free trial
It promises organic growth, but they didn't perfect their software enough to make that promise
As alternatives, I highly recommend Nitreo, Upleap, and Kenji that are indeed organic growth services.
You can use the GROW20 discount code to get 20% OFF for life.
Most Popular Instagram Growth Tools Rated
What is Ektor?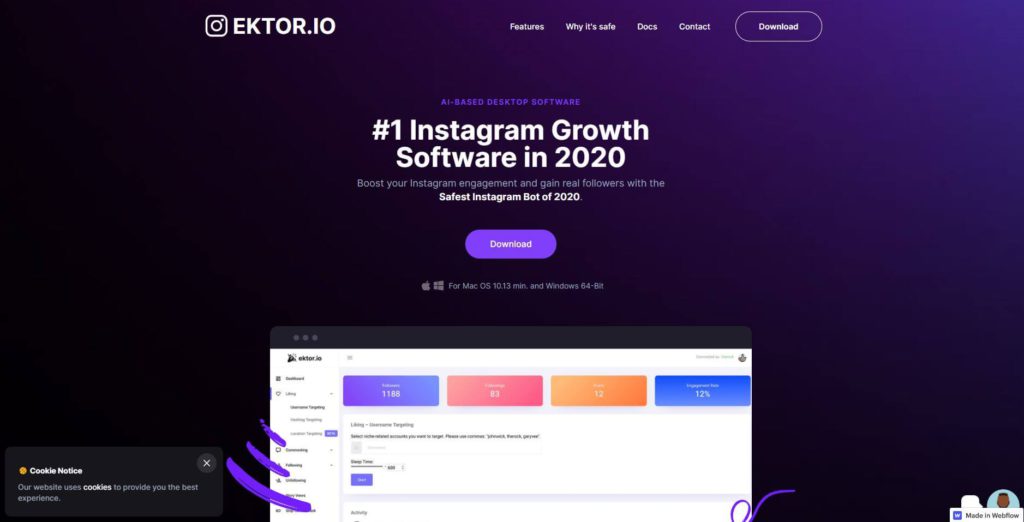 Ektor is an AI-based Instagram growth software, compatible with Windows and Mac. They offer a plethora of features, and I'll discuss them in detail a bit later on.
Their website is hard to find, but once you do, you can see a lot of promises – the first one being that it is "the safest bot of 2020."
Quite bold, huh?
I mean, I get it, it's all marketing, but needless to say, this isn't true.
How Does Ektor Work?
To start off with Ektor, you should purchase a package and download the software to your computer.
I'm not always happy when a tool requires a download, but Ektor has passed all of my antivirus tests.
The installation is straightforward. Once you have installed the software, you need to connect your IG account, and it works its "magic."
Next, you have the option to put in your target audience and niche, just to be sure that the software is attracting the people you'd want it to attract.
Now, let's get onto the features and the actual performance.
Ektor Features
Here's what Ektor.io offers:
Hashtag and Username Targeting
For the best performance and results, you have the option to put in hashtags that are relatable to your content.
More precisely, you can specify the usernames of people, brands, and stores that target the same audience as you.
Username targeting is especially beneficial because you can list accounts that are already successful and have a lot of followers and engagement.
These two features are supposed to prevent the software from attracting fake accounts. They even advertise their service as being better than buying followers, which is kinda true.
However, I was closely monitoring the people it brought to my profile, and there were some obviously fake accounts, which was disappointing.
Mass Story Viewing
This feature does exactly what the name entails – it views stories in order to attract followers and boost your engagement.
IMO, this doesn't do wonders for your account, but it also doesn't hurt.
This is also a feature that you cannot monitor in any way; you can't see what stories the software viewed, if any. Many reviews say that they believe this feature to be faulty, and I agree.
Auto-Likes and Comments
Like any other Instagram bot, Ektor likes and comments on posts.
These features pose a risk for your account. If not executed properly, they can get your account flagged or – even worse – disabled.
Plus, the auto-commenting option isn't smart, because you are supposed to draft up comments that the software can use, and it doesn't understand the context of the post.
This can lead to you leaving inappropriate or out-of-context comments, which will make your account look fake.
Pricing of Ektor
Below, you will see the pricing plans and packages from Ektor's official website.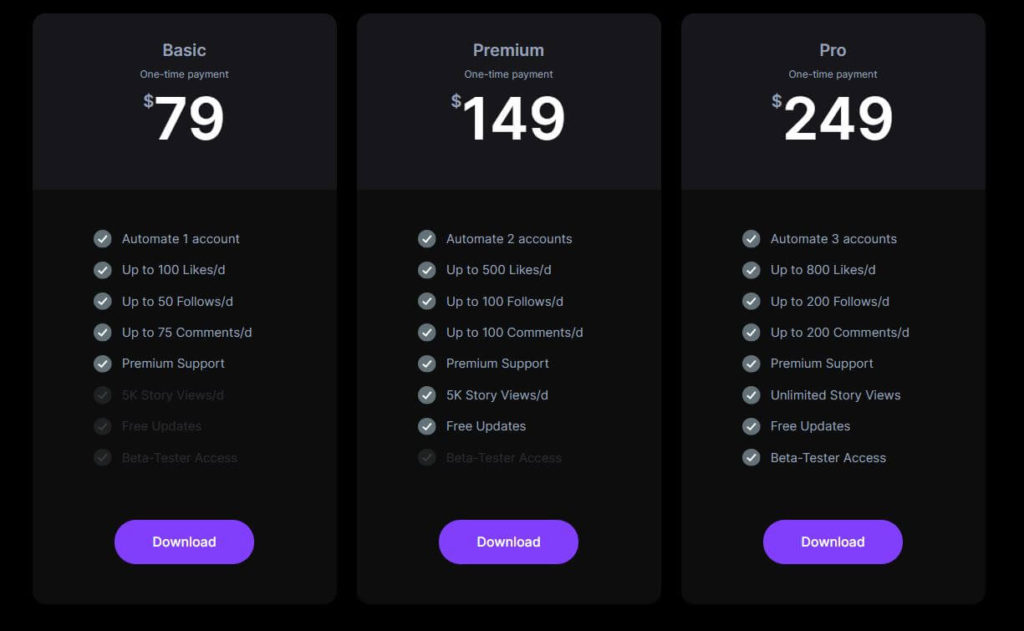 There are three pricing packages for you to choose from, and they are all a one-time payment type.
The Basic package costs $79.00, and it includes automating one account and up to 100 likes, 50 followers,75 comments per day.
The Premium package is $149.00. With it, you can automate two accounts, and it includes 500 likes, 100 followers, and 100 comments per day, as well as 5 thousand story views.
The Pro package costs $249.00 and includes automating 3 accounts, 800 likes, 200 followers, 200 comments, unlimited story views, and beta-test access.
It is expensive; I'm not gonna lie.
There is no free trial, but there is a 14-day refund guarantee if you get banned.
Now, keep in mind that you would only qualify for the refund if your account got permanently disabled by Instagram. Action-bans and other soft bans notifications do not count.
In other words: you can't get your refund if you don't jeopardize your account.
So, that is something to keep in mind before making the purchase. There are too many reviews critiquing Ektor for not being able to get a refund.
Is Ektor Legit?
Yes, Ektor is a legit business.
There are as many negative comments about Ektor as there are positive ones, and the truth is similar.
Its services are of mixed quality, but it is indeed an Instagram bot, as it claims.
Is Ektor Safe?
The website, software, and payments are safe; no questions there.
However, there is a risk of your account getting banned, which is omnipresent with most Instagram bots. Hence, Ektor isn't safe for your profile.
Ektor Alternatives
In case you are searching for Ektor alternatives, here are my recommendations.
They are safe, legit, and – most importantly – help you grow your Instagram organically with no risk.
Advantages and Disadvantages of Ektor
If I lay out the pros and cons of Ektor, it looks like this:
| PROS | CONS |
| --- | --- |
| User-friendly interface | Expensive |
| One-time payment | It puts your account at direct risk of getting banned or action-blocked |
| | Heavily conditioned refund |
| | Possibility of gaining fake followers |
| | No free trial |
| | Comments are flawed |
Ektor – Final Words
Ektor makes a lot of impressive claims, and if it delivered on them, it would be one of the best Instagram bots out there.
But I am not convinced, or impressed. It's just mediocre and sometimes puts your account at risk.
For organic growth generated from real people, you can check out some of the alternatives I listed below. They won't disappoint you.