A company that sells followers and still hasn't been shut down must be worth something, right?
We'll see about that.
Welcome to my Boostlikes review! Yes, the sentence above was referring to this service. Today, I'll tell you the truth about it. You'll learn whether Boostlikes is safe to use and if it can boost your account.
In case you're in a rush, read about the key aspects of Boostlikes in the following summary. For those who have a minute to spare – check out the entire article.
Let's get started!
DISCLAIMER: Let me grab a second of your time and let you know about Upleap – the service that tops them all in the market. How do I know? I reviewed them all. My Upleap review tells all about it – check it out and get yourself a reliable service!
Back to the task at hand…
Boostlikes Key Points:
The service sells engagement and followers
The followers are of mixed quality
It offers no free trial
Boostlikes doesn't provide sustainable growth
You may want to try some organic growth services instead
Most Popular Instagram Growth Tools Rated
What Is Boostlikes?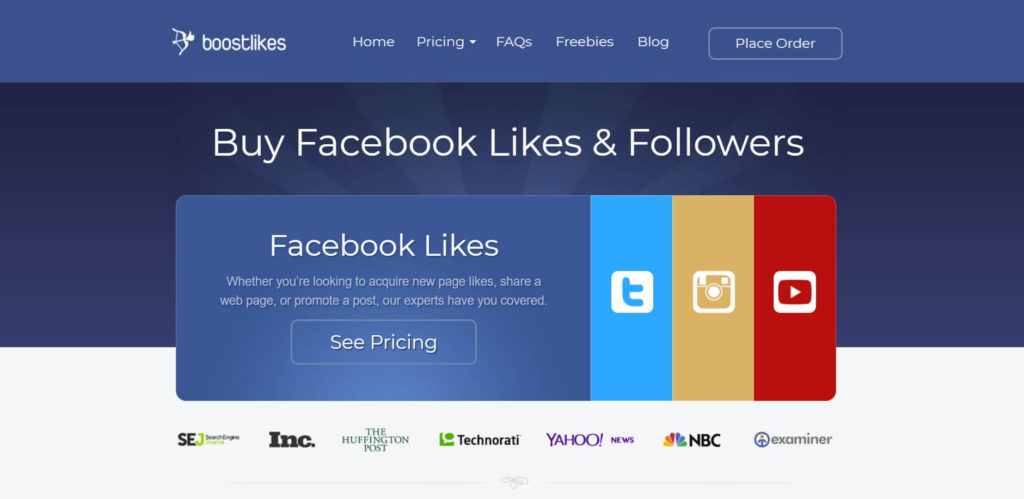 Boostlikes is a social media growth service. It provides services for Facebook, Twitter, YouTube, and Instagram. Since the latter is my domain, I'll be focusing on Boostlikes' Instagram features.
As I briefly stated above, the company sells Instagram followers and engagement. I also mentioned that it's surprising to see that such a service hasn't been shut down.
Now, why did I say that?
You see, Instagram isn't exactly fond of companies like this one. The platform wants all of its users' engagement to be organic and natural. That's why it started weeding out growth services in 2019, and lately, the fight has intensified.
However, even the almighty Instagram isn't able to detect all growth service activity. In other words, if the engagement looks genuine, IG will deem it as such.
Does this mean that Boostlikes growth appears organic? No, not at all. It must be doing something right, though. The company was able to stay out of Instagram's spotlight, which isn't an easy thing to do.
Do I recommend using it?
Well, I have mixed feelings about this, and I'm leaning towards no. In the following sections, I'll explain both the positive and negative aspects of Boostlikes. Please read it before giving your money to this service.
How Does Boostlikes Work?
OK, first things first. There are several websites with the name Boostlikes, and the one you need is boostlikes.com.
If you visit it, you'll see a simple homepage with a lot of boastful content and "user reviews." I don't think the reviews are real, but I don't hold it against Boostlikes; everybody does this.
Using the tool is straightforward. All you have to do is select the service that you need (followers or engagement), specify the quantity, and pay. There's no need to sign up. Boostlikes only requires the URL of your Instagram account.
Your order will be sent not long after you place it. In many cases, such a service will undoubtedly draw IG's attention to your profile. It's not unheard of that the platform bans people who purchase engagement like this.
However, since I couldn't find ANY real customer reviews, I cannot confirm that this will happen if you use Boostlikes. Still, there are other reasons that make me distrust this company. I'll explain them in the upcoming paragraphs.
Features of Boostlikes
The Boostlikes Instagram app essentially has two features. Here's what they are:
Buy Followers
Buying followers from Boostlikes is not unlike buying potatoes from your local farmer. You say how many you want, give the money, and take them home. The company claims how all the followers you'll receive are genuine accounts and not bots.
I found this to be partially untrue.
While it's true that many of them are indeed real profiles, a hefty portion is bots. The latter will get picked up on by Instagram, and they'll get deleted. Yes, Instagram does that when it detects fake engagement.
Buy Likes, Auto-likes, and Comments
Boostlikes claims that automated engagement is its most popular service.
It offers likes, which are delivered to a single post of your choosing. Then, there are auto-likes, which are paid monthly, and you'll get them every day within this time period. Last, you can buy comments in bulk, but you can't control what they say.
How quickly does the engagement arrive? Boostlikes says that it delivers it within 24 hours of the purchase. It doesn't mention whether you get it all at once or whether it spreads it out.
Either way, I'm not convinced that Instagram won't notice it. When it does, you can expect the same scenario as with followers – IG will remove a lot of the engagement you bought.
Pricing of Boostlikes
When it comes to pricing plans, Boostlikes is very flexible. Unlike some of their competitors, it doesn't offer a few fixed monthly plans. Instead, it lets you choose what and how much of it you want to buy.
Here's what its pricing page looks like:
Their services are pretty expensive. The cheapest followers package (500) will set you back $26. If you think that this isn't so bad, remember that you won't retain all of the followers. You may lose well over 50% of them. Now tell me if that's worth your money?
For the sake of comparison, a high-quality organic growth service can be found for as little as $50 a month.
Is Boostlikes Legit?
The service is relatively legit. You'll receive what you paid for, even though you'll probably lose some of it. The main thing that bothers me is the complete absence of Boostlikes reviews by its customers. I couldn't find a single one.
Is Boostlikes Safe?
Boostlikes' website and payment gateways are secure. You won't get scammed for your money or anything like that.
There is a viable risk that Instagram may suspend you, though.
Again, I haven't read about this happening because I didn't find testimonials from Boostlikes' users. All I can tell you is that many companies that sell engagement get people banned every day.
Top Boostlikes Alternatives
If Boostlikes isn't what you're looking for, I recommend checking out the following organic services.
Boostlikes Pros and Cons
Let's sum up both the good and the bad:
| PROS | CONS |
| --- | --- |
| The company delivers what you ordered | Mixed quality of followers/engagement |
| Its website is secure | Instagram deletes some if it |
| | Pretty expensive |
| | Free trial unavailable |
| | May get you in trouble |
| | No real user reviews |
Boostlikes Review: The Bottom Line
Is Boostlikes worth trying?
It depends on what you need at the moment. If you're after a quick, short-term boost, the service will get you that. But, if you want lasting, sustainable growth, my advice is to look for it elsewhere.
There's no growth like organic growth, and I know a few services that can make that happen for you. You'll find them below.