Interested in Archie? You know that it's closed, right?
The service got shut down, then resurrected, then closed again. What I'd like to explore with you today is the following:
What made it go under (twice)?
Was it useful while it worked?
Was it a scam?
My Archie Instagram review will let you in on all of this.
Don't have time even for a quick read like this one? That's alright; there's a nice little summary for you below.
Archie Key Points:
Archie closed upon request from Instagram
It was a social media bot
It failed to deliver the customers' orders
The tool got accounts suspended
Kenji is a bot that won't compromise your profile
It would be advisable to use an organic growth service such as Upleap
Use the code GROW20 with the latter two; you'll get 20% off permanently
Most Popular Instagram Growth Tools Rated
What is Archie?

Archie, sometimes referred to Archie Instagram, was a social media automation tool. Aside from its peculiar name (it sounds like a friendly dog's name to me), there was nothing unusual about it.
The tool provided services for Twitter and Instagram. It performed basic tasks such as liking, and I'll go more in-depth on this later.
Archie closed due to a request made by Instagram, as it states on its website. This was the second time it was forced to close. The first time was in 2017. Mind you, 2017 is before Instagram started its campaign against automation.
So, in a sea of growth services just like it, why was Archie shut down?
I'm afraid no one has the complete answer. We all know that it violated Instagram's Terms and Conditions, just like most of its competitors. I assume its operation started getting too messy, and it became easily noticeable.
The second time around, Archie was worse than ever. I concluded this based on plenty of user reviews who had a pretty bad time with this service.
In case you want to learn just what it did, I suggest we move on to the next part. Shall we?
How Archie Worked?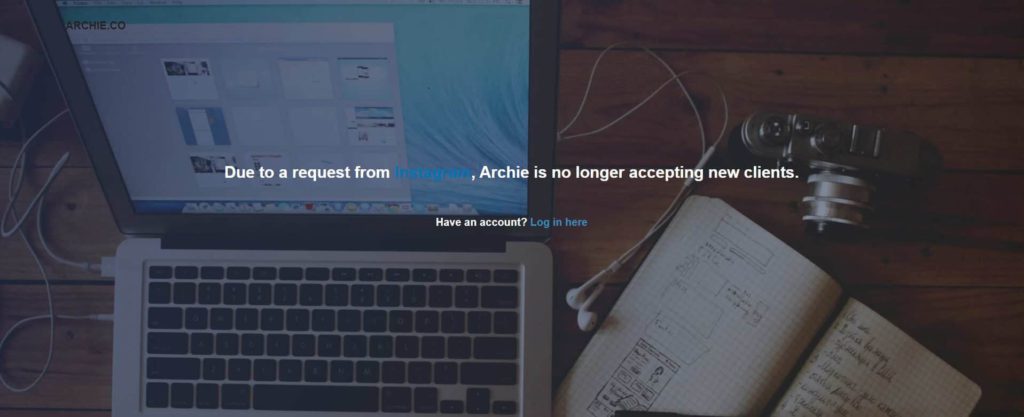 There's one thing I have to admit – I don't know whether Archie doesn't work at all, or whether it only doesn't work for new customers.
Why did I say that?
On its website, archie.co, it says it's no longer accepting new clients. That could imply that old clients are still served. But this is just my speculation, so don't hold on to it.
While it was available to everyone, Archie was a very simple tool. It allowed you to target your audience, and then it liked their photos. The app had some other features, too, like the analytics overview, and you can read about them in the upcoming section.
Even though the service is officially down, their website and domain are still there. Does this mean that Archie might try its luck for the third time? Who knows. But hey, you know what they say – third time's a charm.
Features of Archie
In the following paragraphs, I will go over all of Archie's Instagram features. They may not be what you expected, so give this section a thorough read.
Targeting Options
Directing the tool towards your target audience was the first thing you had to do. Archie let you do this using three basic parameters – hashtags, geotags, and Instagram account names. Nothing out of the ordinary.
Unfortunately, it did not have filters or any way of detecting fake or inappropriate accounts. It wasn't uncommon for Archie to like posts from "controversial" profiles. This kind of activity endangered the reputation of their customers' accounts.
Automated Likes
Once you had your targeting in place, it was time to press play and let the app roll. Archie would proceed to like photos and videos of your target audience. This simple approach might have brought minuscule results, but the risks outweighed the benefits by a long shot.
The main risk was, of course, getting action-blocked or even suspended by Instagram. And, according to reviews from Archie's users, this happened frequently. My guess is that this was one of the main reasons the service went under.
Even if it was entirely safe to use, just liking posts would hardly get you anywhere. The method is too narrow. Add on top of it, Archie's not-so-precise targeting, and the entire process gets even less effective.
Analytics
Undoubtedly, my favorite feature was Archie's activity log. It tracked, well, the activity of the app and then presented it to you graphically.
Pricing of Archie
I'm sad to say that I wasn't able to find any official prices from Archie. However, scouring the Internet did yield some results. From what I learned, Archie's services cost between $20 and $200 approximately.
OK, $20 sounds reasonable, but I don't see anything this service did that was worth two hundred bucks.
Is Archie Legit?
The history of Archie can be split into two parts – the legit period (before 2017) and the shady era (after 2017).
In the legit period, although it had its shortcomings, the tool functioned relatively well. Then, when it returned after the first shut down, it was a different company. Truth be told, I couldn't find any positive reviews of the service written between the two closings.
Is Archie Safe?
The same goes here as in the previous section. Archie was reasonably safe until its reopening. That's the time when most customers got blocked for using it.
Top Archie Alternatives
Archie doesn't accept new clients, which means you ought to look for an alternative. Luckily for you, there are many (better) growth services out there. Here are a few you might want to take a look at.
Archie Pros and Cons
To summarize:
| PROS | CONS |
| --- | --- |
| Simple to use | It got shut down by Instagram twice |
| | It got accounts action-blocked |
| | Couldn't boost an account much |
| | Plenty of negative user reviews |
| | Pricey |
| | Limited features |
Archie Review: The Verdict
There you have it, folks. I don't know if Archie's gone for good, but it sure is now. If it ever attempts to make a comeback, I'd like you to read this review again before using it.
Even in its heyday, Archie probably wasn't very potent. I doubt that it was capable of producing meaningful growth because it was simply too limited. Growing a profile takes a lot more than just likes.
Your best bet would be to hire a well-rounded organic growth service and let it do the work for you. An organic approach has proven its worth, and you can see some of its finest representatives below.