Can IG growth services really boost your account and bring you the Insta stardom you're seeking?
Well, believe it or not – yes, they can.
But the trick is in learning how to choose a service you can trust to help you out. Some of them have your best interest at heart, while some are a vicious ploy designed to take your money.
Which one is Ampfluence? Does it provide significant growth, or is it a complete waste of money?
Read my Ampfluence review to find out!
Ampfluence: Main Takeaways
No time to spare? Here's a recap:
Ampfluence is essentially an overpriced bot.
By using their service, you put your account at great risk.
If a bot is what you want, I recommend trying an extremely advanced one – Kenji.
To get 20% off their tariff plans, type the code GROW20 (valid for life).
Most Popular Instagram Growth Tools Rated
What Is Ampfluence?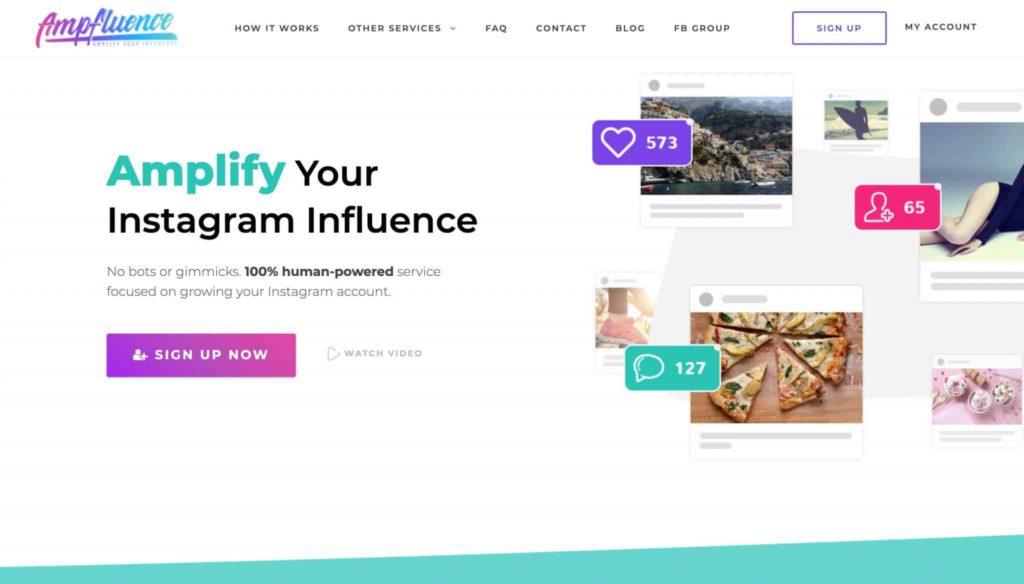 Ampfluence is an Instagram growth service.
According to the company, they are a "100% human-powered service", meaning all of the engagement is done by hand instead of using bot technology.
They also put a huge emphasis on the fact they're one of the rare companies that don't breach Instagram's anti-bot rules.
Yeah, we'll see about that.
How Does Ampfluence Work?
It's difficult to tell how Ampfluence works based solely on their website. The company is suspiciously vague about the methodology it employs to grow your account.
They do mention some techniques, all of which include the word "human," but I'll take a wild guess and say it's for the purposes of alluring potential customers.
When people see the words "organic" and "human," they tend to pose fewer questions about the company's actual ways of operating.
Admittedly, leaving little info on the actual strategy and filling their website with vague descriptions of organic growth is quite a strategic move.
However, it doesn't work on people like me who have explored tens, nay, hundreds of growth services – I see right through it.
So, to find out the truth about how Ampfluence works, I decided to try it out and witness it firsthand for the sake of this Ampfluence Instagram review.
Before I tell you what happened, let's see what you have to do to begin using Ampfluence.
How to Use Ampfluence?
Go to their website – ampfluence.com
Choose a package that suits you the best
Sign up – they ask for your name, email, country, city, zip code, street address, and phone number.
Proceed to payment.
A word of caution – leaving your full address and phone number is not safe. Don't do it haphazardly cause you never know how they might misuse it.
Features Of Ampfluence
Ampfluence has a few typical Instagram bot features. Allow me to elaborate.
Targeting Your Audience
The step which Ampfluence calls "the consultation" is really just you choosing and adjusting a few settings.
They're supposed to narrow down people from your niche, so you ought to select hashtags (yes, that's the only option) specifically related to your field of interest.
Frankly, I'm disappointed.
Targeting by hashtags is not nearly enough for successful growth. They're just not precise enough to exclude your target audience from the 1 billion active Instagram users.
Consequently, your account gets filled with fake followers (bots) or real followers that don't care about your content. Both of these things happened to me, and I can tell you it's not pretty.
Instagram Engagement
What I learned from using Ampfluence is that it performs a set of basic tasks – follow, like, comment.
Honestly, all of them are unequivocally automated – I guarantee they're not done by a human hand.
For one thing, Ampfluence does them non-stop. Show me a human that follows and likes stuff around the clock.
And for another thing, even if it was all done by humans, it's a lousy strategy. Why would you employ a person to behave like a bot?
Instagram's algorithms and detection tools are one of the most advanced in the world – they'll surely notice suspicious unhuman-like activity.
Once that happens, you can count a ban will follow.
Ampfluence Pricing
When I tell you Ampfluence is one of the priciest growth services out there, I'm not kidding. Here, see for yourself: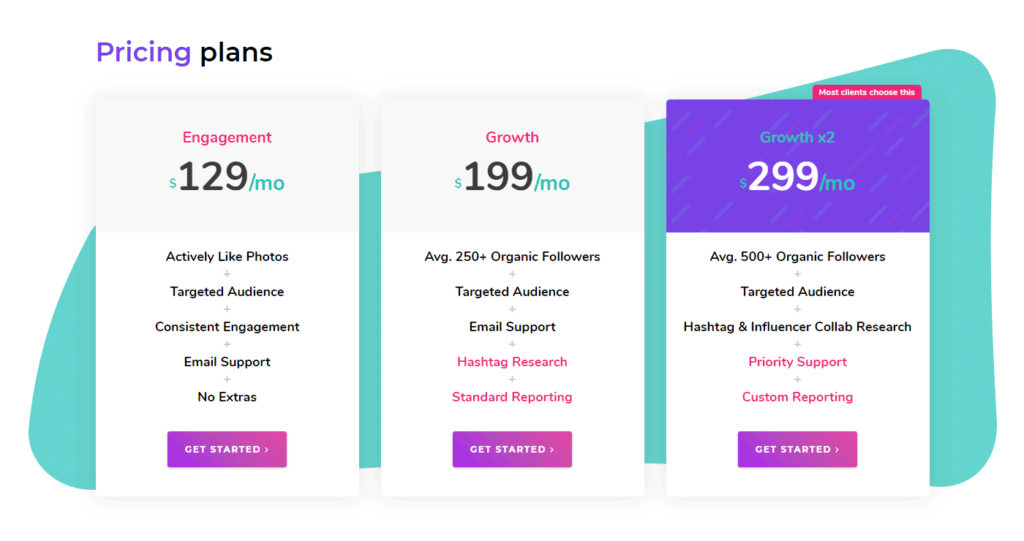 There are three packages:
Growth, priced at $249/month
Growth x2, billed at $349/month
Growth and Content Management, which goes for $999/month
I can't imagine any growth service is worth a thousand bucks a month, let alone a mediocre bot such as Ampfluence.
Be careful where you spend your money, folks.
Oh, and another thing.
I stumbled upon a review from a couple of years ago that shows the screenshot of Ampfluence's prices. Back then, the package that now goes for $999 cost "only" $299. Can you believe the audacity?
Is Ampfluence Legit?
Technically speaking, Ampfluence is a legit company.
But I can't shake the feeling they're up to no good.
I mean, they purposely conceal the enormous bot activity while claiming to provide only organic growth. They also increased the price points not twice, but thrice as much in the last few years. The amount they charge for a standard bot is ridiculous.
So, even though they appear to be legit, I still think there's something shady going on behind the scenes.
Is Ampfluence Safe?
From the website and payment options standpoint, it's safe to use.
That being said, your account is in constant danger thanks to their excessive bot campaign.
It's still up in the air, but I'm leaning more towards no than yes.
Top Ampfluence Alternatives
Why spend a thousand dollars on a low-quality bot when you can invest that much on a yearly subscription for an organic service, perhaps some of the ones I listed here?
Ampfluence Ups And Downs
When weighing out Ampfluence's pros and cons, it looks like this:
| PROS | CONS |
| --- | --- |
| Easy to use | Absurdly expensive tariff plans |
| | Uncurbed bot activity |
| | Can get you banned or suspended from IG |
| | Wants to know your full address and phone number |
| | Attracts fake followers |
Ampfluence – Final Verdict
After trying out Ampfluence for a couple of weeks, I can tell you that it's not a tool worthy of your time or money (especially money).
To be perfectly candid, Ampfluence let me down big time.
I suspected there'd be some concealed bot activity, but this was beyond my imagination.
A piece of advice – don't let Ampfluence dampen your spirits, and don't give up on your quest to find the right growth service. Let me lend you a helping hand by listing the best ones I have discovered so far.