Looking through Stellation Media reviews and trying to find one with all the information you need was like looking for a needle in a haystack?
If you caught yourself thinking, "nobody reviews Stellation Media objectively," this review is for you.
For people who don't have the time to read the whole article right now, I also put together a summary of what I tackled in this review.
Stellation Media Review Summary:
Stellation Media is a software which helps with your engagement on social media
It offers a plethora of features
BUT it is expensive and unreliable
Use the GROW20 discount code to get 20% OFF for life.
Most Popular Instagram Growth Tools Rated
What is Stellation Media?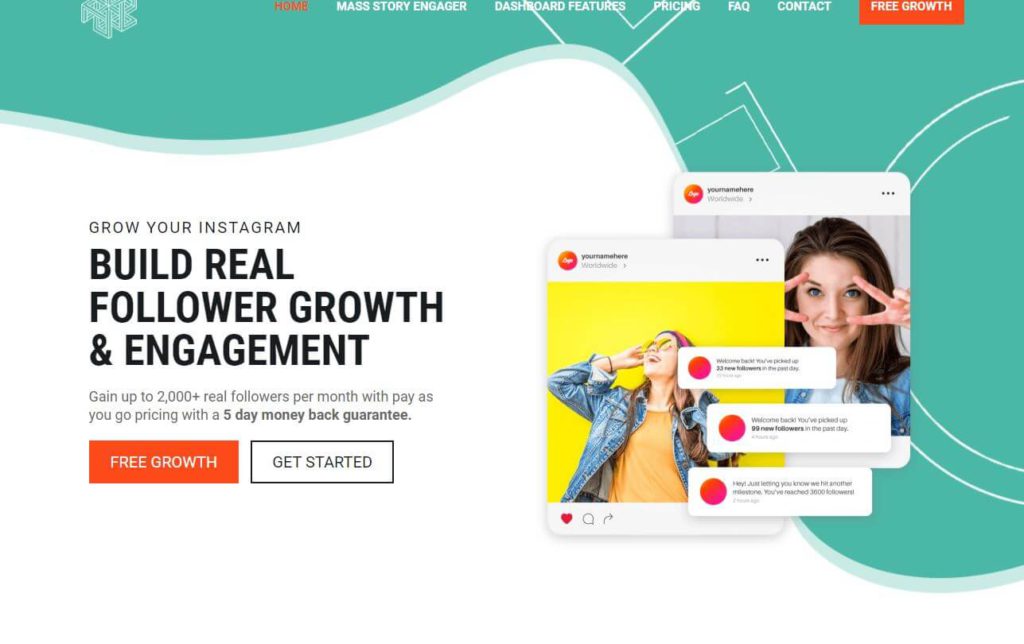 Stellation media promises follower growth and better engagement on Instagram.
What they offer you is a software that interacts with other accounts by viewing stories, voting in polls, following and unfollowing, direct messaging, and other things – I will get into it in a bit.
All in all, based on their website, I had high hopes for their services. However, they didn't quite live up to their word regarding certain things.
By the way, I often get asked – FanBump vs Stellation Media? And TBH, the answer is: neither. They are similar, so more or less, all you read about my experience with Stellation Media can be said for FanBump, too.
How Stellation Media Works?
If you're wondering how to use Stellation Media, everything is straightforward. You purchase and install the software, open the dashboard on your computer, and log into your account.
Then you need to set your target accounts; this helps the software find users that share your interests and interact with them.
You are also promised a personal manager that you can contact via email, but to me, that is called customer support, and every service has to offer it.
I did have the issue that the software stopped working and needed to be reset manually. Since that happened, I needed to check on it from time to time, which rendered it unreliable.
Stellation Media Features
Stellation Media offers a wide range of features, which I was happy to see.
Mass Story Viewing and Voting
Mass story viewing works just fine. It 'looks' at stories instead of you in hopes of boosting your engagement.
Mass Voting, however, doesn't work too well; the voting is random.
And believe me, if you vote that someone's new puppy is ugly instead of cute, you are more likely to get reported or blocked than followed back.
So, Mass Voting isn't something that I find very useful.
Following and Unfollowing
They emphasized on their website that this feature is safe because they know that it is this feature that will get you blocked immediately.
And that is what happened to me after two days of using this software.
There is a big issue with it following fake accounts and purely random people, and worst of all – it follows children, which becomes a big issue for the Auto DM feature.
I wasn't very impressed with the number of followers I gained through this, and I have seen on Trustpilot that many people said the same.
Auto-Direct Messaging
This feature sends an automated message that you composed to new followers.
This can be useful only if you are running a business account. If you are trying to grow your personal account, this does absolutely nothing.
Now, I mentioned above that the Follow/Unfollow feature follows children. Well, it seems somewhat predatory to follow and message children.
If you are running a business account, it seems like bad business ethics, trying to trick kids into buying whatever you are selling.
And if you are running your personal account, it could make you seem like a creep.
Post Scheduling
This is my personal favorite. You can schedule photos, videos, and stories to be posted on a certain date at a certain time.
You have to be careful not to overdo it because this is again something that Instagram picks up on quickly as bot activity, and it will get your account blocked.
Image Editor
Image editing tools which they offer are basic – color correction, cropping, some filters.
These are things you can do on Instagram itself, and if you are looking for something more professional, this is not it.
Advanced Analytics
Advanced Analytics is a feature that enables you to follow your Instagram growth through stats and charts.
This is useful, but given that Stellation Media didn't tremendously grow my account, there wasn't much to analyze, to be honest.
Stellation Media Pricing
Let's take a look at the Stellation Media pricing table shown in the picture below.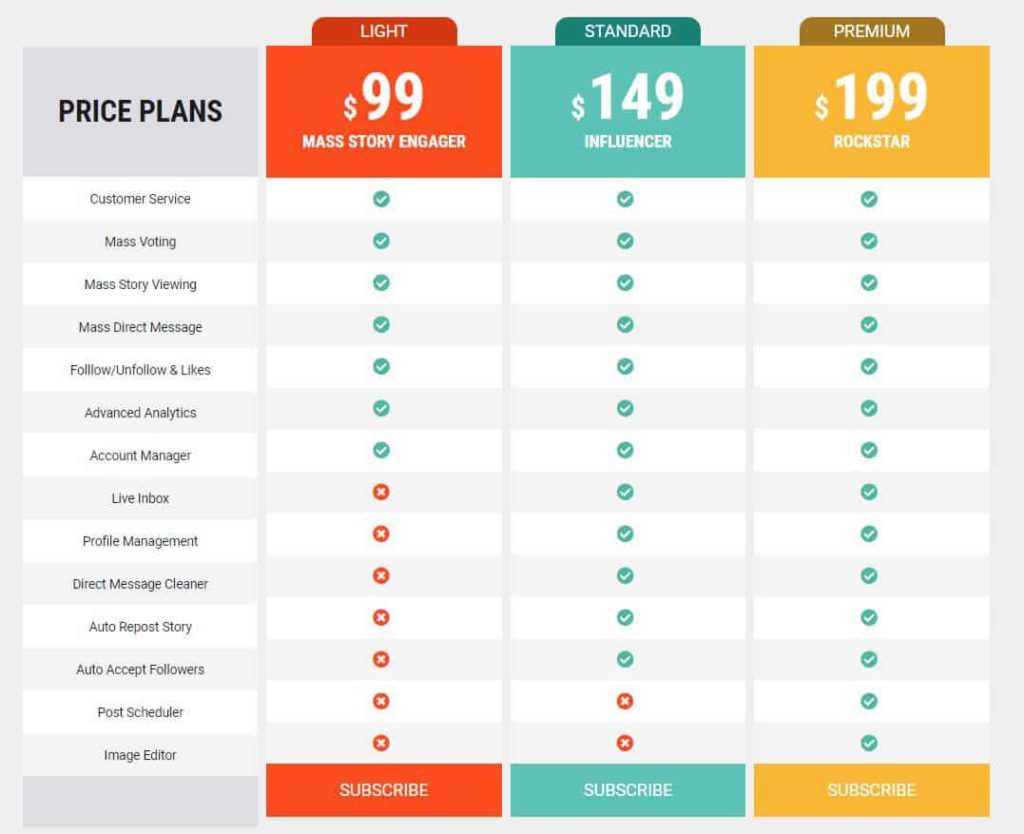 I mentioned before that they offer three packages for you to choose from: Mass Story Engager, Influencer, and Rockstar.
I tried out Mass Story Engager, the light package, that costs $99 per month. Influencer is priced at $149, and Rockstar at $199 monthly.
They DO NOT offer refunds, and there is no free trial.
I didn't ask for a refund or for my money back, but I did see many reviews that said that they could not get in contact with customer support to get refunds.
Is Stellation Media Safe?
IMO, Stellation Media is on the edge of being safe and unsafe.
The software will not cause any issues with your computer, and the website will not steal your credit card information.
But as far as safe for your account, no, it is not. Some features can and most likely will get your account blocked.
Is Stellation Media Legit?
Stellation Media appears legitimate from their website.
The bad reviews which I found were so bad, and the people went so in-depth with their explanations that I know those are from real customers, whereas I am unsure about the good ones.
From my experience, it's not entirely legit, but it's not a scam, either.
Top Stellation Media Alternatives
Your best bet for a Stellation Media alternative is a tool that is easy to use and helps grow your account organically. I have had an amazing experience with some of them.
Stellation Media Pros and Cons
To recapitulate all I've said so far:
| PROS | CONS |
| --- | --- |
| User-friendly interface | Followers are not targeted |
| | It will get your account blocked or banned |
| | There isn't a free trial |
| | They do not offer refunds |
| | Customer service answers seldom and is hard to get in contact with |
| | Expensive |
Stellation Media Final Thoughts
From the website, you can easily see that the team behind Stellation Media had a great plan, but it was poorly executed.
There are still many issues with the software that need to be fixed, especially given how much they charged for their services.
As for now, I do not recommend Stellation Media.
If you are in need of a good Instagram growth tool that is legit and safe, check out the alternatives I mentioned in the review. I promise they will not disappoint!