In the abundance of Sogro reviews, here's one that isn't biased in any way. I've heard about
Sogro Instagram, decided to try it out, and here I am – reporting my findings back to you.
Sogro arguably isn't one of the most popular Instagram growth tools out there, but you may want to give it a shot.
Should you? Is it any good?
To provide you with a definitive answer, I've analyzed all of its aspects, from features and utility to pricing.
I'm aware that some of you may not be interested in each and every detail about Sogro, so I've created a short summary too:
Sogro Key Specifications:
Sogro is basically an Instagram bot that automates your IG tasks to achieve engagement.
As far as the quality of its services is concerned, I was not impressed.
Sometimes, the bot stops working altogether, and sometimes it's just too aggressive.
An Instagram bot that grows your account completely hassle-free is Kenji.
And then, there are services such as Nitreo and Upleap that focus on organic growth, which is much more beneficial in the long run.
Save with the promo code GROW20 that takes 20% off the price and lasts for good.
Most Popular Instagram Growth Tools Rated
What is Sogro?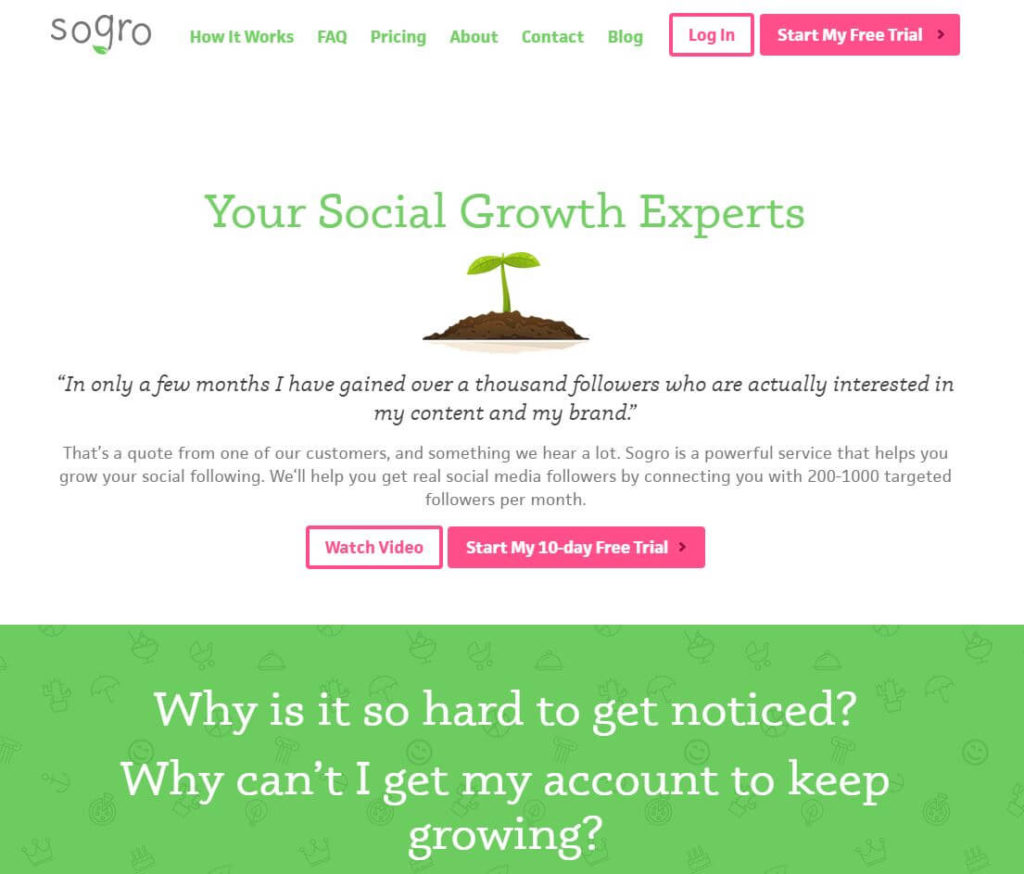 Sogro is a "growth expert," as they put it. It offers services for Instagram, Twitter, and Pinterest. On their website, you won't find much info except for quotes and onsite reviews of their supposed customers. Why do I say "supposed"?
Well, TBH, I'm not sure that those come from real people. There are no references to follow, such as their IG profiles or something like that. And on the other hand, if you visit reputable websites, e.g., Trustpilot, you'll find quite a few reviews of dissatisfied customers.
Still, I decided to make an objective Sogro for Instagram review. Even though I was unsure of its legitimacy, I've tried all the IG features.
And then I learned that Sogro is, in fact, an Instagram bot. It performs actions such as like and follow on your behalf to attract other users to your account.
There's no mention of this on their website. And when someone tries to hide something – you just know it. Nothing good is about to happen.
At times, I noticed that the bot didn't work at all, and sometimes, it got me a warning from Instagram that my actions were blocked. If I had continued to use it, it would certainly ban my account, which is exactly what happened to some other users.
How Sogro Works?
The principle behind Sogro's operation is quite simple – it takes control of your account in the sense that it likes and follows people instead of you.
But the main problem is:
Instagram started to take the authenticity of the community as a whole very seriously. They are determined to get artificially gained followers and bot activity out of the way.
That's why Sogro fails to work the way it's supposed to.
Features of Sogro
I've tried only Sogro Instagram features. Here they are:
Automated Activities
Sogro is a simple IG bot. It performs only two actions instead of you: like and follow.
In an attempt to stay under Instagram's radar, it sometimes halts its activity, and you don't notice any interaction for days.
And when it does work, as I mentioned, Instagram will block your like or follow feature temporarily or even suspend your account.
Audience Targeting
They claim that the engagement is targeted according to your niche, but it isn't. It's completely random most of the time.
Other Platforms
As I mentioned, Sogro also works as a Twitter and Pinterest bot. I haven't tried these two packages, but I want to bring them up in case you may be interested.
It is not explicitly stated what actions it performs (because the company hides that it's a bot in the first place). I guess they are similar: favorite, retweet, and comment for Twitter, and pin and create boards on Pinterest.
Pricing of Sogro
Sogro has only one tariff plan for Instagram. Take a look at what it offers: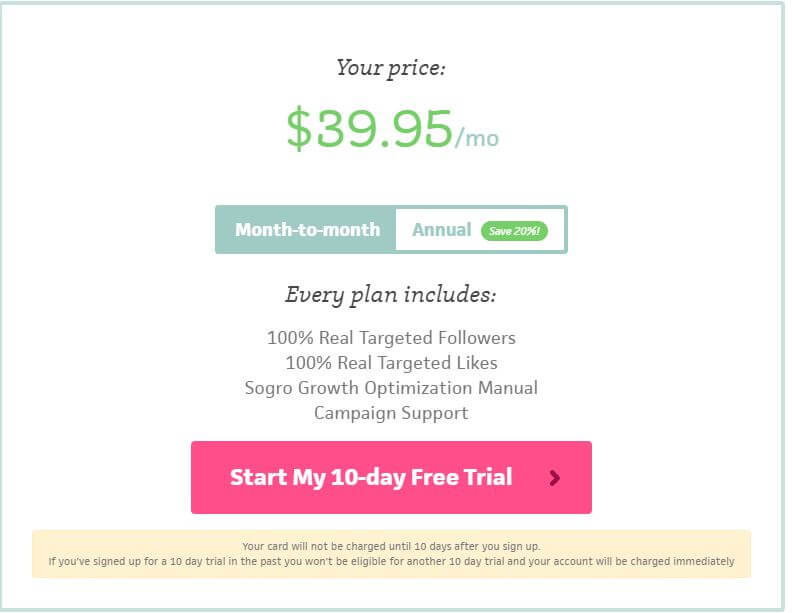 The Instagram growth plan is billed at $39.95 per month, and it entails all of the features I've mentioned above. The price itself is OK – I've seen some tools that are much more expensive – but considering that Sogro won't grow your account the way it's supposed to, even this is too much.
Also, there's the possibility to purchase an annual plan that is priced at $29.95 a month, aka $359 in total.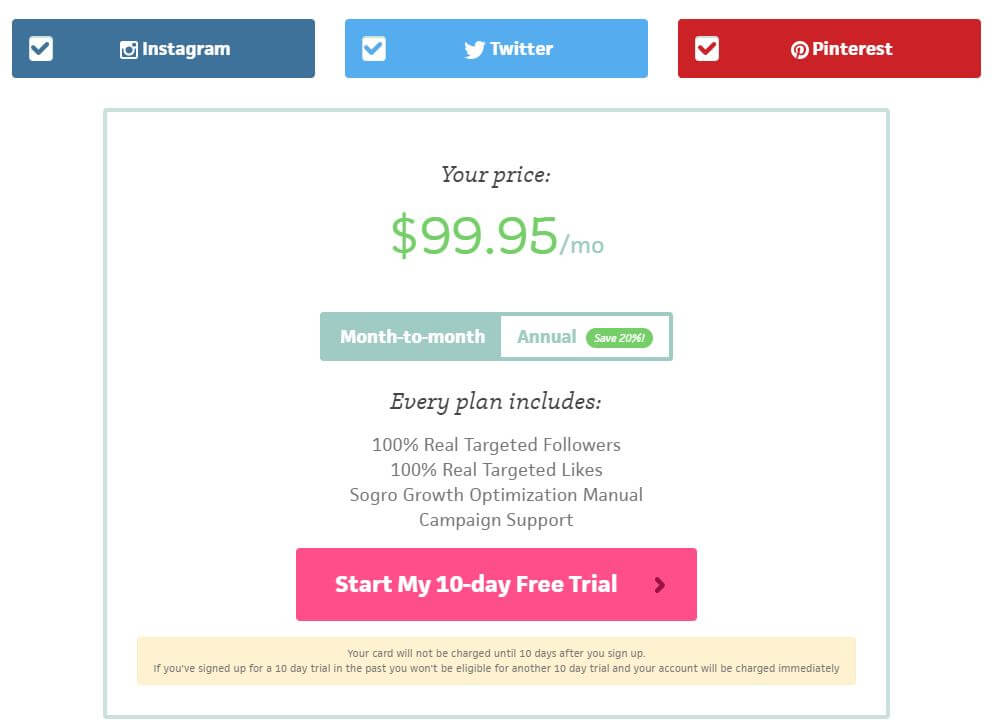 Alternatively, you can purchase all three Sogro packages with the features for Instagram, Twitter, and Pinterest, and it will cost you $99.95 a month.
If you choose to combine two of them (e.g., Instagram + Twitter), the price is $69.95 per month.
There's a 10-day free trial for those who want to check out Sogro before they commit (or not).
Is Sogro Legit?
I can't attest that Sogro is a complete scam, but there's plenty of evidence that points to that.
Firstly, they hide the fact that it's a bot. Secondly – and more importantly – you cannot get it to function the way it's supposed to. And if you want to get help from their CS, well… Good luck with that.
All of this led me to believe that Sogro is not a legit company, at least not anymore.
Is Sogro Safe?
Sogro seems safe for your bank account. I mean, it doesn't support PayPal (you can pay only via a credit card), but the payment gateway is verified.
That said, it can jeopardize your IG account in more than one way, which is why I can't deem it entirely safe.
Best Sogro Alternatives
Utilizing a bot such as Sogro won't get you far. Avoid fake engagement and get some of the top Sogro alternatives as presented here.
Sogro Pros and Cons
Here's the list of nays and yeas on Sogro:
| PROS | CONS |
| --- | --- |
| A 10-day free trial | A sudden dip of followers and likes |
| | The tool stops working altogether from time to time |
| | Can get you action-blocked |
| | Unresponsive customer support |
| | Doesn't support PayPal |
| | Conceals its true nature |
| | Fake onsite reviews |
Sogro: The Bottom Line
Sogro brings a lot of negative attention to your account, and Instagram will probably take action against you if you use it.
What is the solution?
If you want to avoid bot-inflated following that will disappear flat out, focus on organic growth services. Feel free to check out the list below for some good examples.