Are you tired of only reading rumors and half-truths about SocialCaptain? Do you want an in-depth SocialCaptain review that will tell you everything – the good, the bad, and the ugly?
If that's a "Yes," you've come to the right place!
SocialCaptain reviews have been anything but good lately – and not without reason. Get ready to learn the truth about:
The ins and outs of how Social Captain works
Notable advantages and drawbacks of this service
Is SocialCaptain safe?
Is it a fraud that many claim it to be?
If you're in a hurry, you'll find a quick summary below. But if you want to get down to the nitty-gritty of SocialCaptain reviews, stay tuned!
SocialCaptain Review Summary:
SocialCaptain claims to deliver real followers and engagement using AI technology.
The service is no longer available.
Numerous users labeled SocialCaptain a scam.
You can use the discount code GROW20 to get 20% off.
Most Popular Instagram Growth Tools Rated
What Is SocialCaptain?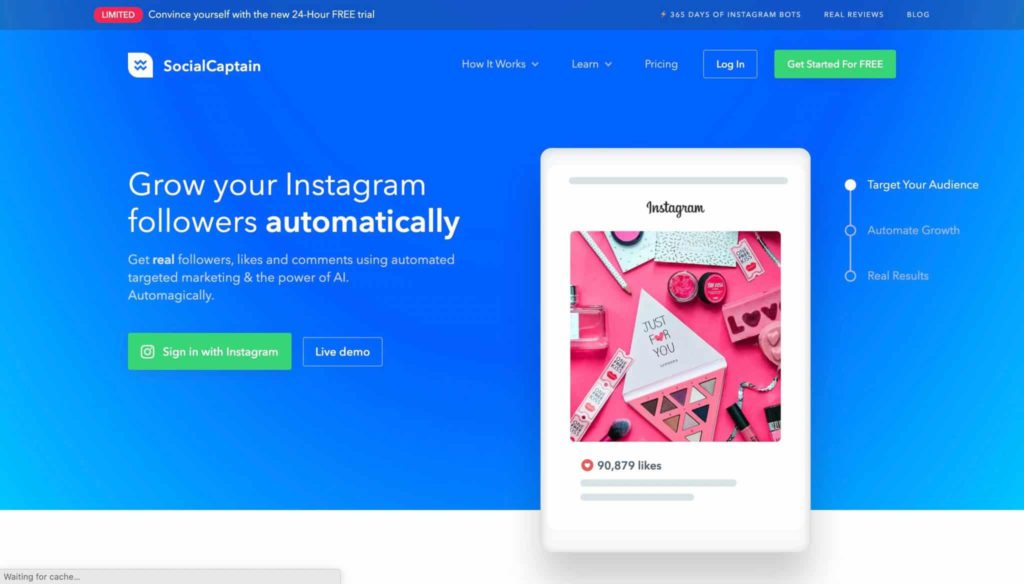 SocialCaptain was an Instagram management tool; they all are. It promised to grow your Instagram following and get you real engagement. Real followers, likes, and comments – the whole nine yards – thanks to targeted marketing and AI technology.
Organic, supercharged growth, instant results, power of AI; it does sound pretty impressive when you put it like that, huh?
"Automagically" was the word they used, to be exact. I have to admit, it's a smart play on words.
It was, anyway.
Why am I talking about it in the past tense?
If you haven't heard the news yet, you're going to love this next part.
They had a pretty solid industry-wide reputation back in the day. But, SocialCaptain took a nosedive in late 2019 – and, well, they never recovered from it.
Maybe it was a change in management. Or the company scammed one Instagrammer too many and had to cover its tracks.
There's no way to know what went down.
One thing I can tell you, though, is that SocialCaptain is no more.
Yup, you read that right.
It's down – as in nowhere-to-be-found, no-longer-works down.
What's the point of this SocialCaptain review, then?
I figured you should know who you're dealing with, anyway. You know, in case you happen to come across the tool alive and well sometime in the future.
How Does SocialCaptain Work?
SocialCaptain seems to offer everything you'd want in an Instagram management tool. Real-time stats, AI-powered optimization, automated following, unfollowing, liking, and commenting; you name it.
It's supposed to be a personal AI Instagram assistant that delivers automated engagement.
I say "supposed" because every run-of-the-mill Instagram bot promises the same thing.
Once you sign up, you'll have to provide your IG username and password. Expect a "suspicious login attempt" notification from Instagram shortly after. You then set parameters – hashtags, locations, and usernames – that pinpoint your target audience.
From there, SocialCaptain goes on autopilot. It likes, follows, comments, and unfollows on your behalf.
You only get a free 24-hour trial, though.
If there's one thing I liked, it's that SocialCaptain kept the interface simple, both in the app and in the browser.
SocialCaptain Features
SocialCaptain offers a rather basic set of features. You'll find most of them in hundreds of other Instagram growth tools.
Automation Services
Like, Follow, Unfollow, and Comment automation features are at the core of the service. SocialCaptain promised to grow your Instagram followers "automagically," after all.
Although the automation services vary between subscription plans, the basic idea was:
Set your parameters and let it run on autopilot.
Unfortunately, it had its bugs from day one – and as of 2019, it doesn't work at all.
Automation Speed
SocialCaptain allows customizing automation speed to avoid triggering Instagram's bot alarms.
You get four speeds:
Slow, allowing up to 400 actions a day
Normal, allowing up to 1000 actions a day
Fast, allowing up to 2000 actions a day
Turbo, allowing over 2000 actions a day
It sounds good in theory, but anything higher than "Slow" puts your account at risk.
Turbo speed – available with SocialCaptain's Turbo subscription – is bound to get you banned.
AI-Optimization
This feature is – or was – available with the Turbo plan, which also happened to be an expensive one.
Using AI to mimic human activity on Instagram was one of SocialCaptain's bold claims. I admire the confidence. But they're far from the only tool insisting on providing AI-powered optimization.
Plus, automation is what's most likely to get you in trouble with Instagram, anyway.
Automated Targeting
You can target Instagram users based on parameters like hashtags, locations, and usernames. That should get you active followers and real engagement – at risk of getting you banned, that is.
But the thing is, even the most basic automation services offer these three options. There's nothing revolutionary about it whatsoever.
Pricing of SocialCaptain
SocialCaptain splits subscription plans based on how long you'd use the service. You can try the weekly plan before committing to a monthly or yearly subscription. There are no obligations to hang around.
That's one of the very few positive things I can say about this pricing plan.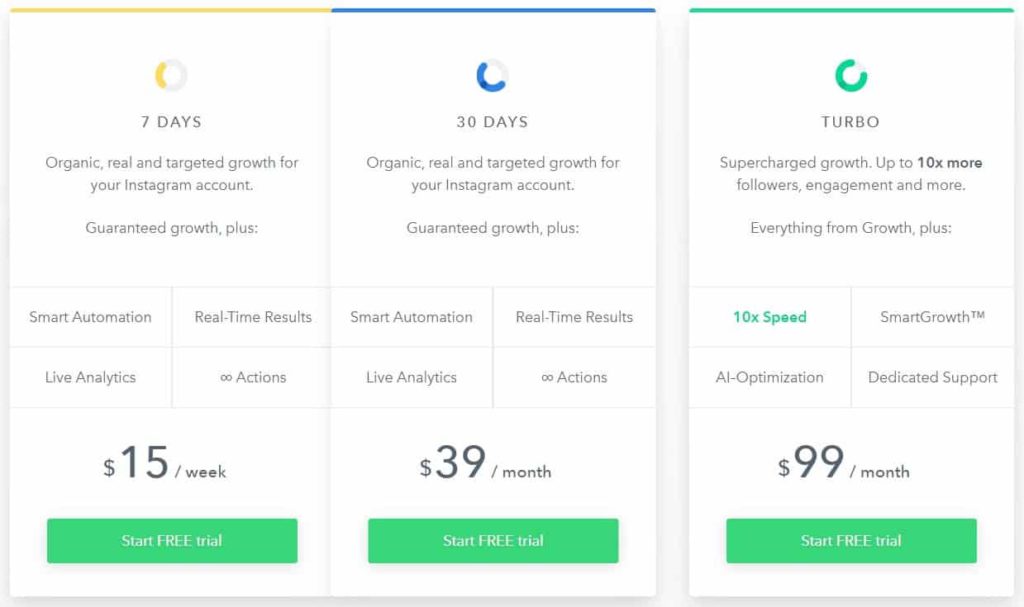 It all goes south from there, starting with the 24-hour free trial. One day, that's it. In what world are 24 hours enough for you to decide if you like the service enough to pay for the subscription?
SocialCaptain's Growth package gives you two options – a $15 seven-day subscription or a monthly one for $39.
But things start to get expensive with SocialCaptain's monthly Turbo plan. It promises "supercharged" growth – there's that buzzword again – ten times more followers and AI optimization for $99 a month.
I'm sure you'd come up with better ways to spend $99 a month, though.
You could easily land a yearly subscription to a far more reliable organic growth tool for the money. One that works, for example.
Speaking of yearly plans:
SocialCaptain also has annual Growth and Turbo subscription options, promising 35% long-term savings.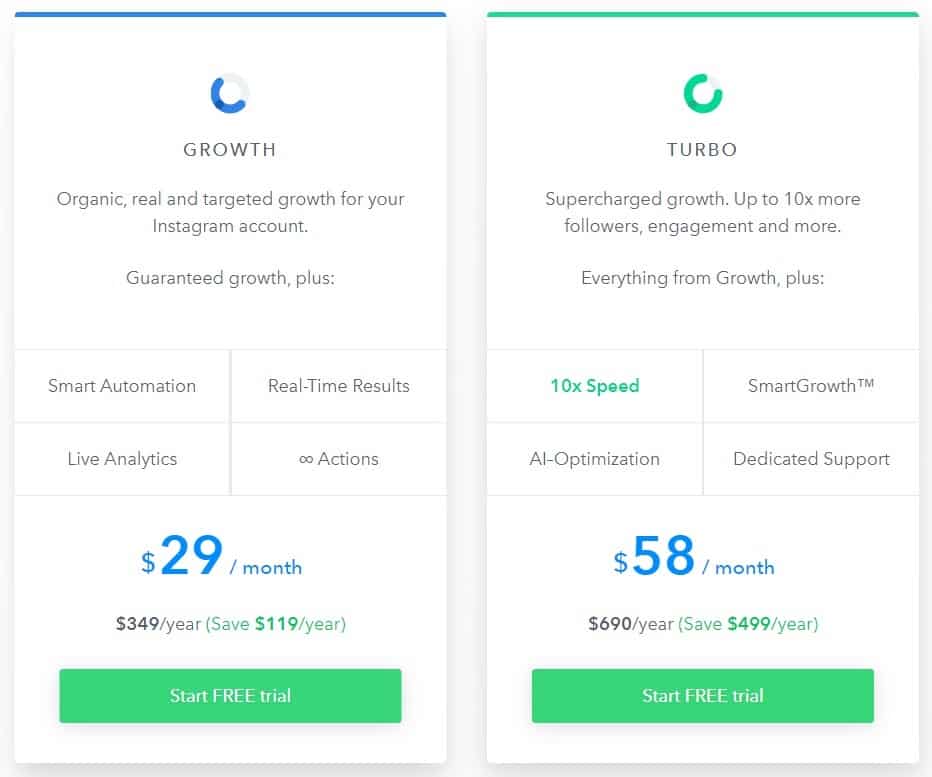 It's ridiculously overpriced for what you're getting. Not what it promises to give you, but what you actually get – which, on more than one occasion, turned out to be nothing.
Is SocialCaptain Legit?
If it weren't for the Trustpilot.com SocialCaptain reviews, I could've mistaken it for an average Instagram growth tool. There weren't many red flags – at least not easy-to-spot ones.
Until the word "scam" started showing up everywhere, that is.
Service that barely works, non-existent customer support, inability to cancel subscriptions, unauthorized payments; these were the most troubling complaints.
What looked fine and dandy on the surface turned out to be nothing but a well-constructed façade.
And at this point, it's safe to conclude that we're dealing with a scam.
Is SocialCaptain Safe?
No – and I cannot stress this enough – SocialCaptain is not safe.
Instagram's war on bots means that using tools like SocialCaptain carries certain risks. Getting your Instagram account banned is one of them.
That's not even the worst thing that could happen.
There's also a chance that they'll take your money and – well, you know how scams work. There were instances of unauthorized payments long after canceling the subscription.
It's a loud "No, I'm not giving you a dime" from me.
Top SocialCaptain Alternatives
If SocialCaptain put in as much effort into the service as they did into the façade, we wouldn't be having this conversation. But the tool is no more; here are some alternative services you could use instead.
SocialCaptain Pros and Cons
Okay, let's do a quick summary of everything I talked about so far:
| PROS | CONS |
| --- | --- |
| Easy-to-use interface | Only worth it with the Turbo plan |
| Has a free trial | Cheaper and better alternatives available |
| | Customer support is virtually non-existent |
| | Charging you after you cancel the subscription |
| | The free trial lasts only 24 hours |
| | Can lead to your IG account getting banned |
| | No longer works |
SocialCaptain Review: Final Verdict
So, was SocialCaptain ever the social captain it so proudly claimed to be?
Fat chance! The rumors of the service shutting down – I'd say the shut-down was a long time coming – only prove my point.
And to be quite frank with you, it's good that SocialCaptain closed its virtual doors. There's one less tool of its kind – the customer-scamming kind, to be precise – to worry about here.
If anything, it makes room for services that can give you actual results and real, organic growth. For example, the ones I outlined below.