Welcome to the super in-depth Robolike review!
Since you're here, I'll assume you already know about the service, and you've heard some rumors about Robolike not working anymore. Now you want to know if there's any merit to the gossip or not.
I'm here to bring the truth to light.
Let me start by saying yes, Robolike is indeed discontinued.
So, why do we need a full review of the service?
Well, my fellow Instagrammers, there are some ugly truths about Robolike that I believe everyone should know.
Let's begin, shall we?
No time to read the whole review? Here's the entire gist:
Robolike Review – A Recap
Robolike is out of business but still continues to charge people.
There are too many reports of people being scammed by Robolike.
It goes without saying that you should steer clear of Robolike and similar bots.
Organic growth is the only safe way to boost your account.
They come with a code GROW20 that you can use to get 20% off.
Most Popular Instagram Growth Tools Rated
What Is Robolike?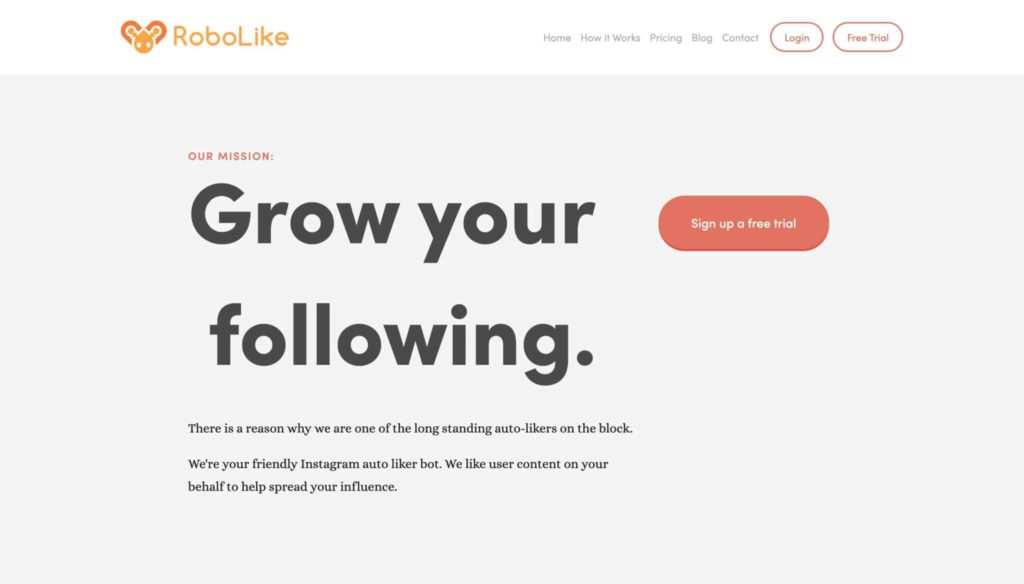 Even though Robolike is no more, they still have an active website. If you visit robolike.com, you'll see that everything seems normal. There isn't a sign of the service being closed down.
This is all part of Robolike's master plan – why tell people we no longer exist when we can keep taking their money?
Well, because it's downright fraudulent, for one thing. Not to mention it is also unethical on so many levels.
You wouldn't believe how many Robolike reviews claim the company charged them for a non-existing service.
Speaking of reviews, I was surprised by the lack of them since Robolike had been in business for almost six years. You'd think people would have to say something about it.
But no. Most of them are recent reviews that talk about the above-mentioned issue. Did the company somehow manage to remove reviews from the past few years or what? I haven't a clue.
So, to answer the better-phrased question: What was Robolike?
Robolike was an auto liker bot. That's it.
In their own words – "It's not spammy to receive a like; that's why we've only ever done likes."
I strongly disagree about it not being spammy, but I'll get to that later.
So yeah, it was a basic bot that liked stuff on your behalf.
And how did it work? Let's find out.
How Robolike Works?
Well, it doesn't, but for the sake of the review, let's pretend it does.
From what I managed to gather on the Internet, getting started with Robolike was relatively straightforward.
You go to their website and sign up for free. The registration requires an email, password, and get this – your country.
Quite unusual, I must say.
Not only is it completely unnecessary, but it also causes complications.
Many users have had trouble with this as a window would pop up saying their country is not recognized. Then there are instructions to follow in order to fix the issue. It's a real drag.
Once that's done, all that's left to do is connect your Instagram account, select hashtags that target your audience, and let Robolike do its magic.
Robolike says it likes 60-80 posts per hour.
They also claim that in the six years of the company's existence, they liked over 10 billion posts. That means the bot likes 4.5 million posts a day. Yup, I did the math.
If this is true, I'm surprised they even managed to last that long.
It's probably because Instagram wasn't so strict about bots back in the day.
Nowadays, Instagram has a zero-tolerance policy for bots, so it's no wonder Robolike couldn't escape their wrath. Although we don't know for sure, I'm quite certain that's what led to Robolike's demise.
Robolike Features
Robolike features were simple. Since the bot only liked posts, that was the main one.
Auto Liking
Remember how I said I disagreed with their claim that likes aren't spammy?
Well, maybe not to an individual account whose post it likes, but to Instagram, they sure are.
When Instagram's advanced AI bot detection tools figure out you're using a bot to like thousands of posts, they will suspend your actions. Or worse – you'll get banned for good.
Even though Robolike says it only likes up to 80 posts an hour, it's still too much when you consider it does so for hours on end.
Audience Targeting
Only one filter was available – targeting by hashtags.
I don't even have to tell you this is the most basic way to do it. No wonder the tool liked random posts half of the time.
View Your Likes
I'll admit this one was helpful.
You had the option to see which posts Robolike liked in your name. It was an excellent way to keep track, given that the data was correct.
I can't say it was, though. There's no evidence to support it.
Customer Support
One common complaint about Robolike was about the quality of their CS.
Basically, the customer support was non-existent. God forbid you tried to ask for a refund – it was a herculean task.
Pricing Of Robolike
The pricing is still available on their website for everyone to see. I'll give them this – the service was budget-friendly.
See for yourself: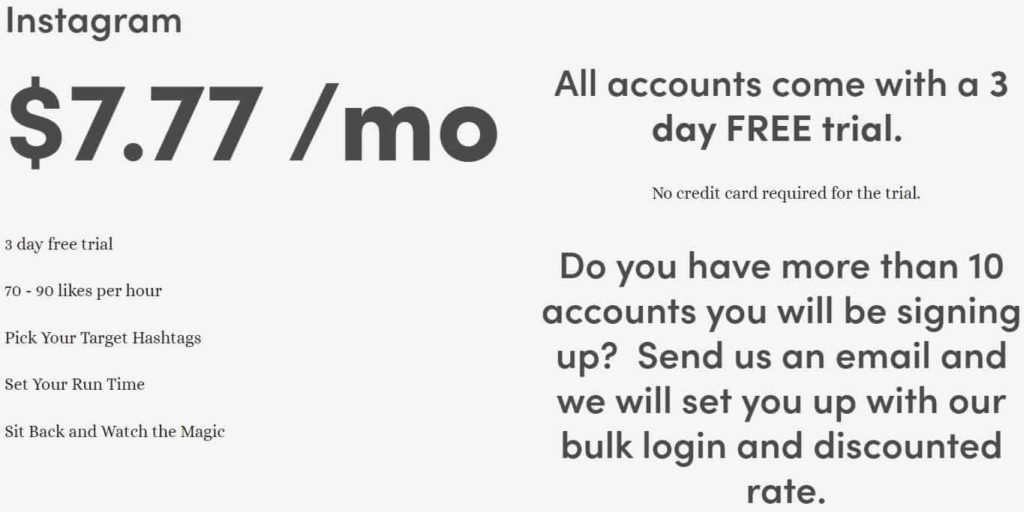 You'd get the whole package for $7.77 a month. There was even a 3-day free trial.
Is Robolike Legit?
It's unambiguous that Robolike is not legit.
Suffice to say – they shamelessly charge for a shutdown service.
Is Robolike Safe?
If we talk about their website and payment options, yes, it's safe.
However, the ongoing scam is not negligible. It's certainly not safe for your account either – the company's activities can quickly get your actions blocked or your profile banned.
Best Robolike Alternatives
Even if it still worked, Robolike wouldn't be the best way to grow an account. Bots such as this one seldom provide significant results. For that, you need an organic growth service.
Robolike Pros And Cons
Time to wrap it up with a list of Robolike's ups and downs.
| PROS | CONS |
| --- | --- |
| Budget-friendly | Shut down a while ago |
| Easy to use | Still accepts and charges new clients |
| | Could get you blocked or banned |
| | Impossible to get a refund |
| | No customer support |
| | Shockingly few reviews |
Robolike – Final Verdict
So, is Robolike gone for good?
Let's hope so.
If you ask me, it's high time these no-good bots become a thing of the past and make way for safe, organic services.
Organic growth is still in a class of its own, so I strongly advise you to check out the organic services I listed here.