AiGrow reviews are plentiful, but there are very few unbiased ones. In an effort to do something about this, I tested the service. Now, I will let you in on what I learned.
Today's review deals with subjects like:
Should you trust AiGrow?
Can it take your account to the next level?
Will it jeopardize your profile?
I cover all of this (and more), so be sure to give it a thorough read. In case you're in a hurry, here's a sneak peek of what you have to know about AiGrow.
AiGrow Key Points:
AiGrow is an automated engagement bot
It is a rebrand of another company
Instagram action-blocks AiGrow's users
Don't put your profile at risk – use organic growth tools
There's a 20% discount with the code GROW20
Most Popular Instagram Growth Tools Rated
What Is AiGrow?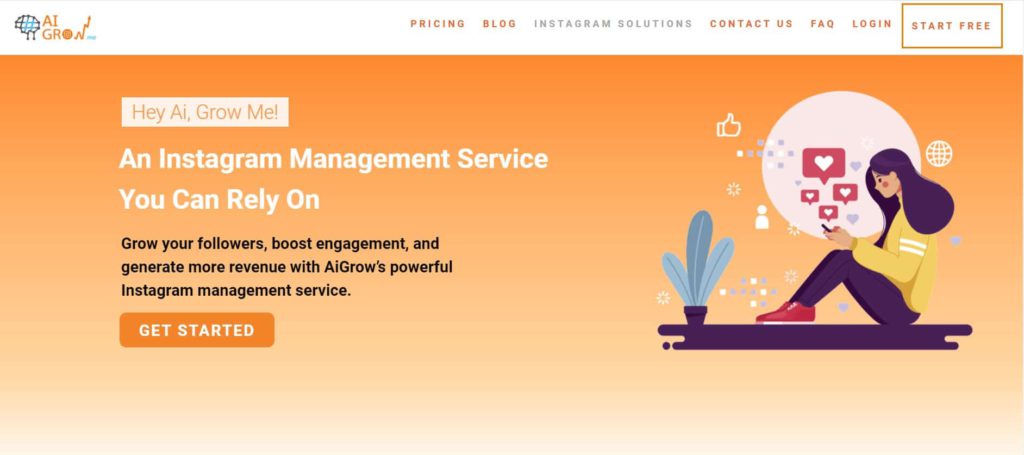 As I briefly mentioned in the summary, AiGrow is an Instagram bot. The company used to openly state this on their website despite the negative connotation of the word "bot." However, they recently changed the description to "Instagram management service." I wonder why.
What this tool does is automate basic Instagram actions for you (follow, like, DM). It's got a few other features too, and you can read about them later in the article.
While researching AiGrow, I noticed how much effort these guys put into their image. They frequently post quality articles on their blog, and their website looks very professional.
Another thing that I (kind of) liked are the articles where AiGrow reviews other growth tools and compares itself to them. It surprised me that the company doesn't skew the comparisons in their favor. I mean, they do a bit, but the reviews of their competitors are relatively objective.
OK, this is the point where good impressions stop.
I'm afraid that, despite the polished image, AiGrow's service is terrible. It may get you – scratch that – it will get you in trouble with Instagram. You'll probably get action-blocked if you use it. On top of this, I've read many testimonials from users whom AiGrow scammed for their money.
The matter is quite serious, so please, stay tuned.
How AiGrow Works?
To get started with AiGrow Instagram service, head over to aigrow.me. Once you register and connect your Instagram profile, the bot will be at your disposal. All that's left to do then is adjust some preferences and let it roll.
And roll it will! The app will like, DM, and follow on your behalf until that fateful moment when Instagram blocks you. This can happen in under an hour. If you've never received a message from IG explaining that you're action-blocked, let me tell you right away – it's not fun.
This is just the first of many problems with AiGrow. What you find out in the remainder of the article will surprise you, but not in a good way.
Features of AiGrow
The tool is based around a couple of main features and a few additional ones. Here's what they look like:
Automated Engagement
These are the main features to which I was referring. I've already mentioned them earlier, and now I'd like to break them down.
Despite the company's claims that humans are behind all of their operations, this simply isn't true. The service employs a bot that performs all the tasks.
As I explained, AiGrow can like, follow, and DM your target audience's accounts. The problems begin when it exceeds Instagram's daily action limits. The platform will identify the bot activity and proceed to block your account.
Post Scheduling
The post scheduler is a benign feature that doesn't get its chance to shine. It'll upload your posts automatically according to the times that you set.
Post and Reward
I've got to hand it to AiGrow – I've never seen such a feature before.
Post and reward essentially means that you'll automatically DM the accounts that share your posts. In the DM, there'll be a reward in the form of a discount code, coupon, or anything you come up with. It's up to you.
I'm not sure how useful this is. In my opinion, it feels kind of spammy, but I'll let you decide for yourself.
Link In Bio
Since Instagram allows only one link in bio, AiGrow thought of a way to bypass this. Namely, this feature generates an URL which you place in your bio and which can contain several links of your choosing.
This option may be useful, but it probably won't assist your Instagram growth much.
Pricing of AiGrow
AiGrow offers ten different pricing plans. As I don't want to bore you with all of them, I'll only show you the most popular ones.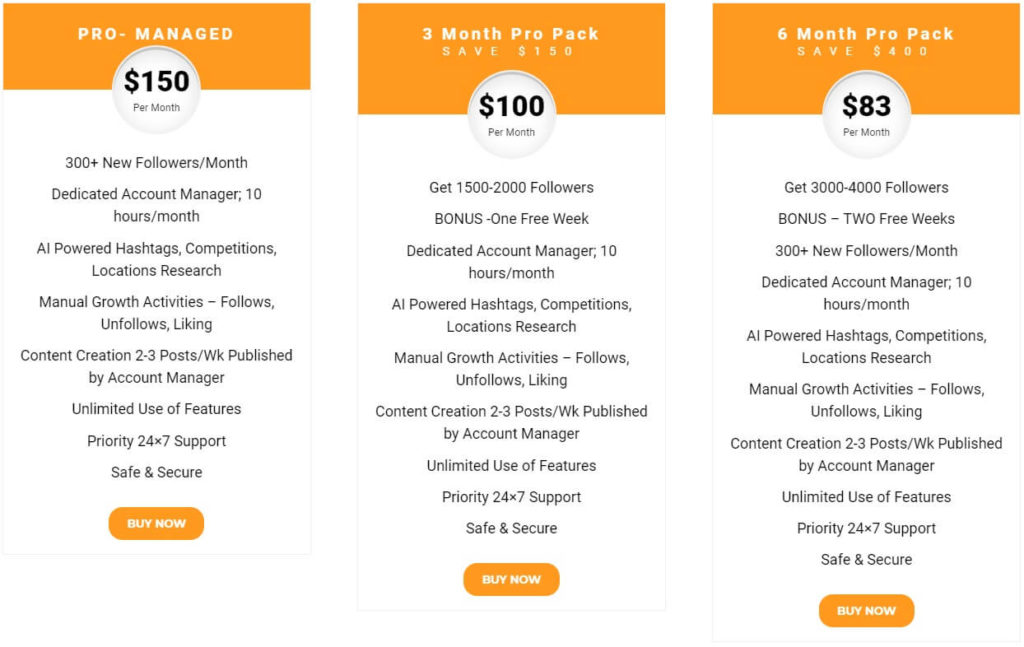 As you can see, their services are not cheap. The $150 which they ask for the Pro Managed plan may not seem much considering all that it encompasses. However, I can tell you with certainty that you won't get any of it: no dedicated manager, no 24/7 support, nothing.
The same goes for the less pricey, 3-month and 6-month Pro Packs. These are here just to lure in customers with a thinner budget.
And if your budget is very low, no worries, AiGrow's got you covered: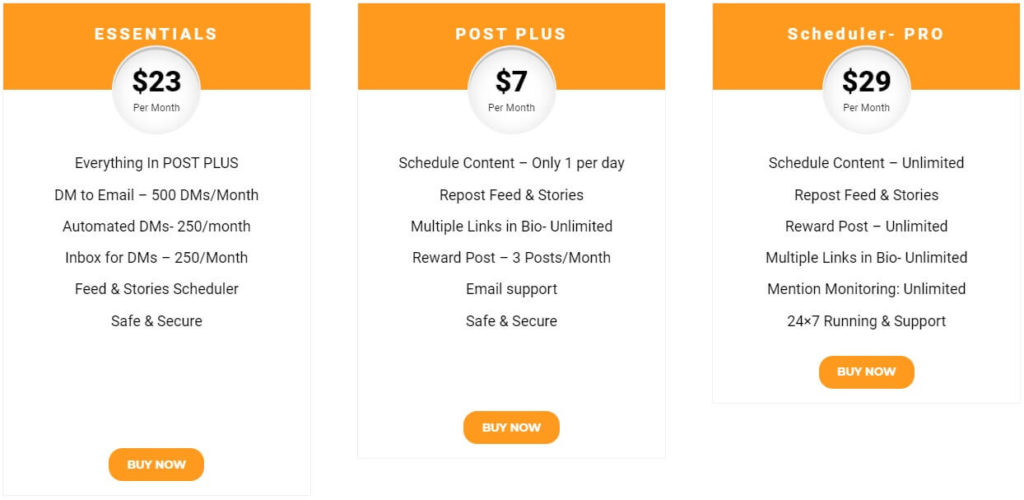 They sell some of their tools, like the post scheduler, separately. These individual tools go from $7 to $75 per month. Again, I don't recommend using them.
There's also a free trial if you're really curious about AiGrow, but even that comes with a risk. I'll explain what it is in the upcoming section.
Is AiGrow Legit?
AiGrow is not legit, folks. They are scammers.
Don't be fooled by the positive rating on Tustpilot.com. The service hired a bunch of people to leave fake positive reviews.
Aside from getting you blocked, AiGrow will also take your money and won't give it back. Even the people who unsubscribed before the free trial expired got charged! They won't answer your emails or calls, so don't bother contacting them.
Is AiGrow Safe?
If you've read the previous paragraphs, I don't need to say anything here.
AiGrow is not safe, and it's best to steer clear of it.
Top AiGrow Alternatives
Disappointed by what you learned about AiGrow? Don't be; just move on. Here, take a look at these excellent alternatives.
AiGrow Pros and Cons
Once more, let's point out all the essentials:
| PROS | CONS |
| --- | --- |
| Easy to set up | Instagram will action block you if you use it |
| | It will not grow your profile |
| | Tons of fake positive reviews |
| | Expensive |
| | Doesn't respond to refund requests |
| | People unable to unsubscribe |
AiGrow Reviews: The Bottom Line
I feel like enough has been said for you to realize that AiGrow is not your mediator of IG growth.
It'll most certainly get you blocked and, if you're persistent, banned. Not to mention that AiGrow will charge you a hefty fee for these "services."
Luckily, you've got plenty of other choices. Do not dwell on AiGrow a second longer, but go and hire an organic growth tool instead.