How many PopSocial reviews does it take to learn the truth about this service? Just one – this one.
My article covers all there is to know about PopSocial, including:
Can it grow your Insta as it promises?
Does it even work?
Will it put your account at risk?
These are the questions that you need to know the answers to before trying this service out. I've laid them below out for your convenience, so keep scrolling!
In case you just want a quick overview, I've got you covered.
PopSocial: Key Points
PopSocial automates Instagram engagement
It'll probably get you in trouble with Instagram
Their website doesn't tell you much about the service
Too expensive for what it sells
A better idea would be to use organic growth tools
The code GROW20 can get you a permanent 20% discount
Most Popular Instagram Growth Tools Rated
What Is PopSocial For Instagram?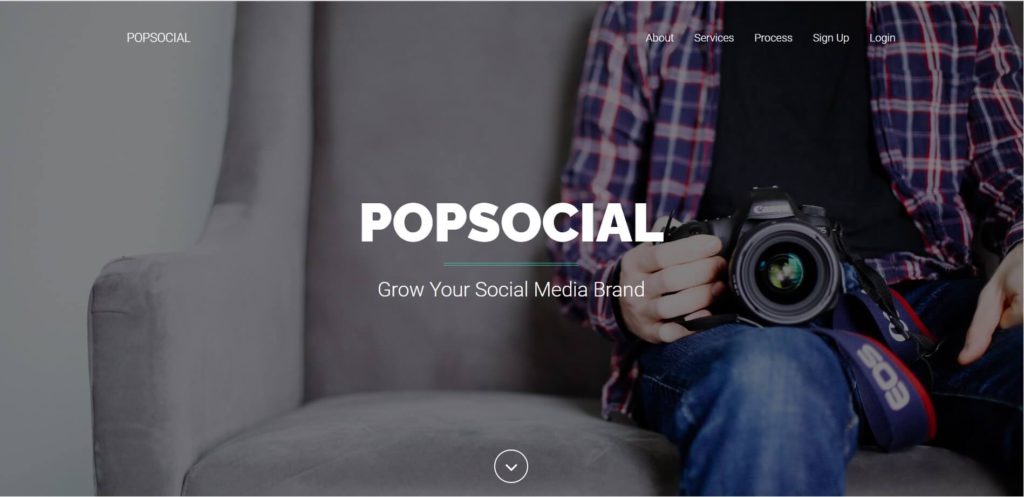 Initially, the PopSocial Instagram growth service was a bit of a mystery. Their website, albeit nicely designed, doesn't really tell you much about what the company does.
On the page titled "Process," they present three steps: organize, campaign, and launch. Each step is vaguely explained in a few bullet points, so, again, you won't learn anything.
I don't know about you, but this veil of secrecy has a deterring effect on me.
There are two ways to learn about the actual mechanisms of the service:
Reading reviews
Testing it for yourself
I did both, and frankly, I wasn't ready for what I was about to learn.
You can read about my firsthand experience below.
How PopSocial Works?
Getting started with PopSocial was pretty straightforward.
I went to their website popsocial.com and registered in the usual way. The only not-so-usual thing was that they asked for my phone number. I don't know why an Instagram growth service would need it, but hey, I had no choice.
Once in, I had to choose a pricing plan and pay for it upfront. The next step was to connect my Instagram profile, adjust the tool's settings, and run it.
I soon found out that the PopSocial app is nothing other than a bot. It automatically likes, follows, DMs, and comments instead of you – same as a billion other growth tools.
Even though the company claims that they'll provide you with a dedicated account manager, I haven't seen any evidence of this.
Baffled by this discovery, I hopped over to Reviews.io, my go-to website for genuine user testimonials. And surprise, surprise – there were dozens of individuals who shared my disappointment.
Little did I know that my troubles were far from over. In the upcoming sections, I'll talk about the worst aspects of PopSocial. Trust me; it's not pretty.
PopSocial Features
PopSocial has only a few features. This isn't necessarily a bad thing, given that they function well. Can they bring any good to you? Find out below:
Automated Engagement
As I mentioned, PopSocial is essentially a bot that automates Instagram actions. It can like, follow, send DMs, and comment.
The first thing that you need to know is that auto DMs and comments do not function. I don't know whether everyone experienced this issue, but I sure did.
The follow and like options are quite aggressive; too aggressive if you ask me. It seems that there's no limit to how many actions PopSocial performs a day. Such rampant auto-engagement is a sure way to an action-block. It happened to me, and I couldn't like anything for a day.
In case you didn't know, an action-block is Instagram's way of warning you not to be spammy. If you persist, the platform may even ban you.
Targeting
PopSocial's targeting options are scarce, to say the least. You can only target by entering Instagram usernames relevant to your niche. Hashtags, location, or other usual parameters are not available.
The service will proceed to interact with followers of the accounts that you targeted. While this approach isn't necessarily bad, it's too limited. It simply isn't able to narrow down the audience that you're after.
Aside from this, there's another huge caveat of targeting only usernames. Imagine that one of those accounts has mostly fake followers. This means that you'll be interacting with them and possibly attracting them to your account. Let me just say that Instagram wouldn't like it.
Pricing Of PopSocial
PopSocial's pricing can only be seen by registered users. Since I was one of them, I can show you what their pricing plans look like.
First, let's take a look at the most popular packages: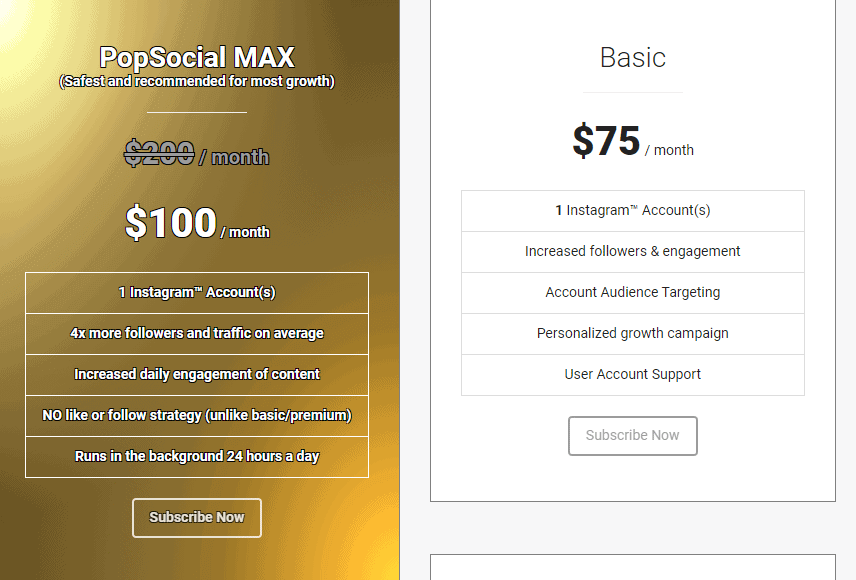 As you can see, it's not cheap at all. The worst part is that you have to pay before you can use it, which is a huge gamble.
Here are the two other pricing plans: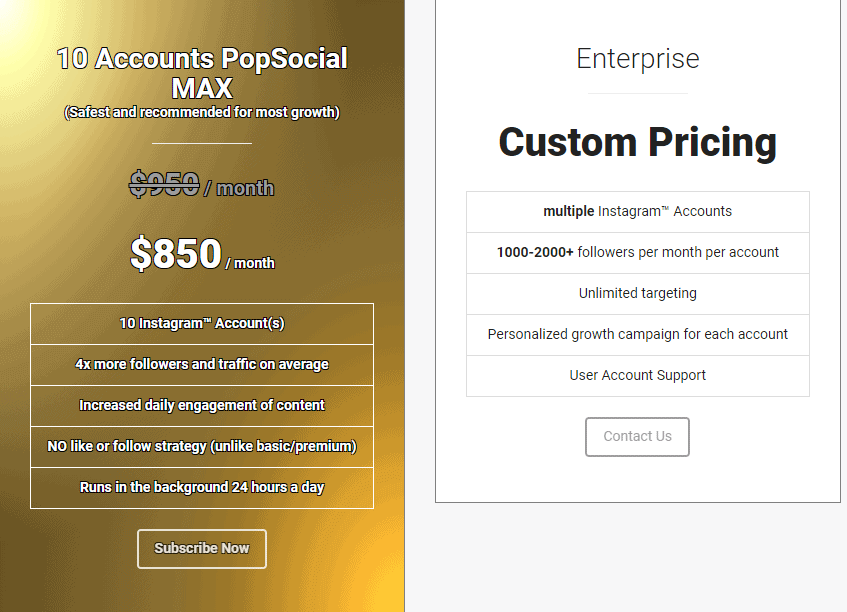 $850 for running PopSocial on ten IG accounts? Not too shabby, eh? I don't know if anyone ever bought this ridiculous package, but I strongly advise against it.
Is PopSocial For Instagram Legit?
There's a reason behind PopSocial's secrecy – the service is not legit.
It won't get you the growth that it promises, if any at all. Your account will probably get blocked by Instagram. Also, there's no way that you'll get a refund, not even in your wildest dreams. The customer support won't respond to anything you send them. I'm speaking from experience.
But this isn't even the worst of it.
I've read numerous reviews from customers who were unable to unsubscribe and got charged for months before resolving the issue.
Is PopSocial Safe?
The website and payment gateways are safe, there's no question. However, your IG account won't be safe if you use PopSocial. Also, the company might just take a bit more money from you than you initially intended to give them.
Top PopSocial Alternatives
Let's face it, guys, PopSocial isn't worth giving a shot. Go for organic growth services instead, and build up your popularity the right way.
PopSocial Pros And Cons
Let's sum up the positives and negatives of this app:
| PROS | CONS |
| --- | --- |
| Their website is secure | Basic Instagram bot |
| | It'll probably get you action-blocked |
| | Pricey |
| | Only a single targeting option |
| | Very little concrete information on the website |
| | Plenty of negative user reviews |
PopSocial: Final Word
Overpriced, risky, and cannot boost an account – need I say more?
If you ask me, PopSocial comes across as dishonest. It doesn't do what it claims and is far from an organic tool.
Do yourself a favor and look for another service to help you grow your Insta. I mentioned a few great alternatives in the table below, so do check them out.