Welcome, anonymous Instagrammer!
I assume you want to know more about Poprey. Right off the bat, let me say that this isn't another one of those obscure Poprey reviews. My analysis cuts straight to the point, and deals with questions like:
What exactly is Poprey?
Should you trust it with your money?
Can it boost your account?
There's no better place on the Internet to learn about this!
To find out the essence of Poprey, skim through the summary. If you want to learn all there is to learn about the service, stay tuned!
If you don't want to read numerous reviews for Instagram services out there and get the one that works best, go with Upleap. This company proved to be the best overall in all of my testings and comparisons. My detailed Upleap review will explain everything in detail – check it out!
Back to today's topic…
Poprey Key Points:
Poprey sells engagement for social media
It is not an organic growth service
Its customer support is extremely bad
Most of what you buy gets deleted eventually.
Most Popular Instagram Growth Tools Rated
What Is Poprey?
As I mentioned above, Poprey is a growth service that sells engagement. It works for various social media, including Twitter, YouTube, Spotify, Facebook, and, of course, Instagram. I'll focus on the latter since I guess that's what you want to know about.
Before I move on, I'd like to state that I'm against buying Instagram engagement. This approach seldom works and usually creates more harm than good. I'll explain why later.
So, the nature of Poprey's service is problematic in itself. However, this isn't what put me off. Despite not being a fan of engagement sellers, I don't place all of them in one bucket. Even in this grey(ish) business, there are better and worse companies.
Poprey, I'm afraid, can be listed as the latter.
The quality they promise is not there, and lately, they don't deliver what the customer paid for. Hop over to Trustpilot.com to see what I mean. Just beware not to believe all the blatantly fake 5-star reviews mixed in with the real ones.
I wasn't expecting much from this company in the first place. Yet, what I found out straight-up shocked me.
To learn more about what Poprey does, scroll down to the following section.
How Poprey Works?
The Poprey Instagram service offers to sell you likes, views, comments, and followers. As you may know, this is nothing revolutionary.
According to the company, the engagement comes from genuine accounts, i.e., real live humans. Having plenty of interactions with accounts like that would make you rank better on Instagram.
It all sounds good until you actually try it.
Poprey's engagement isn't even remotely genuine, and it won't get you far. Instagram will delete a hefty portion of what you purchase. Aside from that, If you're unlucky, the platform might ban you. It has the full right to do so as Poprey violates its Terms and Conditions.
But this isn't where the troubles end.
To buy something from this service, they require full access to your IG account. This means that you'll have to give them your username and password.
In my opinion, no growth tool should have your password; I don't see why they would need it. All it does is enable the company to abuse your profile and data. Later, I'll talk about an issue that one customer faced because of this.
Features of Poprey
Poprey doesn't have many features for Instagram, but there's much to know about them. I've explained them in detail, so do not skip this section!
Buying Instagram Followers
Selling followers is Poprey's most prominent feature. Why? Because everyone wants more of them, especially if they're "real," as Poprey claims.
Now, there are multiple issues with buying followers in bulk.
Let's say that you want to buy 50K followers, which is Poprey's largest package. Once paid for, they'll arrive to your account within 24h. Do you think that Instagram wouldn't notice this? When it detects it, two things may happen:
It'll delete most of the followers
It'll temporarily ban you
Also, the above-mentioned package costs around $240. Suspiciously cheap for fifty thousand genuine followers, isn't it?
Buying Instagram Likes
Poprey offers likes and auto-likes.
Auto-likes can be bought per post or monthly. In the case of the latter, there's a limit on five posts per day.
As for regular Poprey likes, there's no precise explanation of how they work. I've read somewhere that the amount you purchase gets randomly spread out across your posts.
This feature might not be so bad if you stick to the smallest packages. Such an approach probably won't get you significant growth, but it may be useful for new accounts.
Buying Instagram Views
Story views are Poprey's cheapest service. You can buy anywhere from 200 to 500K of them. Honestly, I don't see the utility behind purchasing views because it won't do much to make you more popular.
Buying Instagram Comments
And finally, we reach the most spammy feature. Despite the company claiming that their comments look natural – they don't. A baby would figure out that they're fake. Do yourself a favor and do not buy them.
Pricing of Poprey
Poprey's prices go from as low as 80 cents to several hundred dollars. This depends on the type of service and size of the package that you're purchasing.
The company offers tons of different packages. So, to avoid boring you with a bunch of screenshots, I'll just show you the prices of their followers and likes. You can check out the rest on their website.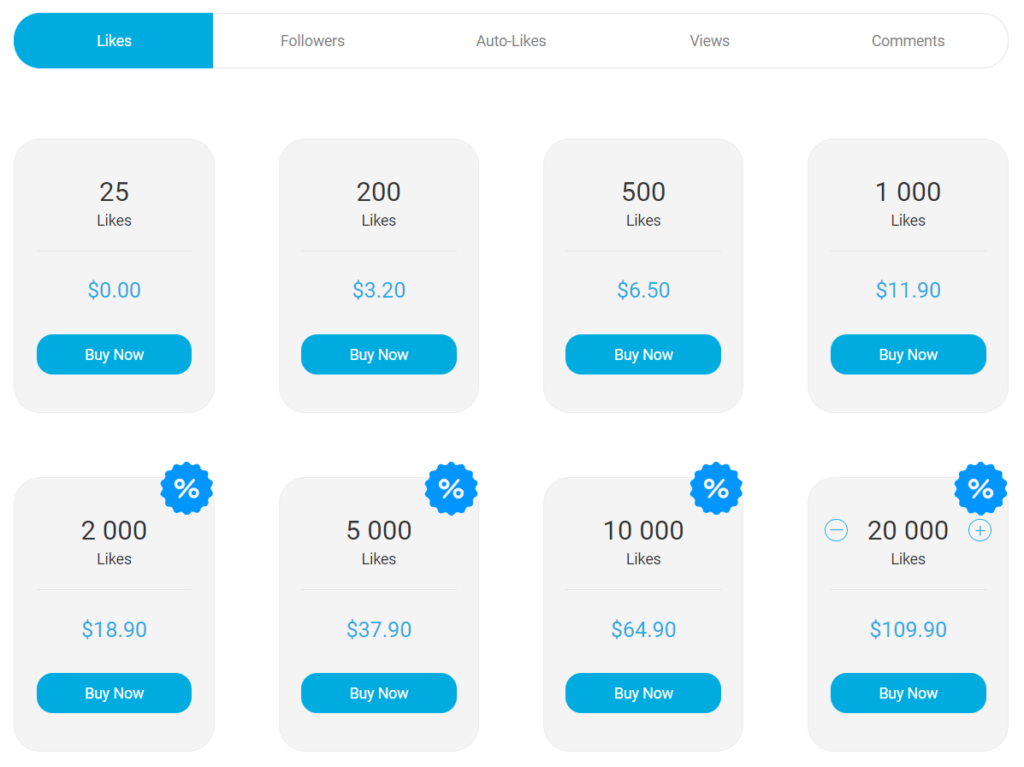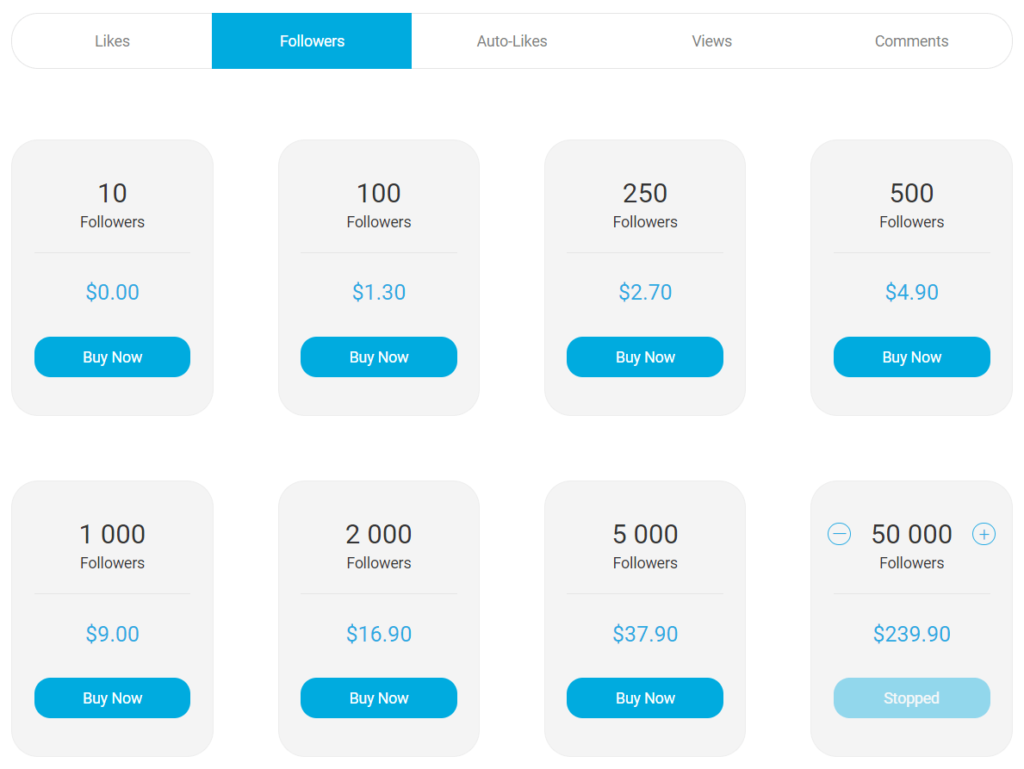 Considering the amounts they sell, Poprey's cost isn't too high. However, the quality of their engagement is very low, and so is the retainment. Again, I want to point out that Instagram will remove most of the followers and likes you buy.
Is Poprey Legit?
Sorry folks, Poprey isn't legit.
What they say about the quality of their service is misleading. Most of their engagement doesn't come from real profiles. I assume they have an army of bots at their disposal, which is a deadly sin in the eyes of Instagram.
On top of that, I've read numerous complaints from customers who hadn't received what they bought. Upon contacting customer service, they were met with rude responses and even insults. I haven't seen that anyone who asked for a refund received it.
If you ask me, this is the very definition of a scam.
As far as I was able to find out, the service wasn't always this bad. It appears that things took a turn for the worse several months ago. It's probably due to Instagram tightening the knot on automation tools.
How much longer will Poprey be able to hold it?
Is Poprey Safe?
I cannot say that Poprey is safe to use.
First off, they ask for your Instagram password. I'm not sure why a company that sells engagement needs it.
A former Poprey user left an unsettling comment on Tustpilot.com regarding this. He said how there were two suspicious login attempts to his account within 24 hours of registering with Poprey.
Second, you might lose your money and not receive any services. I guess this counts as a safety concern as well.
Top Poprey Alternatives
I feel like there isn't much, if anything, to gain from Poprey. That's why I recommend looking for other services for your Instagram growth. Below, you can check out some excellent alternatives.
Poprey Pros and Cons
Let's take a short look at some arguments in favor of and against Poprey:
| PROS | CONS |
| --- | --- |
| It may provide you with quick followers and engagement | Mostly fake engagement and followers |
| | Instagram will delete most of what you buy |
| | Sometimes they don't deliver at all |
| | Rude and unprofessional customer service |
| | Many negative reviews on Trustpilot.com |
| | No refunds |
Poprey Review: The Bottom Line
Still thinking whether to try Poprey or not?
I would advise against it, but I'll let you choose for yourself.
All evidence suggests that Poprey is a classic bot-based snake oil salesman. To top it off, the level of unprofessionalism that their customers talk of is downright shocking. I don't know how these guys are still in business!
That being said, let me state my opinion once again – Poprey isn't worth your money.
It's wiser, and perhaps even cheaper, to hire an organic growth service. There are quite a few good ones, so make sure to take advantage.