I have written this Nitreo review because I wanted to put one of the most popular Instagram growth tools to the test and see what results I will get.
If you have been researching the available Instagram growth tools, you have probably picked up that the popularity of a tool doesn't mean that it works.
As with any other service, you will find both positive and negative Nitreo Instagram reviews.
I decided to give it a fair chance, not letting the reviews I read cloud my judgment.
I'll answer any questions you might have when it comes to Nitreo (which is why this review isn't short per se), but I also provided you with a summary below.
Nitreo Key Takeaways:
Nitreo is an organic service
It will bring real people and genuine accounts to your profile
The audience targeting is one of the best in class
If you are looking for an Instagram bot instead, try Kenji.
On the other hand, if you are interested in some tools similar to Nitreo that will also provide organic growth, Flock Social and Upleap are my recommendations.
The discount code GROW20 gives you 20% off forever.
Most Popular Instagram Growth Tools Rated
What is Nitreo?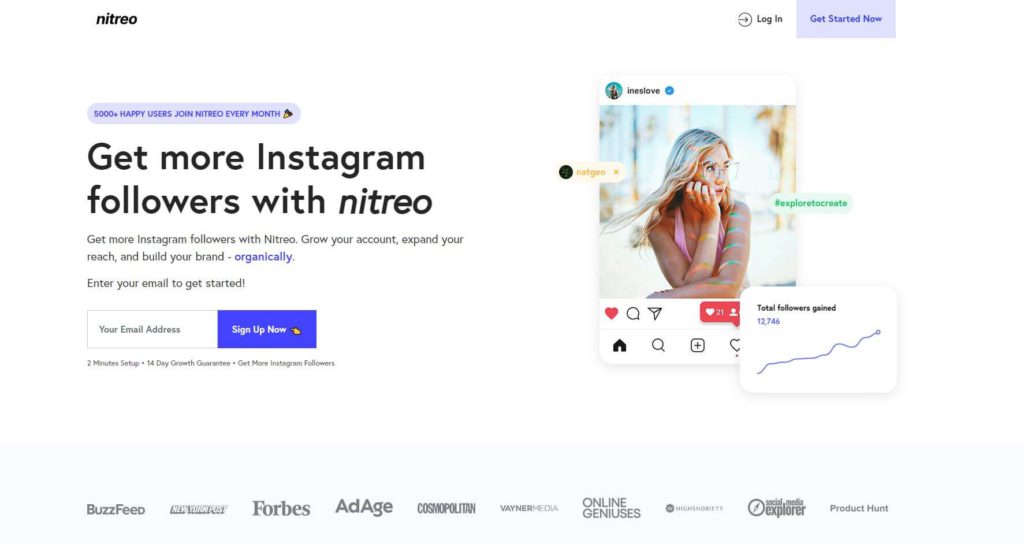 Nitreo is an Instagram growth service. It performs the mundane tasks that are essential for boosting your engagement and account, such as like, follow and view.
This might raise red flags for people who tried out an automation tool and experienced how dangerous these can be on their own accounts. Trust me – I've been there.
For my novices – automation tools can harm your account because they are easily detectable by Instagram and are against their Terms of Service.
However, Nitreo immediately assures you that there is nothing to worry about because it is a tool that understands Instagram's algorithm.
And – more importantly – it stays true to its claims. Because it is an organic service, it will get you a strong follower base without any risks attached to it.
How Does Nitreo Work?
Now, let's break down what exactly goes on behind the scenes.
To use Nitreo, you should go to their official website (nitreo.com) and click "sign up" or "get started now."
You needn't worry about your password, as Nitreo uses protection in the form of the Advanced Encryption Standard.
Once you have connected your IG account, you will be asked to specify your niche.
The categories include business, fitness & lifestyle, art, blog, entertainment, and inspiration – though this is not, in any way, an extensive list. I just wanted to give you an idea about them.
You are asked to specify your desired audience, which will take no more than 5 minutes.
But Nitreo's advanced settings took this whole experience to another level for me.
They let you specify your niche even further – for example, you can set a minimum or a maximum number of followers and following an account must have in order for Nitreo to interact with it. You can even set how often they post!
When I saw these settings, I was praying that they work because, otherwise, you would just be wasting your time specifying them.
Spoiler alert: They do work!
Features of Nitreo
Let us discuss the features Nitreo offers.
Follow and Unfollow
This feature automatically follows your target audience.
What I found really useful is that Nitreo automatically mutes all of the new accounts so that your feed doesn't get crowded, and you don't have to do it manually.
Story Viewing
Nitreo also automatically views hundreds of stories instead of you.
I personally do not care too much about this feature (maybe because I usually keep track of who follows and likes my posts), but some people do say that it boosted their engagement.
Gender Targeting
You can select a specific gender of your target audience.
It's really helpful for businesses that are centered around products aimed at only men or women.
Location Targeting
Location filters are also especially relevant for businesses, creators, and stores.
Therefore, you can select the target area of your audience, and Nitreo will interact with them.
Smart Hashtags & Suggestions
Here you can put in hashtags that pertain to your account. Nitreo can also suggest hashtags for you to use.
They even display how many posts include the hashtag so that you can make the right decision.
User Targeting
This feature lets you list accounts that are similar to yours because they are attracting followers from your niche.
Psst: It might actually be good to select your competition and win over their followers!
Pricing of Nitreo
Nitreo offers two tariff plans. You can choose to pay monthly, every six months, or yearly.
Take a look at the packages billed annually (they are the best deal):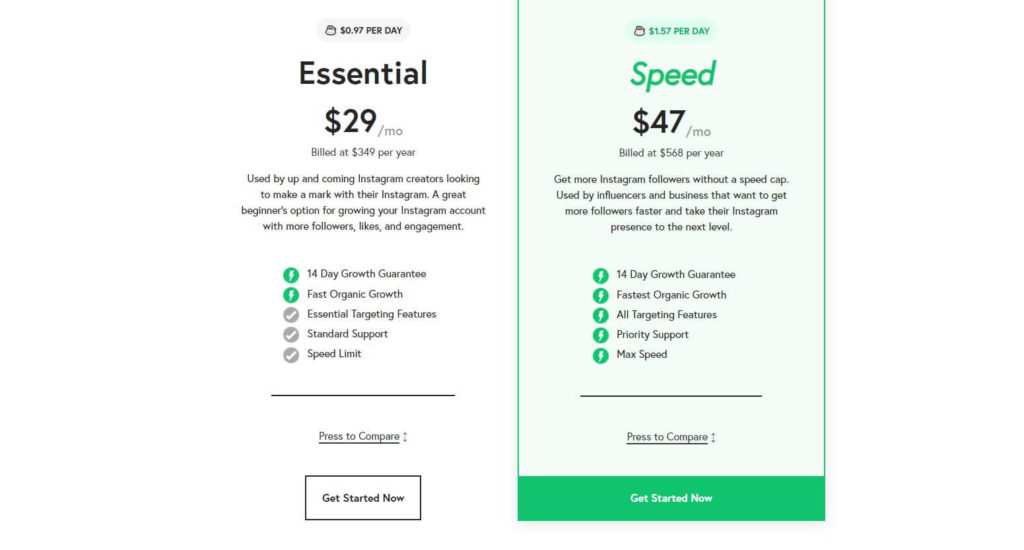 The Essential plan includes a 14-day growth guarantee and fast organic growth, and it is priced as follows:
$49 monthly,
$39 every six months, and
$29 annually.
The Speed plan includes everything in Essential plus the targeting features, priority support, and maximum growth speed. It costs:
$79 monthly,
$63 every six months, and
$47 yearly.
All of that at such an affordable price? Yeah, I didn't think it was true, either, but after trying them out, I can confirm it is.
Is Nitreo Legit?
Yes, Nitreo is a legit business.
You don't need to worry about your credit card information or account being compromised.
Nitreo's top priority seems to be your safety.
Is Nitreo Safe?
Absolutely.
I didn't expect it to be completely safe for my account, but I didn't have any issues with Nitreo.
I didn't even get a warning notification from Instagram or something like that.
Nitreo Alternatives
Good as Nitreo is, you might be looking for some alternatives. Here are some of my recommendations for top Instagram growth tools:
Nitreo Advantages and Disadvantages
I wanted to sum up the pros and cons of Nitreo, in case you forgot something and are feeling too lazy to read the article again:
| PROS | CONS |
| --- | --- |
| Fairly priced | It will take you some time to set up the filters |
| Your account is safe with Nitreo | |
| Legit business | |
| Astounding audience targeting | |
| Accommodating and efficient customer support | |
| It works | |
Nitreo Review: Final Verdict
Even though I may have been skeptical before trying this tool out, my experience with using Nitreo was nothing but pleasant.
It's always best to grow your account organically. So, if you need a bit of a nudge in that direction, Nitreo is the service for you.
The best thing about it is that – if you take the time to understand how it works – you will learn so many things that you can do yourself to boost your Instagram account!