Are you annoyed by the lack of honest online reviews?
I felt the same when I tried to find an unbiased review of Ninjagram. I mean, I get that ninjas are not supposed to be seen, but come on!
After searching left and right, I finally gave up and decided to write one myself. No need to look further for a comprehensive Ninjagram review; mine covers it all:
Can you trust Ninjagram to grow your account?
Will it in any way jeopardize it?
If so, what are the consequences?
Without further ado, let's begin.
Ninjagram: Quick Overview
Short on time? Here's a recap!
Ninjagram is way too complicated to set up.
You're obliged to buy a yearly license.
Honestly, Ninjagram is just not worth it.
Many safe, organic growth services are waiting for you to discover them.
Use code GROW20 to gain 20% off forever.
Most Popular Instagram Growth Tools Rated
What Is Ninjagram?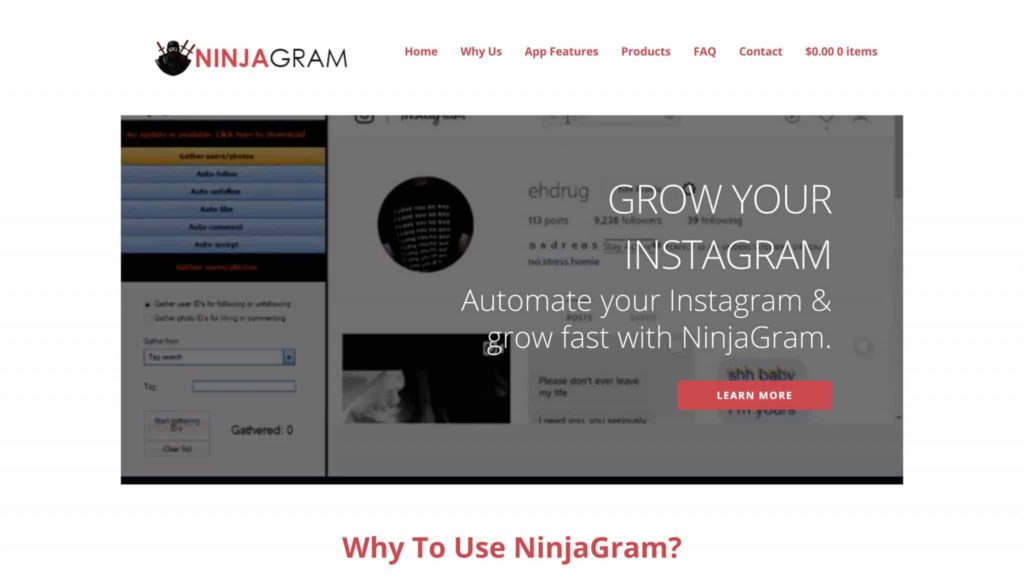 There's this weird part of Ninjagram's website that says "since 1993."
They don't elaborate on it, so I'm not sure to what exactly they refer. Has the company existed since then, 17 years before Instagram launched? Were they something else before IG? If so, who cares?
Not that it matters, it just baffled me, so I thought to share it with you. You'll see it's not the only confusing thing about Ninjagram.
Anyways, back to the question at hand: What Is Ninjagram? Let's break it down to the nitty-gritty.
Ninjagram is as basic as they come. It's a classic automation bot, nothing more.
I guess I'm not too mad at it since they don't advertise it as anything else. It's not precisely specified it's a bot, but they don't claim to be an organic service either, which I appreciate.
The bot performs automated actions, so you don't have to. These include follows/unfollows, likes, and comments.
Before I tell you more, I have to fill you in on something.
If you try to Google Ninjagram, you'll find three different sites and companies under the same name.
One helps you create landing pages, the second one is an image resizer, and the last one is our bot. (The one you want is ninjagram.app).
How Ninjagram Works?
Figuring out how Ninjagram works was really overwhelming.
All of it seems unnecessarily complicated.
The tool is downloadable software (I'll get to this in a sec) that's annoyingly complex to set up and use.
The first obstacle I came upon is that the software is compatible only with Windows and Linux. If you're a Mac user, sorry – no Ninjagram for you.
What's more, there isn't a mobile version of the app – you can use it on PC only.
How To Use Ninjagram?
The first thing would be to purchase what they call a license for either Ninjagram or Ninjatok (it's a tool for TikTok automation).
I'll tell you about the Ninjagram Instagram bot since Insta is my primary field of interest.
Once you get the license, you leave them an email, and they send you the software along with the activation key.
I sympathize if you feel iffy about downloading questionable software – I feel the same.
However, Ninjagram seems to be safe, at least in that way. Among countless complaints I managed to dig up on sites like Trustpilot, not one of them says the software is unsafe.
When you're done with the installation, you'll need to sign in to your IG account, and Ninjagram demands to know both your username and your IG password.
A word of advice for future reference: it's never a good sign when a bot needs to know your password.
After this step, you'll see a window with features and settings.
Features Of Ninjagram
These are the Ninja Instagram features:
Automated Actions
Ninjagram performs very basic actions: follow-unfollow, like, and comment.
All of them are pretty self-explanatory.
The tool mass follows accounts based on a couple of previously set filters. It also unfollows users who haven't followed you back.
As for likes, I believe this one is the most problematic. Ninjagram proudly states it can mass like thousands of posts on your behalf. That sounds like a brag, but it shouldn't be.
Mass liking is what gets you in trouble quickly – Instagram doesn't refrain from blocking all your actions if it figures out what you're up to.
Auto-comments are a whole other problem. You can make a few comment templates, and this feature will write them on other people's posts completely randomly.
Targeting Your Audience
I mentioned that Ninjagram follows and likes according to some filters. You can filter users by their number of followers, followings, or posts.
The main issue with this is that most of the time, the tool doesn't stick to the filters. It likes and follows at random, thus attracting a bunch of bots to your profile.
Pricing Of Ninjagram
There's only one option – the yearly license.
You can purchase it for one, five, or an unlimited number of accounts. The prices are as follows: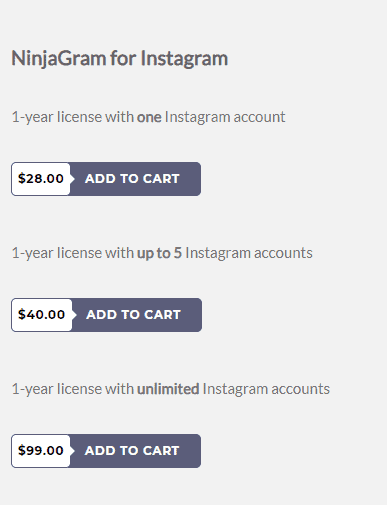 You'll notice that the service is not overpriced. On the contrary, the yearly plan for an infinite number of accounts goes for $99.
However, even with such low price points and the 7-days free trial, I still don't think Ninjagram is worth it.
Is Ninjagram Legit?
Ninjagram appears to be a legit company. Their mission is not to trick you nor take your money.
That being said, I don't think you should put your trust in them.
I'm still not 100% convinced the software is entirely secure, and they're playing it risky with your account. Not to mention they, for some reason, need your IG password.
It's just not worthwhile.
Is Ninjagram Safe?
I can't say with full confidence that Ninjagram is safe.
As I mentioned, there are a few likely unsafe things about it, starting with the software. Plus, there's always a chance you get blocked or banned for using a bot.
Top Ninjagram Alternatives
By now, you can probably tell that Ninjagram is not the way to go, and you're right, especially when there are so many safe and reliable services, like these listed below.
Ninjagram Pros And Cons
Time to weigh out the ups and downs of Ninjagram.
| PROS | CONS |
| --- | --- |
| Affordable prices | Needs to be downloaded |
| Free trial available | Asks for your IG password |
| | Complicated to set up and use |
| | Can get you blocked or banned |
| | You're required to buy a yearly license |
Ninjagram: The Bottom Line
So, what's the final verdict on Ninjagram? Should you try it?
It's a no from me.
The service is pointlessly overcomplicated, it jeopardizes your presence on Instagram, and it doesn't yield any meaningful growth.
IMO, you should always turn to organic services for efficacious IG growth. Check out these I listed below!