Hey there, Instamaniacs!
Do you need a precise Instavast review that won't blow wind up your behind? Your search may come to an end now because you just found it!
This growth tool had a funky smell from the start. As I learned more and more about it, my jaw kept dropping lower and lower.
I believe everyone needs to know the truth about Instavast, and I'm excited to be the messenger. Today, you'll find out how the service works, and whether you should give your money to it.
For those in a rush, there's a quick overview below. Check out the whole thing to find out about all the intricate details!
Instavast Key Points:
Instavast is an Instagram automation tool
It's the type of automation that Instagram shuns
Fake reviews on their website
It may get you suspended
Most Popular Instagram Growth Tools Rated
What is Instavast?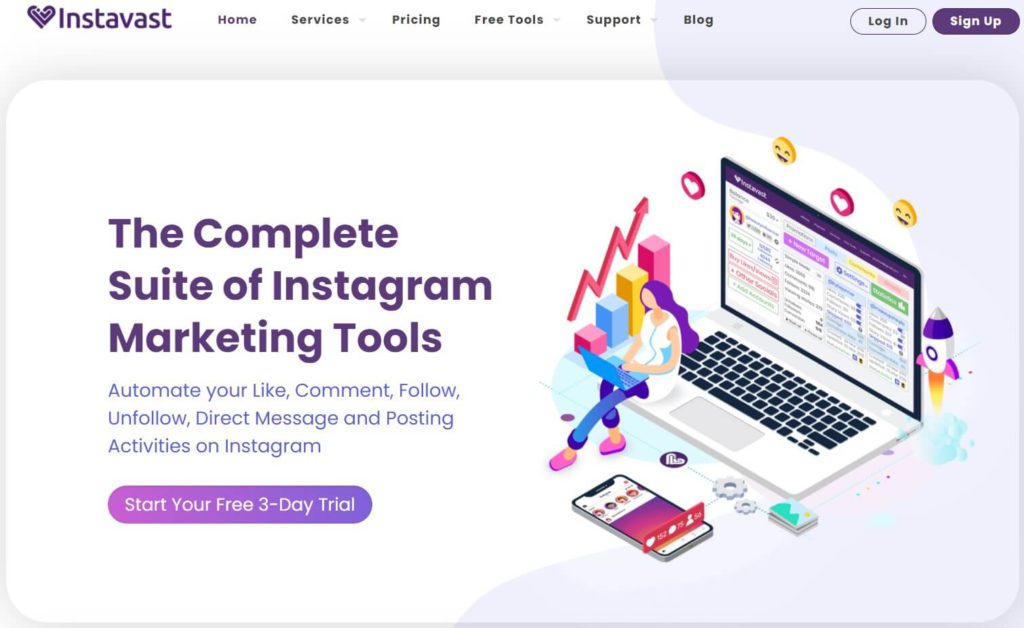 Instavast is a self-proclaimed Instagram bot that can automate the heck out of your account's activity.
I'd like to give it credit for openly stating that it is a bot. As you may or may not know, most other services would rather die than admit this.
The functions of Instavast are nothing out of the ordinary. It can follow, like, comment, etc., on your behalf. The question that you should be asking is whether it's effective?
Not entirely. You'll learn why soon.
At first glance, the company appears professional. But, as you start to dig, you'll notice that things aren't as they're presented to be. These folks are not entirely honest about the quality of their service.
In the following sections, I'll explain how Instavast really works – you know, the stuff they don't want to tell you.
How Does Instavast Work?
The process of signing up with Instavast is fairly straightforward. You create an account, log in, and connect your IG account.
They also have an app for mobile and desktop called Social Bridge. I'm not sure why it's not called Instavast. Perhaps they're trying to distance themselves from it? I don't want to speculate.
The peculiar thing is that they ask for your phone number when signing up. I don't know why they want it, and I don't like it.
Once you're in, you can start your three-day free trial. Unlike many of its peers, Instavast doesn't ask for your credit card details up front. This is a sneaky trick that some services do, so they can charge you as soon as the trial expires. Kudos to Instavast for not doing it!
When you first run Instavast, it'll automatically interact with your target accounts, if you're lucky. The tool is supposed to like, follow, view, and DM profiles for you. I say "supposed" because it doesn't actually do much. It just suggests who you should follow, but you have to do it yourself.
Instagram automation by Instavast is in fact manual.
This isn't what they promise now, is it?
It appears to me that the company has given up. The service is barely functional, but it still accepts customers. If you want to learn whether any of their features still work, skip to the next part.
Instavast Features
If you pay a visit to Instavast's website, you'll notice how hard it is to figure out their features. There's the "Services" section with numerous options, then the same with "Free Tools." It can be confusing.
To offer you a better understanding of this, I've organized the features into a few sections. Check them out below:
Auto Engagement
I've already mentioned these several times, but I haven't laid them out very clearly. Let me do that now. Instavast's automated engagement features include:
Liking
Viewing
Following
Unfollowing
Sending DMs
Now, there are two things that you need to know here.
First, this feature doesn't really work anymore. I don't know if it'll be up again, but for now, it's as dead as a doornail.
Second, even when it worked, it wouldn't be safe to use. Despite allowing you to set the limits on the number of actions it does, Instavast still got noticed by Instagram. The platform requested some people to change their passwords, while others received an action-block.
What's worse, getting in trouble with Instagram or paying for something and not getting it? You be the judge.
Targeting Options
Hashtags, locations, and usernames are Instavast's targeting options. It's also got some filters that help crystalize the ideal audience for you.
Do they work?
Not as presented by the service.
The accounts that you ended up interacting with seem quite random. All in all, Instavast frequently engaged with profiles of little interest to you.
Buy Likes and Views
According to Instavast, the views/likes they sell don't come from bots or fake accounts. Instead, they're sourced from in-house engagement pods, i.e., groups of real users.
It's unclear how true or untrue this description is. However, that's not so important now when the tool doesn't work.
Post Scheduler
I'd say this was probably the best feature of this bot. It didn't put peoples' accounts at risk and helped them save a lot of time.
Comment Tracker
If used properly, the Comment Tracker could have been a great tool. It allowed the users to categorize comments, reply, and read them. Aside from that, it could detect and delete negative comments with moderate success.
Pricing of Instavast
Instavast's pricing might seem confusing at first, but hold up, I'll break it down for you. On the pricing page, you can see four monthly subscriptions. Take a look at them below: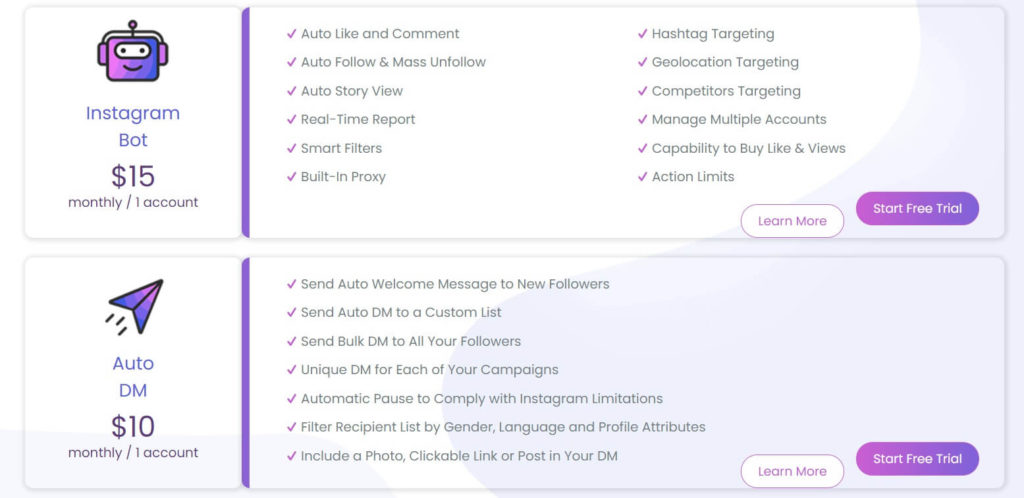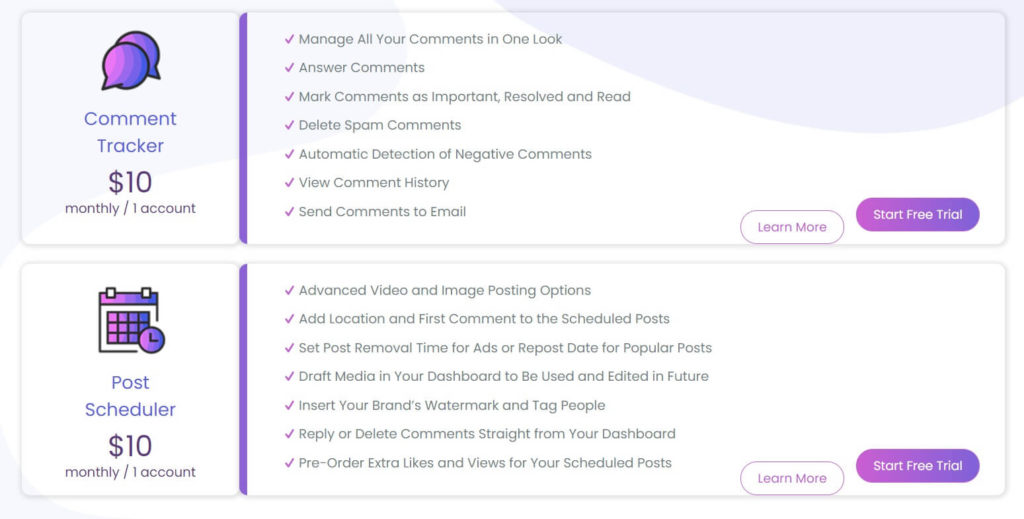 All the automated engagement features are fitted into the Instagram bot package. This includes the capability to buy views and likes.
The Auto DM, Comment Tracker, and Post Scheduler plans are self-explanatory.
As you can see, all of the essential features of this service are bought separately. I personally like this. Each individual subscription is pretty cheap, and you can get only the ones that you like.
Buying all of them would set you back around $50, which isn't a lot. However, considering that the tool is not functional anymore, take that money elsewhere.
Is Instavast Legit?
I'd like to say that Instavast was legit until it wasn't. It worked reasonably well in the past, but then it got caught in a downward spiral.
The performance slowed down, and customers weren't satisfied with the result. Just check out the Instavast reviews on Truspilot.com. You'll see what I mean.
Eventually, it stopped working almost entirely and is currently posing as a fully-functioning tool. Also, the reviews on their website are clearly fake.
Speaking of the website, it's poorly organized and contains incomplete information. It's a mess.
Is Instavast Safe?
I don't think that Instavast is safe to use. Right now, since the tool doesn't do much, it won't get you banned from IG. However, it'll take your money and won't give you a refund.
I already said how I don't like that Instavast asks for your phone number. While I don't see how this can be a safety issue, it's unnecessary.
Top Instavast Alternatives
If you read the previous lines, I'm sure you don't want to try this Instagram bot. And you shouldn't; not with so many superior alternatives around. Here are a few options worth considering.
Instavast Pros and Cons
Let's do a quick recap of Instavast's upsides and drawbacks:
| PROS | CONS |
| --- | --- |
| Three-day free trial available | It's barely working |
| Relatively cheap | You have to give it your phone number |
| | It got people action-blocked |
| | Customer support not responsive |
| | Impossible to get a refund |
| | Disorganized website |
| | Fake reviews on their website |
Instavast Review: Final Verdict
Is Instavast worth giving a shot?
Absolutely not. I don't know much about its history, but the way things are looking now – it's not good.
It's safe to say that the present-day Instavast is a scam. Judging by the dozens of dissatisfied customers' testimonies, the service will charge you and give you nothing. Getting your money back is out of the question.
No need to hang around Instavast's name a minute longer. Go out and find a credible, organic growth service akin to those I mentioned in the article.
Real growth takes time, but once you get it, you've got it!