Instagress was a household name in the Instagram automation industry, but I wouldn't be surprised if you've never heard of it since it's been gone for a while now.
However, I still hear people mention it every now and then.
Launching almost at the same time as Instagram, Instagress deserved the pioneer status, but I'm afraid they didn't live up to their potential.
The company went under in 2017, so why are we still talking about it?
For a good reason – so we can see what they did wrong and, hopefully, learn from their mistakes.
If you're wondering what the reason behind the company's demise is and what's the best Instagress alternative, stick around cause I'll cover it all.
Let's get to it!
And if you need a short version of what I'm about to tell you, check out the key points below (although I think you can benefit from reading the whole thing).
Instagress Review Summary
The best thing about Instagress was its low pricing
It didn't provide organic growth
Most likely violated Facebook's terms of use
Organic growth is the key to success on Instagram
They even come with a discount code GROW20 for 20% off forever!
Most Popular Instagram Growth Tools Rated
What Is Instagress?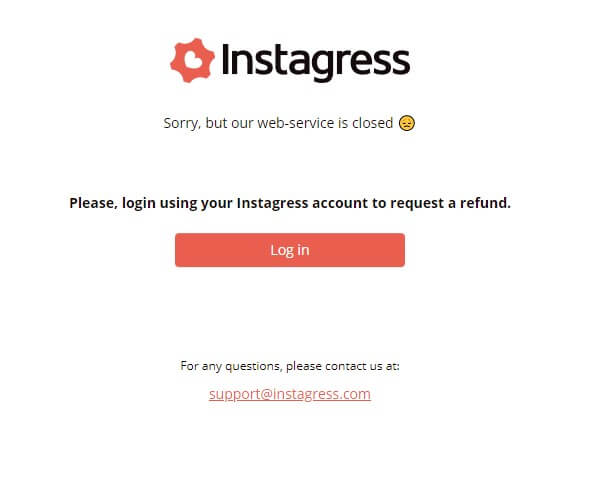 Although the service is gone, Instagress still has an up and running website.
However, the only thing you'll find there is a couple of sad emojis and a short message saying that the web-service is closed.
They also left an email where you can ask for a refund, which I believe many users appreciate.
So, what was Instagress?
In its heyday, Instagress was a typical growth service – a fully automated tool whose purpose is to boost your engagement rates.
Its features were nothing spectacular. Given the low price points, this was to be expected.
Auto-follow, auto-like, and auto-comment (which didn't really work, but more on that later) are the only thing Instagress offered, and you gotta admit – it's pretty basic.
Besides these three, there was also the auto-unfollow feature that Instagress advertised as a means to get rid of bots on your profile.
Now, I don't know if the company was irony-impaired or what, but they were the ones that brought bots to your account in the first place while, at the same time, they praise a feature for its abilities to remove the bots.
But hey, they at least tried to eradicate them. Not successfully, though.
How Did Instagress Work?
If Instagress employed a bot and attracted fake profiles to your account, why was it so popular?
My guess is because, firstly, it was very budget-friendly, and secondly, it was incredibly simple to use.
Instagress was a web-based service, and all you had to do to use it was follow a few easy steps:
Go to their website – instragress.com
Choose a tariff
Go to payment
Connect your IG account
Sit back and relax as Instagress does the rest for you
Countless reviews on Trustpilot and similar sites say that Instagress was sincere in the sense that they weren't after your money. They delivered the service as promised.
From what I gathered, the problem was more in the quality of said service than in the delivery.
The main issue was that Instagress couldn't guarantee the authenticity of the accounts they follow, like, and comment on.
There simply wasn't a way for the tool to separate the real accounts from the fake ones.
This was a widely reported issue – Instagress would bring bots to your account in insane amounts.
And you know what happens when Instagram senses bots. That's right – a ban. A temporary one if you're lucky. If not, well, you'll find yourself at a point of no return.
Features Of Instagress
Time to take a look at some alright, and some not-so-great features of Instagress.
Targeting Audience
Once you signed up, Instagress would ask you to narrow down your audience by selecting hashtags and geotags closely related to your niche.
Those are the only two filters they had for targeting an audience.
To be frank, it's just not enough.
It'd work perhaps if it were organic growth, but it's less than enough with an automation tool.
The number of hashtags and location tags wasn't limited, so you could choose as many as you want.
But it wasn't of much use anyway.
Too many reviews complain about the low quality of this feature. The targeting abilities of Instagress were not up to scratch.
Automated Tasks
This included three actions: follow, like, and comment.
The last one didn't really work. Not surprising, though. Auto-comments rarely work with this type of tool. It's just too complicated a feature to work well without advanced AI technology.
The auto-follow and auto-like did what they were supposed to do.
But, thanks to the subpar targeting abilities, the tool would just follow and like randomly, often incessantly, which led to a high level of bot activity on your profile and put you directly on Instagram's bot radar.
And let's not forget the infamous auto-unfollow feature.
Okay, this one proved to be useful at times when it removed bots from your account. But again, it was just Instagress undoing their own doings.
And to top it off, auto-unfollow would sometimes remove real accounts from your list of followers. Yeah, you've guessed it – it couldn't tell the fake and real accounts apart.
Speed
As it turned out, this was a surprisingly handy feature.
Instagress allowed you to set the speed at which it would like and follow.
Sadly, it didn't work all the time, so you'd have periods when the tool would go wild. That's when the real trouble happened.
Activity
The "Activity" part of their website was for tracking your progress and for pausing the service. This is also where you could see how much server time you have left.
Yeah, I know it's a bit confusing, but I'll show you the ropes in the "Pricing" portion of the review.
Pricing Of Instagress
Instagress didn't have a typical monthly subscription policy. Instead, they sold server time.
You had the option to purchase 3, 10, or 30 days of server time, and you didn't have to use it all at once.
The control of server time was in your hands, and you could turn it on and off in the Activity section.
Best of all – there was a free trial.
And if you decided to try it for real, you had to pay the following:
3 days – $1.99
10 days – $4.99
30 days – $9.99
Honestly, Instagress was one of the most affordable services on the market. And payment gateways were secure, which was one less thing to worry about.
Was Instagress Legit?
Truth be told, it's still up in the air.
Sure, there are reasons to question the legitimacy of the company. For starters, why did they go under?
Have you wondered what's the answer to the question: Why did Instagress get shut down?
Your guess is as good as mine since we don't know for sure.
It was most likely due to violating Facebook's terms of use.
On the other hand, Instagress wasn't trying to scam you. They had legit payment options, and no one ever complained Instagress tricked them or misused their data.
So, as I said – the legitimacy of Instagress is open for debate.
Was Instagress Safe?
Now, this one has a definitive answer, and it's – no, it wasn't safe.
Even if one account gets banned for using Instagress, the service cannot be deemed safe. And we know for a fact it was more (much more) than one.
Top Instagress Alternatives
A bot like Instagress (or any bot for that matter) is never the solution. There are too many trustworthy and safe services for you to risk it all with a shady bot. Take a look at some of the best:
Instagress Pros And Cons
Before you go, check out the summed up list of Instagress pros and cons:
| PROS | CONS |
| --- | --- |
| Affordable prices | Instagress shut down in 2017 |
| | Features were too basic |
| | Some of the features didn't work |
| | Substandard targeting abilities |
| | Probably violated Facebook's terms of use |
| | Not safe for your account |
| | High bot activity |
Instagress: Final Verdict
When it comes to Instagram growth services, ignorance is never bliss.
Doing meticulous research and getting to know each service individually is crucial so you don't end up banned or scammed by all the money-grabbers out there.
Just keep doing what you're doing, focus on organic growth, and you'll soon see there's an Instagram star with your name on it.