Are you seeking honest, all-inclusive Ingramer reviews? Well, you're in luck, because you've finally found one!
Here you'll learn:
Is it safe to use Ingramer?
Are there any benefits of using Ingramer?
Is it overpriced?
I'm hoping you'll have the time to stick around till the very end of this article because the answers might surprise you.
Now, if that's not the case, you can check out my concise summary below.
Ingramer Review Summary:
Ingramer is an Instagram bot
Many people were banned because of Ingramer
The service is expensive
My advice to you would be to turn to organic growth
Don't miss your chance to use a discount code GROW20 and get 20% off permanently
Most Popular Instagram Growth Tools Rated
What Is Ingramer?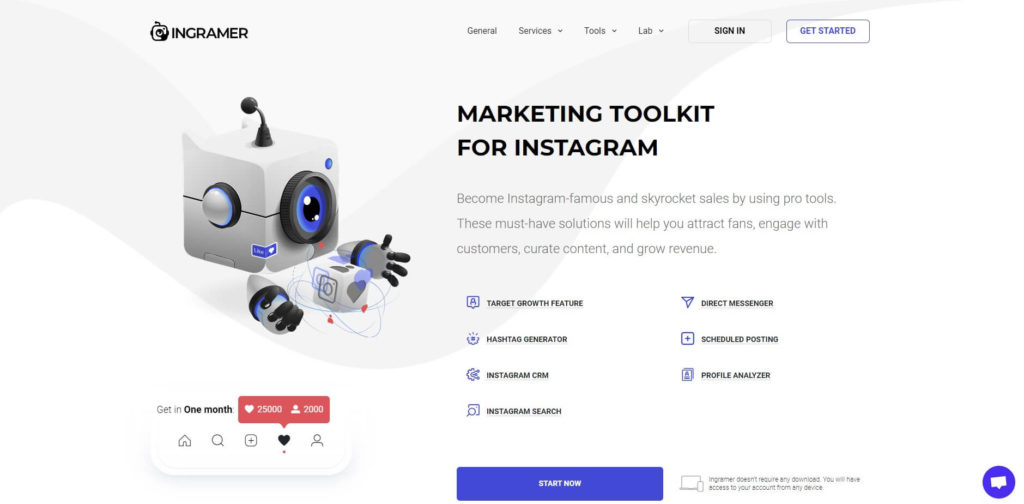 Put simply, Ingramer is an Instagram bot. Usually, companies like these try to hide the fact that they're bots, but this company is pretty open about it.
This online Instagram growth service performs automated actions using a bot. It means that it is supposed to like, comment, follow, and post for you. The idea is to save your time and grow your account in the process.
However, I can't say that's entirely true.
Many people have complained about the tool's speed. According to them, the Ingramer bot works too slow and doesn't bring any engagement.
On the other hand, some users have lost followers in bulk, and some were banned for good.
But that's not all.
I found out that many unsatisfied customers didn't get their refunds and were charged despite being unsubscribed. This right here is a major red flag.
All in all – yes, I did find some good reviews on Trustpilot as well. But if you ask me, half of those reviews look entirely fake.
How Does Ingramer Work?
They claim the tool will increase your following by 3000 new followers per month. Moreover, Ingrammer allegedly makes 112,500 actions per month instead of you.
That's too much, don't you think?
You see, Instagram perceives too much interaction in a short period of time as a potential bot behavior and bans your account. That's precisely what happened to so many users.
As for me, I got away with only a warning from Instagram. But I'm not sure I'd be that lucky the next time.
How To Use Ingramer
Before getting started with Ingramer, here's what you'll need to do first:
Register using email and password;
Choose the plan of your liking and purchase it;
On the Ingrammer dashboard, set the targeting using hashtags, usernames, and locations;
In the 'Functions' tab, set all of the activities you want Ingramer to perform for you
Turn on the bot;
Monitor your progress under the 'Statistics' tab.
Ingramer Features
Now it's time to say a few words about Ingramer's main features. Let's dig in!
Automated Direct Messaging
This feature allows the bot to send DM's to your followers.
These are simple messages that consist of a few preset phrases and words. However, the bot can't engage in a meaningful conversation instead of you.
Also, this one is a little difficult to set and can sometimes send auto-replies that are a bit out of context.
Post Scheduler
This feature allows you to set up videos, images, and stories beforehand for the entire month. I honestly find this feature very useful as it saves you a lot of time.
Automated Activity
Ingramer can handle 1,250 actions per day that include likes and automatic follow/unfollow. As I've already mentioned, this aggressive approach with way too much interaction per day directly violates Instagram's Terms and Conditions.
Hashtag Generator
This feature will generate hashtags using your keywords. As some hashtags can be considered spammy, I advise you to use this feature cautiously.
Pricing Of Ingramer
Let's take a look at Ingramer's pricing plans:
If you would like to purchase all of the Ingramer features, it will cost you $82 per two weeks, $128 per month, and $307 per three months. It's not even close to affordable, considering the consequences I previously mentioned.
Ingramer also offers a VPN along with other features. They'll always suggest you purchase their VPN so you can 'fly safely below IG's radar.' And yet, somehow, a bunch of people got banned from Instagram using the VPN they provide.
As for a free trial, I guess you can say there's one.
Namely, you can use only 3 hashtags, auto-posts, and DM's for free. Since this trial isn't a complete one, and you can't conclude anything from it, you'll likely need to get one of the paid packages as I did.
Is Ingramer Legit?
I can't say Ingramer is a legit company.
The thing that made me question their legitimacy was that I couldn't reach their customer service support or management. And believe me, I've tried for several days in a row.
The refund was out of the question in my case.
And if you take into account the fact that so many other people were charged even for the days the bot didn't work, I'd say it sounds a bit more like a fraud.
Is Ingramer Safe?
Given the amount of bot activity it brings and the fact that many people got banned using it, I'd have to say – no, Ingramer is not safe.
Sure, they have verified payment getaways, and the website is https secure. But that's not enough considering you can lose your account and your money for good.
Top Ingramer Alternatives
Clearly, Ingramer is not the best choice if you want to grow your IG organically. You simply can't trust it, and it can get you into trouble real quick.
But don't worry, there are plenty of reliable organic services out there. In fact, I've made a list of the best Ingramer alternatives, which you can check out below.
Ingramer Pros And Cons
To wrap up this review, I've prepared a list of all the good and the bad stuff regarding Ingramer.
Let's take a look:
| PROS | CONS |
| --- | --- |
| It's an online service and doesn't require downloading | It can get your account banned easily |
| | No refund |
| | Unresponsive customer service |
| | They will charge you even if the bot isn't working |
| | It's not affordable |
Ingramer – Final Verdict
So, what's the real deal with Ingramer?
The truth is, it is no more than a classic scam. Using it can only bring you more harm than good.
When all is said and done, I definitely think you should always strive for organic growth. Feel free to have a look at my list below as I'm sure you will find the one that will suit you in the best possible way.