Hublaagram – can it be trusted? Or is it another petty scam?
I uncover the truth in my Hublaagram review. Reading it could spare you a lot of potential problems!
I put my hand in the fire and tried it out for you. In the article, I go through all you need to know about this service. You'll learn what it is, how it works, and whether it's worth the money.
No, this is not one of those ambiguous Hublaagram reviews that don't tell you anything. This one clearly lays out all the facts to help you make up your mind.
Stay tuned!
If you're looking for reliable Instagram followers service to hire, I can shorten your struggle and wholeheartedly recommend Upleap. I've reviewed every service out there, and each and every one of them had some issues or downsides. Read all about Upleap here and see for yourself.
Back to Hublaagram…
Hublaagram Review Summary
Hublaagram exchanges engagement between its users
It requires you do download and install an .APK file
It doesn't have a targeting feature
Using "Gram" in one's name is copyright infringement
Multiple websites, all poorly made with many broken links
Most Popular Instagram Growth Tools Rated
What Is Hublaagram?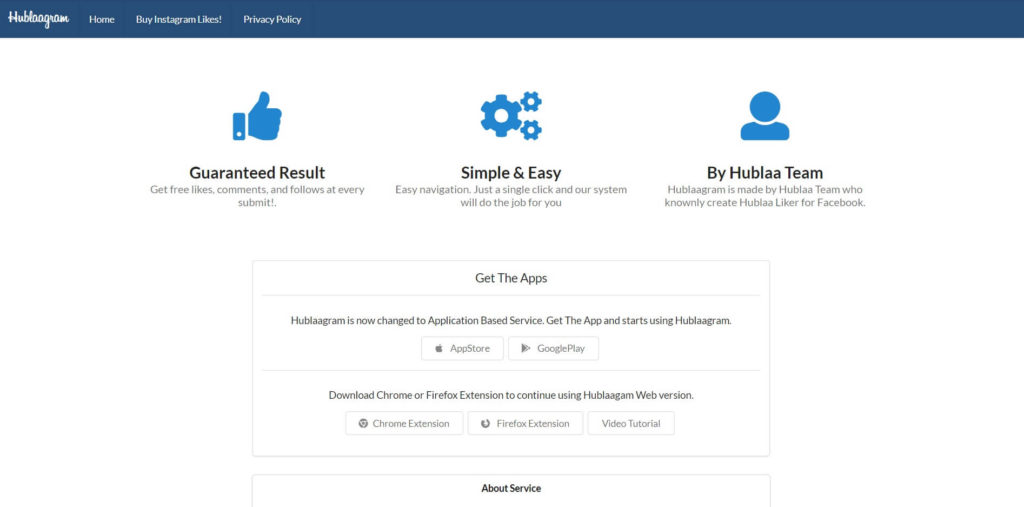 Where do I even start with Hublaagram?
On one of its websites, Hublaagram says that it is an app that can get you free likes, followers, and comments. There's no word of how it does this, so I had to get my hands dirty to find some more details.
You probably noticed that I said "one of its websites." Yes, this means that Hublaagram has several. Their (I guess) main page contains lots of broken English and links that lead nowhere. All you can do there is download a dodgy .apk file.
It's a mess
There's one link, though, that'll take you to another website where you can read about some services. Basically, it offers to sell you Instagram, and Twitter likes. I'll discuss this in more detail later.
Hublaagram's web presence doesn't give confidence at all. What about its actions? You can learn all about that below.
How Does Hublaagram Work?
According to the company, the Hublaagram Instagram app is an "auto-exchange" service. This means that, by registering, you enter a pool of Hublaagram's customers. Then, the app uses your account to like, follow, and comment on other profiles.
Of course, your account receives engagement too. You request likes/comments/followers, and you get them for free. After that, you have to wait for a cool-down timer to end, and then you can do it again.
This all sounds nice "on paper," but things look a bit different in reality.
Read on to see what I experienced.
How to Use Hublaagram?
To use Hublaagram, I had to download and install the app. It's not on any app stores, so nobody can guarantee that it's safe to use. On top of that, it required my Instagram password to log in, which is a red flag.
Hublaagram indeed provided me with free engagement. I mean, it was low-quality and irrelevant to my niche, but nevertheless free.
Not long after, I realized that my profile was sending way more engagement than it was receiving. The issue was that I had no control over where my engagement went.
The app offers no targeting options whatsoever.
Liking, following, and commenting all over the place isn't what you want. It'll not get you the organic, genuine followers that you need for sustainable growth.
Aside from the freebies, Hublaagram includes paid services, namely, Instagram likes. I'll elaborate on this further in the following section.
Hublaagram Features
Trying to figure out Hublaagram's features from the information on their website(s) is near impossible. Things become clear only when you register and start using the app.
Overall, there aren't too many options in this tool. I've extracted the main ones for you below:
Instaliker
Instaliker is one of the three main features of Hublaagram. As the name implies, this option allows you to request likes from other Hublaagrammers like yourself.
Aside from that, you can also buy automatic likes in bulk. This will cost you $20 per month, and it works like this:
Select the number of likes you want to receive on your posts
Upload new content
Watch the likes come in
Getting tons of likes in this manner will undoubtedly make Instagram suspicious. The platform may block or even ban you for using such a service. So yeah, think twice before you do it.
Instacommenter
Unlike Instaliker, Instacommenter relies solely on the exchange system. You submit a comment to the app and receive comments from someone else. Let me explain the entire process.
First, you choose which post you want the comment on. Next, you write your own comment and select a number of comments that you want to get. Finally, click "Submit" and wait.
Once you use this feature, you'll be unable to use it again for half an hour.
Are there any problems with getting comments like this?
Yes! They'll be spammy and disingenuous, which can hurt your account's rating.
Instafollower
Last but not least, the Instafollower works similarly to Instacommenter. It's based on the exchange of engagement, and you cannot buy followers.
However, there's no explanation about the mechanism behind this feature. You can only see a single button that says: "Submit followers."
Pricing Of Hublaagram
If the previous Hublaagram facts weren't confusing enough, wait till you get a load of this one. The only pricing available online looks like this:
As you can see, there's the mentioned $20 automatic likes package. That's not a lot of money, but as I said, getting likes in bulk is a risky business. Even if you don't get caught, this won't be enough to grow your profile.
Next to the automatic likes, we have the package of Instagram likes that you send to other accounts. Sending out 1000 likes will cost you only $3. Cheap, right? Yes, but why would you spew 1000 likes in all directions? Remember, there's no targeting with Hublaagram.
There's something about Twitter likes there too, but I assume you're not into that so much.
All in all, the tool isn't expensive, but in the end, the money will be wasted. Their approach doesn't work in the long run and cannot provide you with significant growth.
Is Hublaagram Legit?
Despite its shady image and unprofessional internet presence, Hublaagram is not entirely illegitimate.
It appears that they work only with real accounts, which is rare to see. However, don't take my word on it. There could be some bots sprinkled in the mix. My point is that I've seen worse.
Now, the bad definitely outweighs the good with Hublaagram.
There are no real user reviews to be found anywhere. Also, there's no About page or useful information about the company. The mysteriousness and lack of organization are the biggest problems here.
Is Hublaagram Safe?
No, I don't think that Hublaagram is safe to use.
You have to install a suspicious .apk file that's not available on any major store. Instead, it has to be downloaded from a third-party website. My concern is that the app can get access to sensitive data and exploit it.
They ask for your password, which means they could steal your account.
If we could only read about some customer experiences, we'd know more about safety. But, as I said, there aren't any user reviews online.
Top Hublaagram Alternatives
By now, I'm sure you realized that using Hublaagram is a gamble. If you don't want to try your luck, here are a few legit alternatives.
They're among the highest-ranking Instagram growth services out there.
Hublaagram Pros And Cons
Let's do a quick summary of the most important points about Hublaagram:
| PROS | CONS |
| --- | --- |
| You can get some free engagement | It has several low-quality websites |
| Cheap | No targeting options whatsoever |
| | You have to download a suspicious .apk file |
| | The app requires your Instagram password |
| | No customer reviews to be found |
| | Might steal your data |
Hublaagram Review: Final Verdict
So, after all you just read, do you still want to try Hublaagram?
I don't think so. It's OK if you do, just do it at your own risk.
This service is just too dodgy to be trusted. Even though I've seen much worse, I cannot suggest anyone to use Hublaagram. It may provide you with a quick boost, but it won't get you anywhere.
And why would you? There are many reputable organic growth services out there. I've mentioned a few in the article.