Helper Tools For Instagram might be your most recent Google search, but it's also a legit company's name.
And today I'll tell you all about it.
In my Helper Tools For Instagram review, you'll find out:
Can it grow your account organically?
Is it safe to use?
What really happens when you try it?
Stay tuned until the end for the full story, but if you're in a rush, peruse the quick overview below.
Helper Tools For Instagram – A Review Summary
It's a Chrome extension, so it's never entirely safe to use.
Your account can get banned for using it.
At times it doesn't work at all.
There's no safer way to grow on Insta than organically.
All three of them come with a discount code GROW20 that takes 20% off the price for life.
Most Popular Instagram Growth Tools Rated
What Is Helper Tools For Instagram?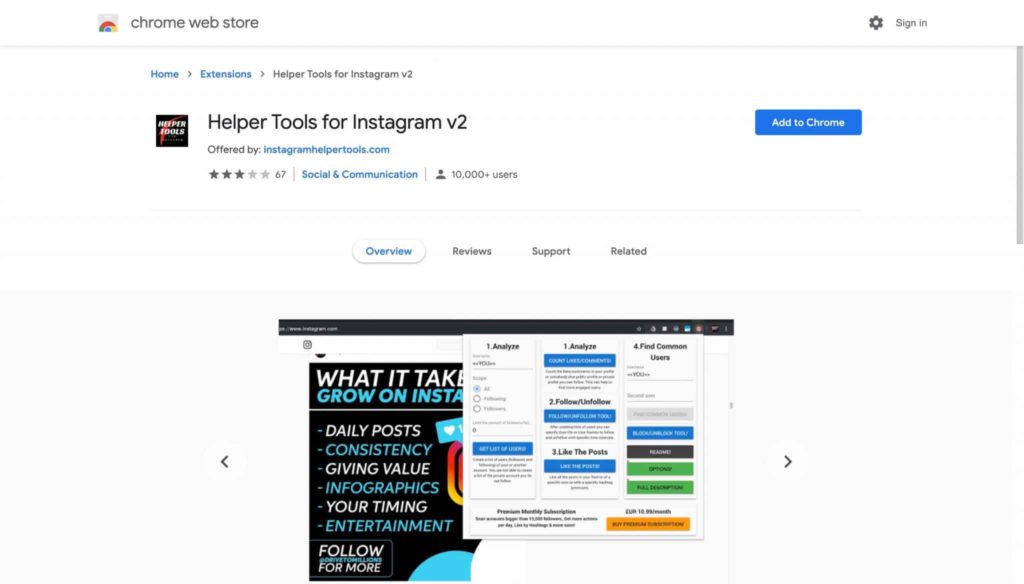 Besides being the least imaginative name ever, Helper Tools For Instagram is an automation tool that boosts your IG account through automated actions.
Now available is the Helper Tools For Instagram v2.
This one was a significant update compared to v1, but not necessarily better, so I'm not sure what to expect of the third version once it comes out.
It seems that each new version brings new issues, which fills the tool with bugs. As a result, it sometimes doesn't work at all.
Oh, and I can't fail to mention that this is not a classic growth service; it's instead a Chrome extension, which makes it all the more so troubling.
You probably already know this, but extensions are not exactly the safest thing on the Internet. Upon installation, you allow them to access various sensitive data that they may or may not abuse.
Knowing all the risks, I still decided to try it out and see for myself how it works for the sake of the review.
So, what happened when I tried the Helper Tools For Instagram Chrome Extension?
Buckle up; it's going to be a bumpy ride.
How Helper Tools For Instagram Works?
Before I tell you about my experience, let's see how the Helper Tools For Instagram works. Since the full name is a mouthful, I'll just refer to it as Helper Tools.
Helper Tools analyzes IG accounts for various information, including someone's number of followers, their total comments and likes, and so on.
The idea is that the tool helps you obtain this info about your competitors and follow their followers since those accounts are likely interested in your content.
How To Use Helper Tools For Instagram?
Thanks to the tool's generic name, it's a bit confusing figuring out which one is their legit website.
To save you the trouble, it's instagramhelpertools.com.
Once you're there, click on the 'Get Started Now' or 'Sign In With Google' button. Both will take you to the same place.
Or, if you use Chrome and you're already signed in with your Google account, just go to the Chrome Webstore and search for 'Helper Tools For Instagram v2 Extension.' When you find it, click 'Add To Chrome.'
The next step is to go to instagram.com, click on the extension icon, adjust a few settings, and you're good to go.
Helper Tools For Instagram – Main Features
Here are the Helper Tools' features. Do all of them work flawlessly? Let's find out.
Analyze Other Users' Followers
This one is the main feature. It obtains the full list of users that follow your target accounts.
To my knowledge, this feature is not in direct violation of Instagram's rules, but it may be in the grey zone.
I don't think it'll get you in trouble with Instagram. But does it work?
Truthfully, I found it to be quite buggy.
It did work from time to time. However, often, either the list would be incomplete, or it'd extract info about accounts that I didn't target.
Analyze Other Users' Likes And Comments
Helper Tools can also get you the total number of likes and comments someone has.
The objective is to pinpoint the most active users since they are the ones you want to follow you.
Auto Likes
Helper Tools can like all the posts on your feed or another account's posts. There's also the option to choose hashtags, and it will like based on those.
This is the feature I guarantee can get you in trouble – it was what happened to me.
After an excessive amount of likes, Instagram detected unusual bot behavior, and my IG account got action blocked.
Auto Follow/Unfollow
Based on the acquired list of followers from the main feature, the tool follows and unfollows accounts.
It's supposed to do it with the so-called time delays to make it seem more natural.
From my experience, it doesn't work like that. The tool performs these tasks uncontrollably, which puts you on Instagram's bot radar, and you can easily get banned.
If you ask me, this is where version 2 failed big time.
Hopefully, Helper Tools For Instagram Growth v3 will be more successful.
Helper Tools For Instagram – Pricing
You can use the tool for free if you have up to 1,000 followers.
If not, then you have to get the Premium version that goes for 10 bucks a month.
You'll agree – it's very affordable.
Is Helper Tools For Instagram Legit?
This is a tough one.
On the one hand, I believe it's a legit company that's not looking to scam you.
On the other hand, the tool is often updated to avoid getting caught by Instagram, and each new update brings a buttload of issues.
As a result, it's full of bugs and doesn't work sometimes.
Is Helper Tools For Instagram Safe?
I have to say no.
There's the constant threat your account will get action blocked or banned.
Besides, Chrome extensions are never to be trusted 100% – you never know if they'll get a hold of your data and misuse it in any way.
Top Helper Tools For Instagram Alternative
Check out the best alternatives that provide organic growth:
Helper Tools For Instagram Pros And Cons
To sum it up, I've gathered all the pros and cons in one place:
| PROS | CONS |
| --- | --- |
| You can use it for free | Gets your account action blocked or banned |
| | Full of bugs |
| | Sometimes doesn't work at all |
| | It's a Chrome extension that might steal your data |
| | Doesn't provide real growth |
Helper Tools For Instagram – Final Word
Should you give Helper Tools For Instagram a chance?
Nope. It's just not worth it.
The risks associated with it are too significant, and you won't see any real growth.
From my experience, organic growth is always the best and safest way to boost your IG account.