Read my Gramto review for a complete analysis of this all-in-one Instagram marketing tool.
Gramto reviews circulating the Internet are not united: Is Gramto a scam? Is it safe to use the Instagram automation that it offers?
And is it really "A Smart Way to Gram," as they put it?
I've tried it out to answer all of these for you.
I've also created a short outline of the paramount Gramto characteristics before you read the complete Gramto review.
Gramto Review Summary:
You have to pay to use Gramto, although they say it's 100% free
Post scheduling is the only functional feature
Instagram automation features don't work and aren't safe for your account
KENJI is a great Gramto alternative because it's a bot that offers risk-free automated actions, unlike Gramto.
If you want some more advanced features, try popular services that grow your IG organically, such as Upleap and Flock Social.
If you apply the discount code GROW20, you can save money with 20% off for life
Most Popular Instagram Growth Tools Rated
What Is Gramto?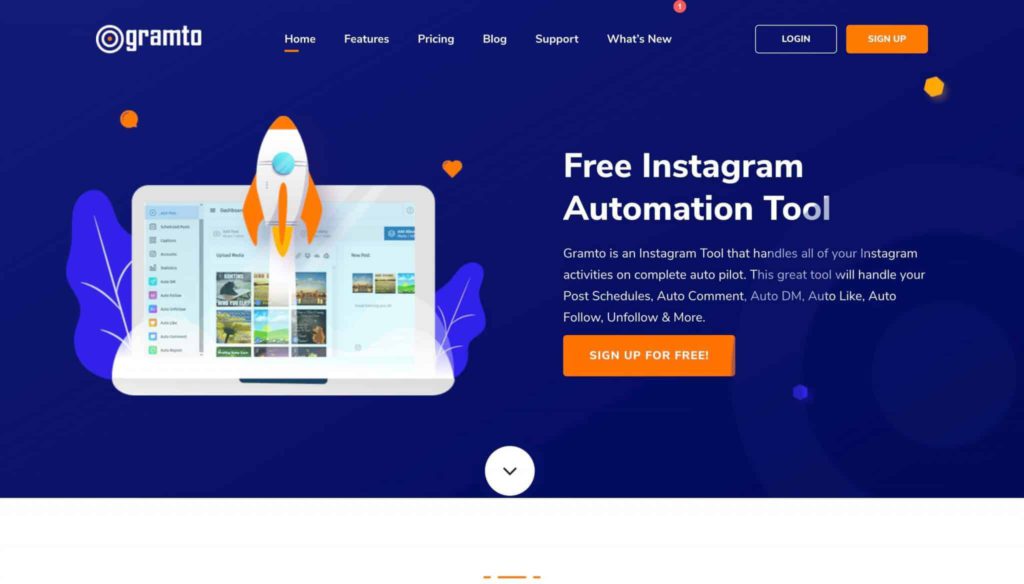 Gramto is an Instagram bot with additional schedule posting features. It's supposed to help you grow your IG account by engaging with users from your niche.
On their website, they say that Gramtol is "managed by Team Pilot Poster." Pilot Poster is a Facebook automation tool, so I suppose that the same company is behind these two tools.
They also say the services are free. Except – they aren't. So, I reckon that's a psychological marketing trick, but to me, it's just a red flag. Only the trial period is free, and after that, you'll have to subscribe to one of their pricing packages (more on them in a second).
How Does Gramto Work?
Instagram bots are not a new trend on Instagram, and they have become very common these days.
They perform Instagram actions instead of you to acquire followers for your account. In particular, Gramto will like, follow, comment, message, and repost & view other's stories on your behalf.
While some bots are advanced and can replace human interaction, Gramto is not one of them. When I used it to send DMs and post comments, it was obvious that they were bot-generated.
Plus, it violates Instagram's Terms of Use, which can have different consequences, depending on how long you have used Gramto.
In the best case, your actions will be blocked temporarily, but it can also result in a ban of your account – either a shutdown or a shadowban (meaning you will be invisible to other users).
Gramto hedges against responsibility for any of these, saying that it's entirely your fault if IG decides to put restrictions on your account. Does this deal sound fair to you? I don't think so.
Gramto Features
I've laid out all the features of Gramto for you, along with my review of their performance. Here goes:
Post Scheduling
If Gramto was solely an IG scheduler, it would have scored higher, as its scheduling features work just fine.
You can line up your posts – be it images or videos – and set Gramto to post them whenever you want.
This strategy is beneficial for your account because there is the optimal time to post on Instagram when more people will see your posts.
Pro tip: The Audience section (which can be found in your Instagram insights) can give you a good hint on when to schedule your posts, as it displays hours when your IG followers are most active.
Also, Gramto can directly pick photos and videos that you want to share without the need to take any further steps.
You can either:
Import media files from Google Drive, Dropbox, or OneDrive, and Gramto will share them automatically, or
Upload media files from any device (PC, tablet, cell phone) to your dedicated Gramto library, and it will upload them on your IG
Instagram Automation
While scheduling features were OK (albeit nothing revolutionary), its automation features are not working properly.
Firstly, here are the actions that Gramto performs instead of you:
Auto-follow (supposedly targeted audience, by hashtags and location)
Auto-unfollow (e.g., those that don't follow you back)
Whitelist users
Auto-DMs (Welcome or Thank you messages for your followers)
Auto-repost
Auto-comment
Auto-like
Auto-view story
On paper, Gramto offers more automation features than many other IG bots I've used. But to say that they are disappointing would be an understatement.
Auto-likes, follows, reposts, and story views are not regular, let alone targeted – and that should be the primary goal of an Instagram bot.
And when they manage to be delivered on time, Instagram's bot radar detects suspicious activity and bans or blocks your account. I've gone through this many times with various tools that I've tested, and honestly, it feels like a hassle every time.
Additionally, it's clear as a day that comments and messages are not from a real person, and that's exactly what you want to avoid.
Pricing of Gramto
As I've mentioned, Gramto's official description is that it is a "100% free automation tool for Instagram," but that's far from the actual truth. It does offer three days of use for free if you want to try it out, but I call that a free trial, not a free tool.
Here, see for yourself: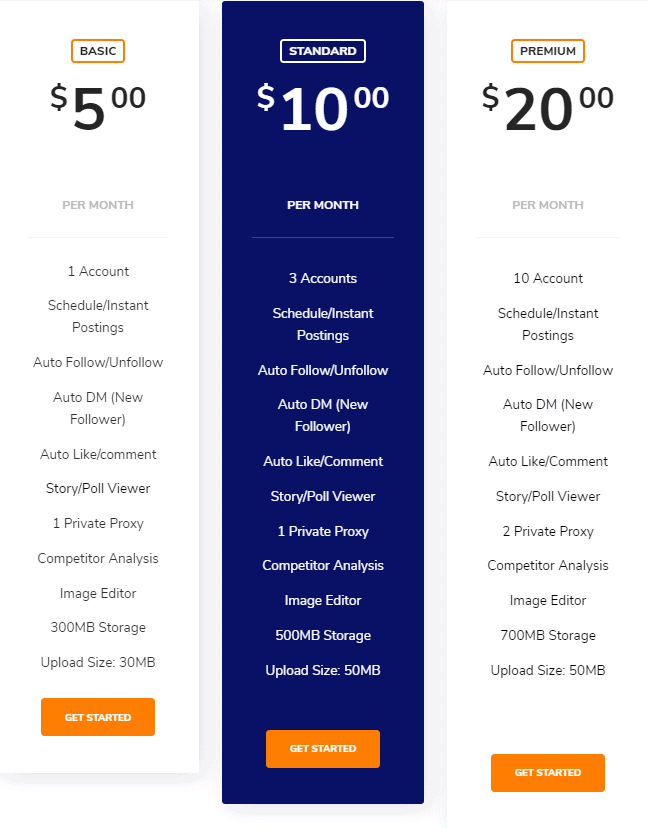 I'm not sure why they claim that $0.00 for a free 3-day trial is the price "per month." I guess it's another marketing trick, or that they put it there by mistake.
I've tried the package just to check, and yes, you'd have to pay to continue to use Gramto services after the initial trial period that lasts for three days.
Ironically, the tool performed fine during the trial, but when I bought the package, everything started to deteriorate, and it started blocking my account.
That said, the tariff plans are fairly cheap, but what's the worth when the service is flawed?
The "Basic" package allows you to manage a single account, and it includes 300 MB of storage in the Gramto Scheduler Library. You can also use their Image Editor (very simple, with a few basic functions and filters) and one private proxy (that, sadly, won't help you surpass Instagram's violation Policy). It is priced at $5 a month.
Next up, there's the "Standard" package for $10 a month with the same features, except that it allows you to manage 3 IG accounts and store up to 500 MB of data.
Lastly, Gramto offers the "Premium" plan, billed at $20 per month, that manages 10 accounts and has 700 MB of storage.
Is Gramto Legit?
After doing research and testing out Gramto, I don't believe it is legit. Their customer support is unresponsive, the bot can ban your account, and the list of the red flags just seems to be too long.
But my ultimate problem with Gramto is they refuse to take responsibility when your account gets banned because of their services. It's almost like saying in advance they don't give you what you paid for, but hey, don't blame them on that because they told you so.
Is Gramto Safe?
When it comes to sensitive info, Gramto is safe. It doesn't ask for your IG password, and the payment gateway is secure.
On the other hand, your account will face multiple bans if you use the automation features, meaning it's not completely safe in that way.
Top Gramto Alternatives
Gramto could jeopardize your account, and it's definitely not amongst high-quality Instagram bots and services we are all looking for.
Therefore, I suggest you check out the list of the most popular tools for Instagram and opt for one of them – and IG stardom will come sooner than expected.
Gramto Pros and Cons
Let's recapitulate the main points of this Instagram bot so that you can make a decision:
| PROS | CONS |
| --- | --- |
| Easy-to-use post scheduler | Claims to be free but isn't |
| | Breaks Instagram's policy |
| | Can get your account banned |
| | Doesn't separate real and fake accounts |
| | Doesn't limit your actions, which results in getting blocked |
| | Won't issue refunds |
| | Unresponsive customer support |
Gramto Review: Final Verdict
Gramto tries to lure people in by claiming that it's a completely free service and that it's the smart way to automate your Instagram, both of which are false.
But the problem with this service doesn't stop there: It can ban or even take down your account, and they refuse to give you refunds if that happens.
My results show that increasing your organic reach is what will truly skyrocket your Instagram. If you're interested, check out the tools I've mentioned below.
Until next time!