These days it's hard to find a social growth service you can trust. There are too many shady companies floating around who are just trying to grab your money.
For this reason, it is crucial to read honest reviews of the service you want to try out first. Once again, I'm here to help you out with your mission, and that's why I wrote this detailed Gold Nitro Review.
Today you'll find out:
What Is Gold Nitro Instagram?
Is Gold Nitro a trustworthy service?
Is Gold Nitro an expensive service?
As always, I've prepared a small list of key points in case you don't have an extra minute to read the entire thing.
Ready when you are!
Gold Nitro Review Summary:
Gold Nitro shut down a while ago
It got multiple people blocked out of their accounts; some even got hacked
The service was a bit overpriced
If you want to grow your IG the safe way, always look for services that provide organic growth
Feel free to use a discount code GROW20 to get a 20% off for a lifetime
Most Popular Instagram Growth Tools Rated
What Is Gold Nitro?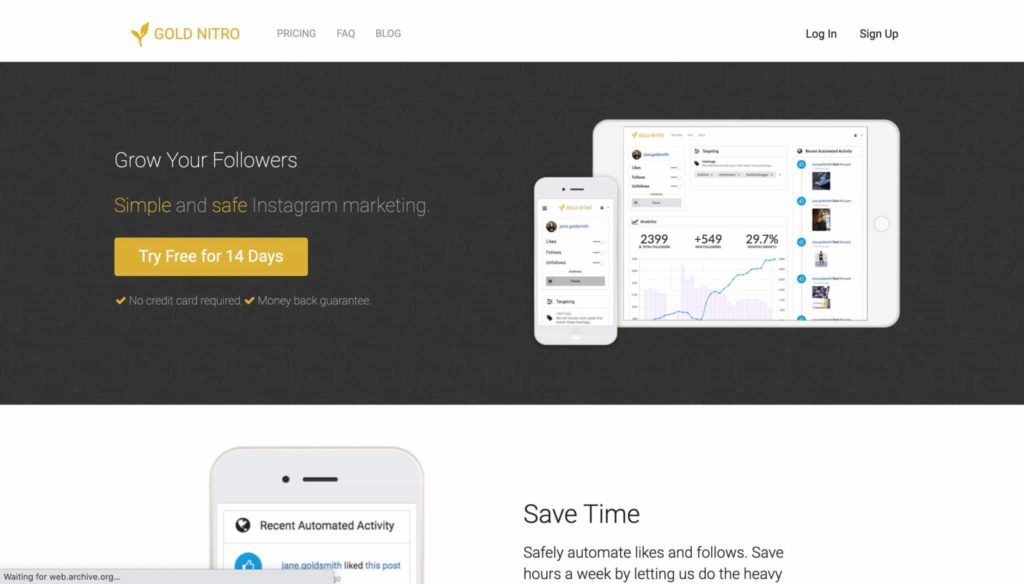 Since you are reading this, I take it you figured by now something is going on with this service because it just vanished overnight.
What happened to it? Is Gold Nitro Instagram working?
Well, no. Gold Nitro has formally closed its doors sometime this year. If you go to their official website goldnitro.com, you'll see that the domain is for sale.
Why? No one really knows. The company never stated the reason for shutting down. Nevertheless, I'll explain how the service worked and give my opinion on why it's gone.
Gold Nitro Instagram growth service provided automated engagement and performed actions such as liking, commenting, and following other people. This was a classic bot-centered app.
As you already know, Instagram encourages people to interact with each other and is very good at detecting bot activity. That said, any aggressive approach that includes too much interaction may get your account banned for good.
That's exactly what happened with Gold Nitro.
Immediately after I started digging for information about the service, I found out that many people got banned or locked out of their accounts.
But that's not all.
I was shocked to find out that some users even got hacked. One user on Trustpilot wrote: 'My account got hacked, and now I'm unable to use it at all.'
Other users wrote how the app just stopped working, and some even lost a ton of followers after they unsubscribed from the service.
How Does Gold Nitro Work?
Gold Nitro was pretty easy to set up and use.
All you had to do is go to their website, sign up for a 30-day free trial, and connect your IG profile. After that, the app required you to set the targeting by using hashtags, geotags, and usernames.
Once everything was set, Gold Nitro would automatically engage with thousands of profiles.
Was it effective?
It was, many moons ago. But after Instagram's aggressive campaign against bot-based services in 2019, things started going south.
Features Of Gold Nitro
Gold Nitro didn't have any unique features and performed basic automation tasks. Let's see what the main ones were.
Auto Engagement
As I've already explained earlier, Gold Nitro would like, follow/unfollow, and comment on your behalf. Only the Pro package offered the commenting option, though.
This type of aggressive approach that many other similar companies use is directly violating Instagram's Terms of Use. That's why many Gold Nitro users got action-blocked, suspended, or banned for good.
Audience Targeting
Depending on the subscription package you bought, there were different targeting options.
The Standard package offered only hashtag targeting, and the Pro package offered all three targeting options – hashtag, location, and other users' followers.
This feature put a lot of people into trouble and even ruined some people's reputations. Some users mentioned how Gold Nitro liked and followed pornographic content for them.
Imagine how embarrassing that must've been for them.
Analytics
With this feature, the user could see the tool's results and even its activity log. However, it was not so useful as it usually advised people about where to focus their targeting more.
Customer Support
Gold Nitro's customer support wasn't at all responsive. All of the 1-star comments on Trustpilot suggest that customer support had completely gone radio silent.
That implicates that refunds were out of the question. And the people who needed help solving the problem that the bot caused never got answers to their inquiries.
Pricing Of Gold Nitro
Gold Nitro offered a 30-day free trial, after which you had to choose between two subscription plans: Standard and Pro package.
Allegedly, the Standard package cost $39 per month, while the Pro package cost $69 per month. At least that's what I was able to find.
Usually, I would say that this is affordable. But considering the limited services it offered and the amount of trouble it brought to some people, I'd say it's overpriced.
Is Gold Nitro Legit?
Perhaps they were somewhat legit, but that was a long time ago.
After the company started falling apart, they continued charging full price in spite of constant complaints from dissatisfied users.
The customer support stopped replying to requests, and no one got their refund. Not to mention how the bot quit working, and many users were left with fake followers, which they had to unfollow manually.
Is Gold Nitro Safe?
Honestly, I don't think it was safe at all.
Apart from being able to destroy your reputation in one day, it got many people locked out of their accounts, banned, and even hacked.
Top Gold Nitro Alternatives
Gold Nitro is out of the picture, but maybe that's for the best. If you want to grow your account safely, the best way to do it is to find an organic growth service like those listed below.
Gold Nitro Pros And Cons
It's time to see what were the positive and negative points of Gold Nitro:
| PROS | CONS |
| --- | --- |
| 30-day free trial | Unresponsive customer support |
| | It got many people banned and locked out of their accounts |
| | It was overpriced |
| | It ruined people's reputation |
| | Some users got hacked |
Gold Nitro: Final Word
Gold Nitro was not a safe nor a reliable service. Therefore, I think it's a good thing it no longer exists because that means there's more place for the real deal – organic growth.
Now I know that oftentimes, it's hard to tell apart the bad guys from the good guys.
That's why I made a list of the best organic tools on the market, so feel free to browse them. I'm quite sure that whichever you choose to try out won't let you down.