Do you want to find out the whole truth about Follow Adder? Well, you're in luck! You've just stumbled upon one of the most comprehensive Follow Adder reviews on the internet.
I left no stone unturned to bring you the most relevant information about this service. Today, you'll learn:
Does FollowAdder still work?
Is it a hoax?
Can it grow your IG account?
Make sure to skim through my article before giving your money to this company!
Too busy to read the whole thing? Here's a summary just for you.
Follow Adder Key Points:
Follow Adder is an Instagram bot
The software has to be downloaded and installed
There's no mobile version
It doesn't work but still accepts new customers
Steer clear of it, and hire an organic growth service
Type GROW20 to get a hefty discount (20%)
Most Popular Instagram Growth Tools Rated
What Is Follow Adder?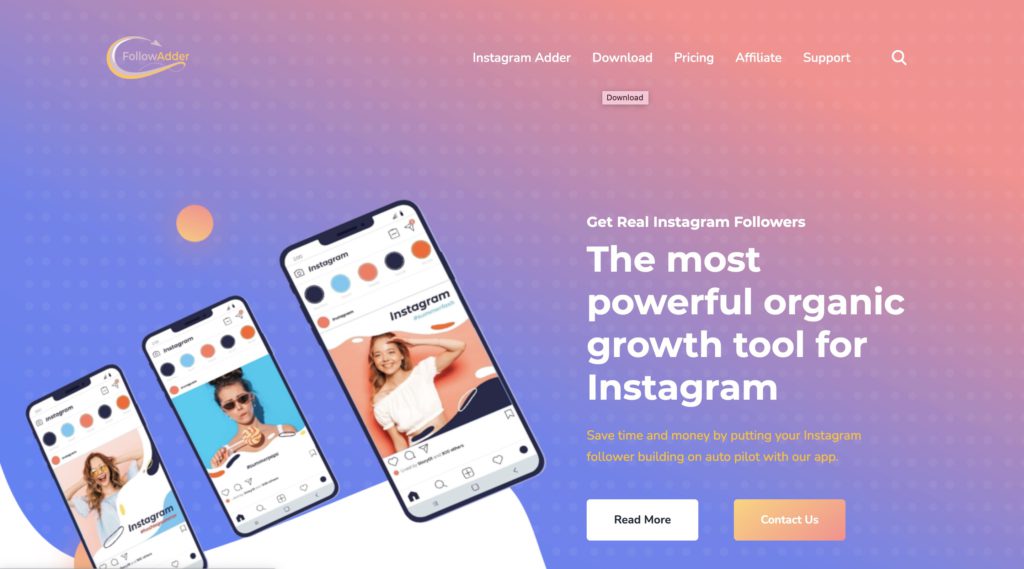 Follow Adder is the self-crowned "most powerful organic growth tool" for Instagram.
OK, what is it really?
I don't want to sound harsh, but it's basically a bot. It does all that you'd expect of such a tool – liking, commenting, following – you name it. At least, that's what it's supposed to do.
Unlike most similar apps, it cannot be used on mobile. Follow Adder has to be downloaded and installed on your computer. I'll talk more about this later.
The main thing you need to know now is that the service doesn't work anymore. They still accept customers, though. Now, I'd like you to tell me what that sounds like to you? Sounds like a scam, right? I'm afraid that's precisely what it is.
Frankly, I'm puzzled by the fact that these guys are still in business.
If you hop over to Trustpilot.com, you'll see almost exclusively 1-star reviews. Some of them date as far back as early 2019, and they all complain about the same thing – Follow Adder takes the money but doesn't function.
How Follow Adder Works
Since Follow Adder doesn't actually work, I'll explain how it works in theory.
The tool automates Instagram engagement. It can schedule and upload your posts and like/comment/follow on your behalf. It has some targeting options to help direct the engagement to your people of interest.
Nothing that you haven't seen before.
To get started with Follow Adder, you have to register on their website. Then, download and install the software on your computer. It's compatible with Mac, Linux, and Windows.
Personally, I'm reluctant to trust any third-party software, especially with bad reviews like this one. However, I haven't found any reasons to be concerned here. It seems reasonably safe to install.
Its interface may look overwhelming at first, but you get the hang of it once you use it a few times. Of course, it's now pointless to try it since it won't do anything. Technically, the app will start running, but Instagram will block it instantly.
Features of Follow Adder
Due to the abovementioned complex interface, you may get the impression that Follow Adder has a lot of features. This isn't really so. The software is based around a few elementary options, and now I'll tell you what they are:
Automated Engagement
Follow Adder can like, follow, unfollow, comment, and DM on your behalf. I mean, it could do it until Instagram's algorithm figured it out. Now, as I briefly explained, the platform blocks the software as soon as you run it.
Even if it functioned as promised, it wouldn't be advisable to use it. You could use some of the auto engagement but in very, very small quantities. Setting it on full blast would guarantee an action block from IG.
Targeting and Filters
The service allows you to target using hashtags, usernames, and locations. You can also blacklist accounts to avoid any kind of interaction with them.
All in all, these are pretty standard targeting options that could be put to good use if you know how to do it. Too bad we can't try them out.
Post Scheduler
Scheduling your future posts is a practical feature, indeed. When used reasonably, it's safe and could save you a lot of work. You won't get a chance to see how it works, though.
Pricing of Follow Adder
Follow Adder offers five different pricing plans, all of which you can check out below.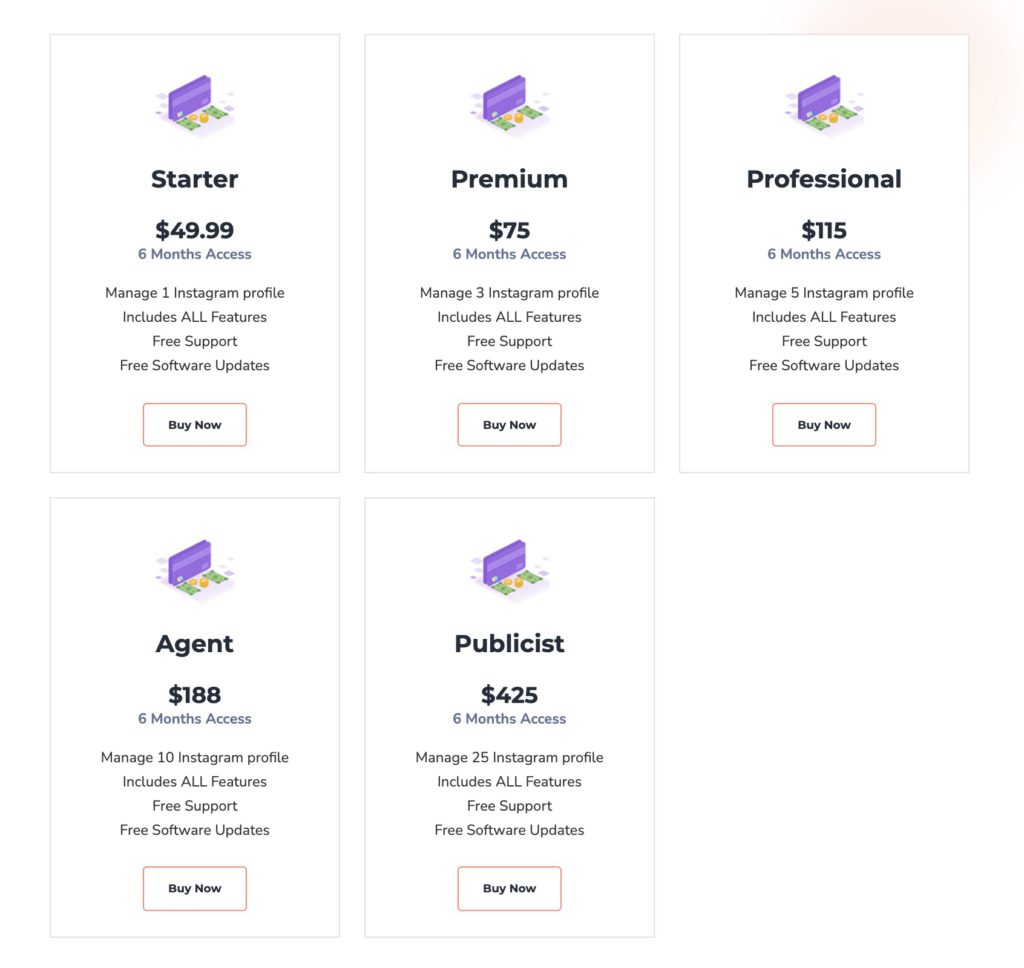 You can see that the only difference between them (aside from the cost) is the number of accounts that you can manage. The Starter package can be used with only one account, while the Publicist plan supports twenty-five. All of them give you six months' worth of services.
Is this expensive?
Compared to other similar services, no. However, considering that Follow Adder won't get you anywhere, even a dollar is too much money for it.
Is Follow Adder Legit?
Let me make this very clear – no. Follow Adder isn't legit and I don't recommend you use it.
Just go to Trustpilot.com and check out what its users have to say. I dare you to find a Follow Adder review that rated it higher than two stars. Essentially, all of the customers complain about the service not functioning but still taking their money.
Some people said how Follow Adder automatically renewed their subscription without asking them. They wouldn't have even known if money hadn't been taken out of their accounts.
Is Follow Adder Safe?
If you're concerned about Follow Adder stealing your data or payment information, don't be. The company doesn't seem interested in doing this. On the downside, they will charge you without providing any useful services.
Top Follow Adder Alternatives
After reading all of the above, I suppose that you're not so interested in trying Follow Adder. No worries, there are lots of other options to choose from.
Follow Adder Pros and Cons
It's time to highlight the good and the bad about Follow Adder:
| PROS | CONS |
| --- | --- |
| Relatively affordable | Doesn't function |
| | Instagram blocks it as soon as you run it |
| | The company will charge you like everything is normal |
| | No refunds available |
| | Your subscription may get automatically renewed |
| | Mostly negative reviews on Trustpilot.com |
Follow Adder Reviews: The Bottom Line
As this Follow Adder Instagram review draws to a close, it's time to state my opinion once again – steer clear of this company.
It cannot and will not provide you with the engagement needed to boost your account. Follow Adder might have been a good tool once, but that time is long gone.
A little piece of advice – as soon as you learn that a growth service isn't organic, move on and find one that is.
Remember, it takes both patience and wise decision-making to grow a profile. Stay persistent and good things will come your way!