I'm afraid the rumors are true, folks – Automatic Viral shut down their services.
If you've been following them for a while, as I have, you probably saw this coming.
OK, so why waste your time reading this Automatic Viral review then?
Well, this company did (bad) stuff that a bunch of other growth services still do today. Learning about it will help you identify similar businesses and avoid them.
I'll also let you in on the best Automatic Viral alternative or two; or three.
Interested but short on time?
That's OK; just read the following summary. To learn the whole Automatic Viral story, keep scrolling!
Automatic Viral Key Points:
Automatic Viral doesn't exist anymore
Instagram forced them to close
The company sold (fake) likes
Instead of buying engagement build it organically.
The discount code GROW20 gets you 20% off the initial price
Most Popular Instagram Growth Tools Rated
What Was Automatic Viral?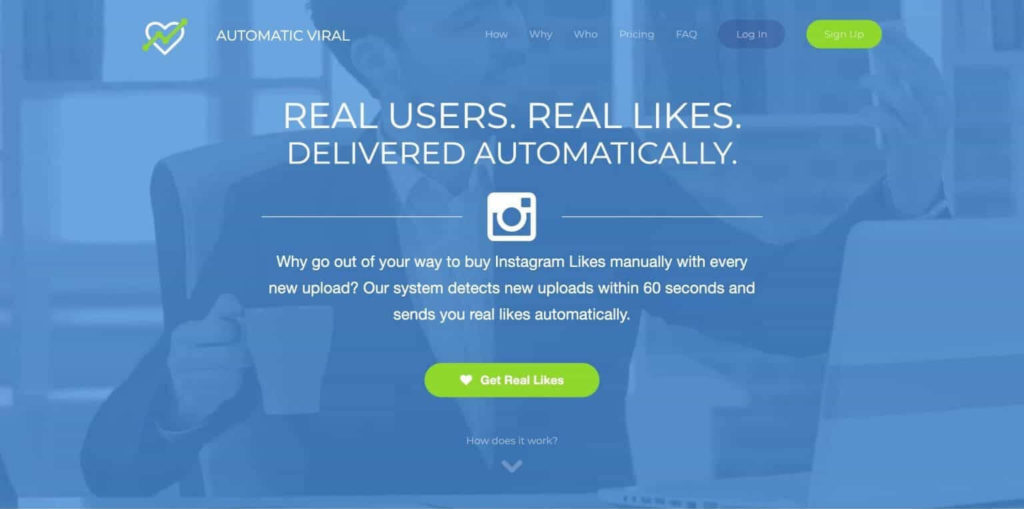 I've received tons of questions like "Is Automatic viral working?" and "Is Automatic Viral down?"
I will now answer them in that order – no and yes.
The service is indeed down again. The first time it closed was in 2019, upon Instagram's request to do so. Then, in 2020, it bounced back only to close again recently.
What exactly did it do?
Automatic Viral sold likes – fake ones, as it turned out. Even if they were real, Instagram still wouldn't (and still doesn't) approve of it. Buying and selling engagement is a big no-no.
However, despite Instagram's watchful eye, some services still manage to pull it off. So, where did Automatic Viral go wrong?
I'll lay out all of their mistakes in the upcoming section.
How Did Automatic Viral Work?
Like I said, the Automatic Viral offered to sell you likes. The service claimed it only worked with genuine accounts and that real people were behind the engagement it sold.
As you may know, having a lot of likes on your posts helps you rank better on Instagram. This increases the chance that you'll get noticed and earn some followers.
The main issue with Automatic Viral was that it lied about the quality of its engagement.
If you bought, say, 100 likes and went on to visit the profiles they came from, you would've met grey. Grey profile pictures, that is. Some accounts appeared real, but most were clearly bots.
On top of that, the engagement you purchased would arrive almost all at once. The service promised to spread it out over time, but it didn't. I'll talk about why this was bad in a minute.
All in all, these kinds of actions were a disaster waiting to happen.
Features of Automatic Viral
At first glance, one would say that Automatic Viral was packed with features. However, there were only a few main ones, while the rest were just fillers. Let's break them down:
Instagram Likes
Selling likes was the backbone of this growth service. I already mentioned how the company claimed they were all from real accounts, which turned out to be false.
The feature was very straightforward. Here's how it worked:
You bought the desired number of likes per post
The app would automatically send likes on new uploads
It was paid monthly, and it supported four daily uploads. Meaning, if you bought a package of 250 likes per post, you'd get the same amount on up to four posts a day.
The likes were cheap but of poor quality. Buying them would probably do your account more harm than good.
Gradual Delivery
Automatic Viral promised gradual delivery of likes to make it seem more natural. This would
(hopefully) fool Instagram's algorithm, and it wouldn't bother you.
It was a smart idea, I'll give them that.
Unfortunately, from what I read, the feature didn't work so well.
Many customers said how the likes arrived too fast. This kind of activity wouldn't go undetected, and Instagram would be quick to warn you not to do it anymore. Those who persistently bought the likes got suspended from the platform.
Customer Support
Unlike many similar services, Automatic Viral actually had working customer support. The only issue is that they weren't available around the clock, but only during business hours. There'd be no one to help you if things went wrong at midnight.
Money-Back Guarantee
Another thing that set this company apart from many of its peers is the money-back guarantee. Automatic Viral really did return the money to their dissatisfied customers.
I've dealt with so many companies in this business that played dead when people asked for a refund. Luckily, this wasn't one of them.
Pricing of Automatic Viral
When it comes to the prices, Automatic Viral was in the middle – not cheap, not expensive. However, considering that they sold fake engagement, I'd say they were overpriced.
Take a look at the costs below: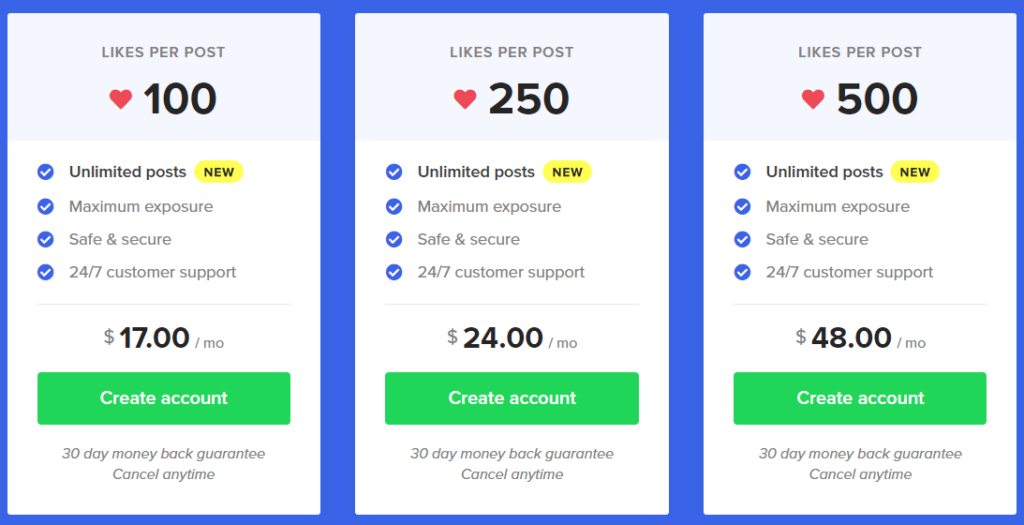 All of the packages displayed above included likes on four posts per day. The service also got you free video views along with the purchased likes.
Was Automatic Viral Legit?
No, these guys were far from legit. The engagement they sold was fake, and that should be the end of the discussion.
Imagine trying to build a reputable account and having your followers figure out that your posts are ridden with bot likes. All I can say is – it wouldn't be good for business.
Was Automatic Viral Safe?
It doesn't appear that the company was interested in stealing people's data or passwords. So, in that sense, the service was safe.
However, their activity could've compromised your account big time. Namely, Instagram could've banned you.
Top Automatic Viral Alternatives
I promised to introduce you to a few Automatic Viral alternatives. And now, behold my promise coming true.
Automatic Viral Pros and Cons
Let's do a quick recap of all that you need to know about Automatic Viral:
| PROS | CONS |
| --- | --- |
| Their money-back guarantee was legit | It was forced to close down by Instagram |
| | The service sold fake engagement |
| | It could have gotten you suspended |
| | It jeopardized its customers' reputation on Instagram |
| | Wasn't effective in growing accounts |
| | No 24/7 customer support |
Automatic Viral Review: The Bottom Line
Is it a good thing that Automatic Viral is out of business?
I hate sounding like a meanie, but probably yes. The stuff that this company was doing wasn't good for you, nor them.
As Instagram's algorithm gets increasingly more sophisticated, we'll see more services like this one go down. This means that there'll be no more shortcuts to boost your account, my friend.
Organic and sustainable growth is the only path that you should be pursuing.