Do Instagram growth services work? It depends. Some are great, and some are downright scams.
What about SNS Growth? How does this company fare on the market for Instagram tools?
In today's SNS Growth review, I'll explain what this service does and whether it can be of any use to you. I highly suggest you read the article if you're considering trying it.
Not everyone's got time to go through the whole review, and that's why I put together a summary. Give it a look!
SNS Growth Key Points
SNS Growth sells engagement
Instagram deletes a portion of what you buy
It's on the pricey side
Not organic and cannot get you genuine followers
Type GROW20 and get 20% off on your purchase
Most Popular Instagram Growth Tools Rated
What is SNS Growth?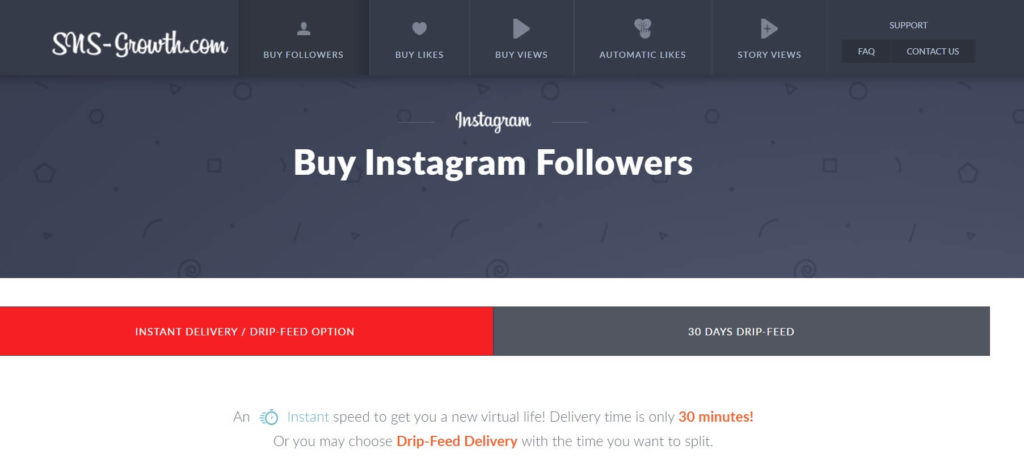 SNS Growth is a growth service for Instagram from which you can purchase engagement. What kind of engagement are we talking about? They sell likes, followers, views – the whole nine yards.
In other words, the service won't help you get attract organic followers but provide you with "ready-made" ones.
Is it safe to buy engagement this way?
Not entirely. It all depends on which service you're buying from, and in which amount.
SNS Growth, like all similar companies, claims to sell only the "real deal." That is, their likes, views, etc., are sourced only from genuine Instagram accounts. However, I found this to be untrue, and I'll speak about it in the upcoming sections.
How SNS Growth Works?
To get started with SNS Growth, you'll first have to go to their website, sns-growth.com. The next step would be to register by providing your IG username. Another thing that you'll have to do is set your profile to public. They don't require your password, which is good.
Once everything's set up, you can go on to purchase the engagement that you want.
The service sells video and story views, likes and automatic likes, and, of course, followers. I'll break each of these down in the "Features" section. For now, all you need to know is that the quality of the engagement is subpar.
Contrary to SNS Growth's claims, the stuff they sell doesn't all come from real people. There's a fair share of fake engagement thrown into the mix. This is bad news for you as Instagram will detect and remove the bot accounts. You'll retain only a fraction of what you paid for.
SNS Growth Features
The list of SNS Growth's features is humble. I'll let you decide whether that's a good or bad thing. Here's what the company offers:
Instagram Followers
I'll try to make this SNS followers review as direct as possible. You can buy up to 20K followers and will get them either instantly or within a month. It's up to you to choose the delivery speed.
As I mentioned, a good chunk of the followers is bot accounts. Some of them are real, though, but we're talking about a very small percentage.
OK, so how does this impact you?
As you probably know, Instagram is against services like this one. It despises bots and inorganic engagement. Of the total followers you receive, the platform will delete all those that it deems fake. I can tell you from experience that there are plenty of them.
The accounts that you retain, the real ones, won't be of much use either. Obviously, these aren't people who are interested in your content, so they won't interact with it.
Instagram Views
SNS Growth offers both story and video views, and frankly, I don't see the utility of this feature. Even if the views were real (which they aren't), they wouldn't help you grow your account. It might be best if you just skipped this one.
Instagram Likes
The service sells likes and automatic likes. The former are plain old likes which you'll receive to only one post. The latter are delivered to every upload you make within a specified time period. In this case, the period is one month.
The problem here is that Instagram can pick up on thousands of likes pouring into your account. When it does, it'll delete some of them. A shadowban isn't unheard of either.
SNS Growth Pricing
There are two different prices for each of SNS Instagram Growth's services. One price is for instant delivery, while the other one is for drip-feed delivery.
To get a better idea of what I'm talking about, take a look at the pictures below: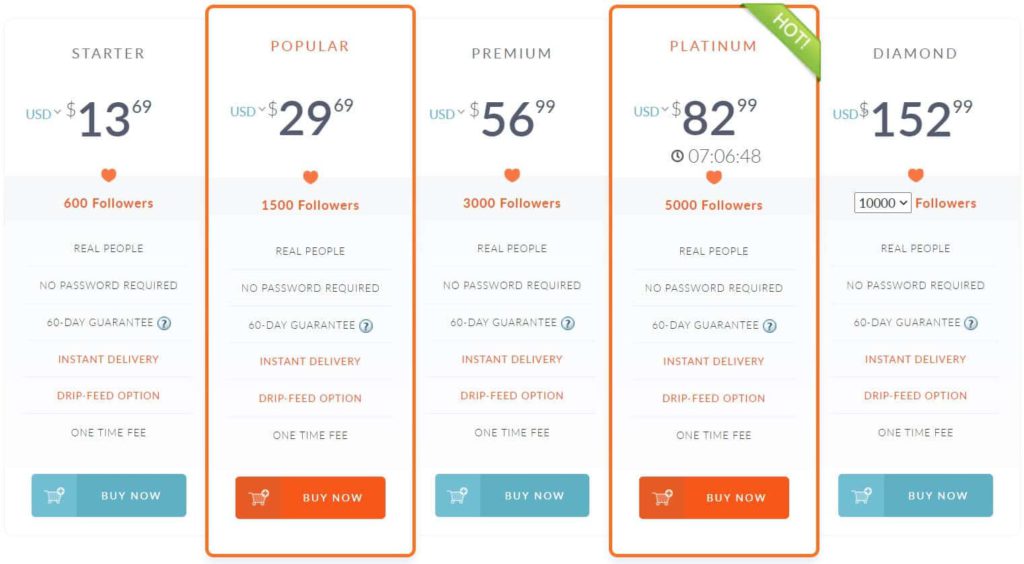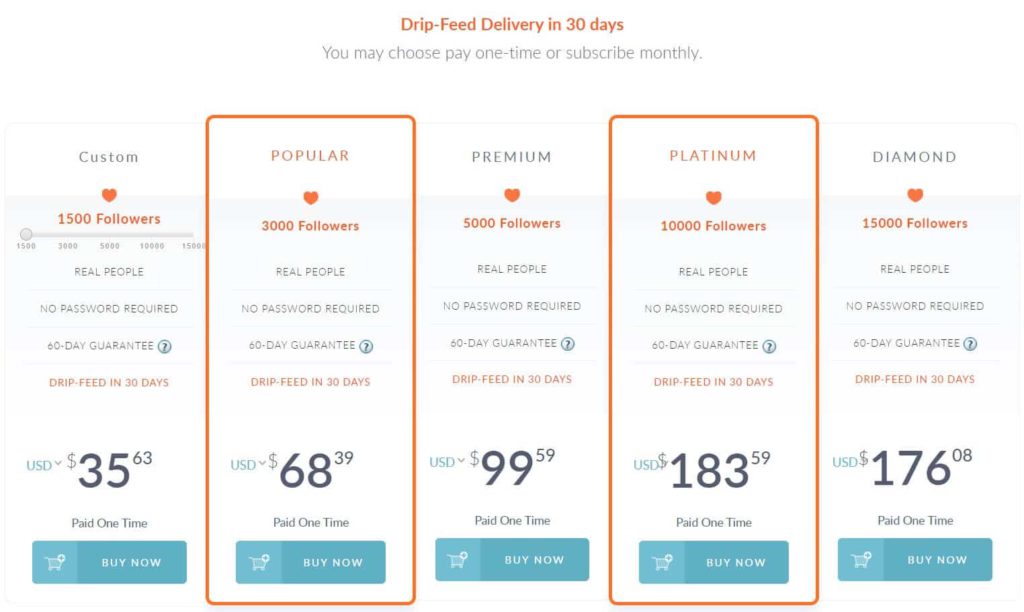 The top picture shows the Instant delivery prices of SNS Growth's followers. On the bottom picture, you can see the cost of drip-feed followers.
Why is the latter more expensive?
Drip-feed means that the engagement will be coming in randomly over a 30-day period. The aim of it is to fool Instagram's algorithm and make everything seem organic. Unfortunately, it doesn't work, so don't waste your money.
If you ask me, SNS Growth is relatively pricey. They're not the most expensive I've seen, but for this kind of quality, I feel like it's too much.
Is SNS Growth Legit?
I can't really say that SNS Growth is legit. Then again, I'd be lying if I claimed otherwise.
It's clear that the service puts in an effort to serve their customers. You'll get what you paid for, although the quality isn't as high as they promise. Customer support regularly replies, which isn't something you often see with companies like this.
The main drawback, aside from fake engagement, is the complete absence of real reviews. I couldn't find a single customer testimony that seemed trustworthy.
Is SNS Growth Safe?
From what I've experienced, SNS Growth is pretty safe to use. It won't compromise your sensitive data or finances. You may get a warning from Instagram if you overuse it, though. If that happens, take the warning seriously and stop.
SNS Growth Alternatives
SNS Growth isn't terrible, but it's not an organic growth service. If you're interested in its organic counterparts, check out the following list.
SNS Growth Pros and Cons
Here are all the upsides and drawbacks of SNS Growth:
| PROS | CONS |
| --- | --- |
| Provides quick engagement | Followers and engagement get deleted |
| Relatively safe | Mostly fake engagement |
| | Pricey |
| | No real reviews |
| | Instagram might warn you not to use it |
| | Drip-feed delivery doesn't work well |
SNS Growth: The Verdict
While SNS Growth is far from the worst I've seen, I cannot say that it's a great service. If used extremely cautiously, it may be slightly helpful. However, please don't fool yourself into thinking that it'll significantly boost your account.
My advice, as always, is to focus on organic growth. It may not be fast, but it'll get you to that next level of Instagram popularity.